Flames add Hamonic to keep up with arms race in West
In Travis Hamonic, the Calgary Flames believe they've shored up their blueline and now feature a core of four defencemen who can compete with the Western Conference's very best. TSN Senior Hockey Reporter Frank Seravalli has more.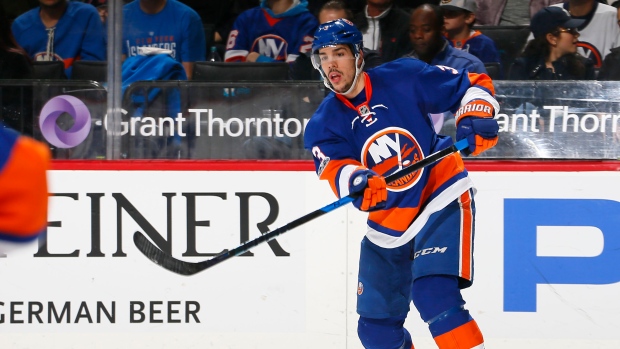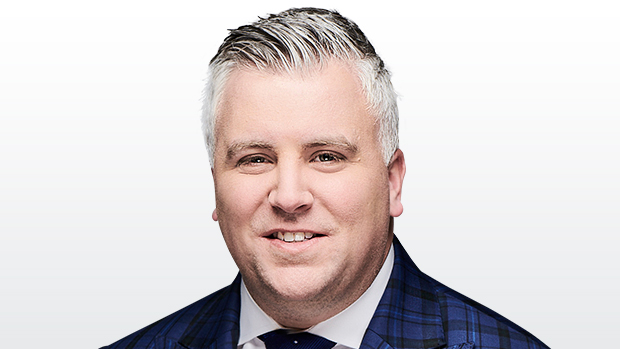 CHICAGO — It was Mike Babcock who made headlines when he went to watch the elite defencemen on display in the Western Conference Final.
But the rest of the NHL was already paying attention. The engine of both the Ducks and Predators' Stanley Cup playoff successes was their blue line.
So, if the road to the Stanley Cup Final runs through either Nashville or Anaheim, the onus was on the Calgary Flames to keep up in the arms race - and find a way to slow down Connor McDavid and the Oilers in their own province in the process.
The Flames did that on Saturday, acquiring defenceman Travis Hamonic and a fourth-round pick from the New York Islanders in exchange for a 2018 first-round pick, a 2018 second-round pick and another second-round pick from either 2019 or 2020.
With Hamonic joining Mark Giordano, T.J. Brodie and Dougie Hamilton, GM Brad Treliving believes the Flames size up well with the big boys in the West. The Maple Leafs and Oilers were believed to be among the teams also kicking the tires on Hamonic.
"To me, this solidifies our depth," Treliving said. "He's certainly a guy that we've had our eye on for a while. At the end of the day, you've got to pay the price, you've got to give to get. You hate paying the price - but where he fits, we think he fits in real good with our team. I like the looks of the top four."
The Flames were swept in the first round by the Ducks, but Treliving has been able to solve two of Calgary's most glaring needs - in goal and depth on defence - without giving up anyone from his roster.
Veteran netminder Mike Smith was acquired one week ago for the rights to pending UFA Chad Johnson and a conditional second-round pick.
"For a guy who hates giving up picks, I've given up a lot of picks," Treliving said. "We've made two deals [including Hamilton] and given up assets, but those type of guys don't come around too often. At the end of the day, we thought the price made sense for us."
Perhaps the biggest key to the Hamonic acquisition is not that he fits Calgary's age range, but that the Flames now have their core four on defence locked down for the next three seasons. Hamonic, 26, has three years left on his deal at $3.85 million.
That type of cost certainty Hamonic provides allows Calgary the potential flexibility to re-sign a pending UFA in Michael Stone. Calgary currently has just over $15 million in salary cap space with 15 players signed and Curtis Lazar, Alex Chiasson, Sam Bennett and Micheal Ferland as restricted free agents.
The interest to potentially re-sign in Calgary is mutual with Stone's camp. Stone, 27, posted six points in 19 games after a trade from the Arizona Coyotes last season.
"We're still working away at our team," Treliving said. "Stoney was a good fit for us. We'll keep working to see if we can make our team better."
The Flames were also able to move the picks, Treliving said, because his scouts "restocked the cupboard on our reserve list." His forward core is exceptionally young, there are young defencemen in the system, and he has two of the best goaltending prospects not in the NHL in Jon Gillies and Tyler Parsons.
Treliving said Hamonic gives some "versatility" to the Flames' defence. The one question mark surrounding him was his injury history. He has sustained an MCL injury in each of the last three seasons, missing 33 games last year also with a thumb injury,. His minutes were down, he was a minus-21 and netted just three goals and 11 assists for 14 points in 49 contests.
That he is tough to play against, is steady in his own end and can skate well, will go a long way in playing against McDavid five times a year. Those factors were a big selling point.
"Slide him in there with Brodie," Treliving said. "[The other three] move pucks. Travis does, too, but he's got a little edge. He's a character kid, he's got some bite to his game. He checks a lot of boxes for us."
Calgary was swept by Edmonton last season - and outscored by a 20-11 margin - marking the first time one team had ever swept the other in a regular season series of at least four games in Battle of Alberta history.
That didn't go unnoticed.
"It's fun when both teams are progressing in the right way," Treliving said. "Edmonton is a heck of a club. I look at that team and I think that's a team that's on the come. I think in this league, the way we look at it, we've got two pairs out there now that can play against anybody."
--
Contact Frank Seravalli on Twitter: @frank_seravalli