Henderson signs flurry of new deals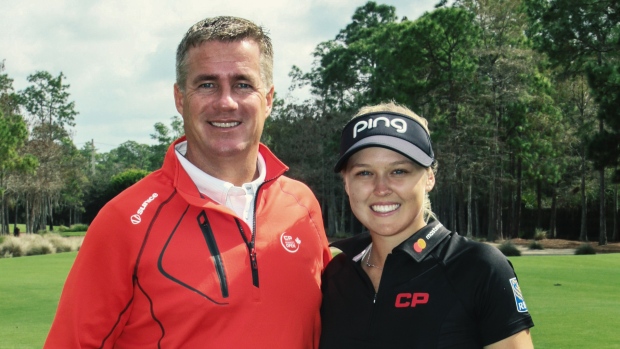 Brooke Henderson will have a new look when she tees off in Australia this week.
The 19-year-old from Smiths Falls, Ont., might have writer's cramp after signing a flurry of new sponsorship agreements in recent days. As a result, she'll be wearing several additional logos front and centre on her clothing. The deals are set to be announced on Tuesday afternoon.
At the top of the list is a multi-year arrangement with Canadian Pacific. This is a natural fit for Henderson in several ways. The railway company currently sponsors the Canadian Pacific Women's Open, which she has called the most important tournament on her schedule, and a number of Henderson's family, including her grandfather, uncle and cousins, have spent time as conductors for CP. Smiths Falls is also known as a railway town, once serving as a major CP trunk point for trains moving through the Montreal-Toronto-Kingston triangle.
Henderson will wear a CP logo on her left shirt front and, along with veteran Lorie Kane, serve as ambassadors for the tournament which is being held at the Ottawa Hunt and Country Club this year. Henderson and her sister and caddie, Brittany (who will sport a CP logo on her visor), will host a Monday pro-am at the tournament this year to benefit the Golf Canada Foundation.
Another new logo that will appear on Henderson's shirt collar is that of MasterCard. She joins a team of high-profile golfers already under MasterCard's umbrella including Tom Watson, Brandt Snedeker, Graeme McDowell, Ian Poulter and Mark O'Meara. Henderson is the only LPGA player on the team.
And after a mid-year switch to Skechers footwear last year, Henderson has made the full transition and will wear the company's clothing line, Skechers Performance, this season.
Finally, Henderson now is also a member of the Rolex team, joining that company's list of high-profile golfers that includes Jason Day, Tiger Woods and Jack Nicklaus. Rolex also sponsors the women's world ranking.
As her play on course has blossomed, Henderson has emerged as an extremely marketable athlete, both in Canada and internationally. Last month, the major winner, who is entering her second full year on the LPGA Tour, announced a deal with retail giant Golf Town and she has existing sponsorships with PING, RBC, BioSteel, BMW and Titleist.
According to one sponsor, her "talent, charm and the way she conducts herself make it easy to tie our brand to her."
Henderson tees off Thursday in the ISPS Handa Women's Australian Open in Adelaide, South Australia.