Jake Guentzel is for real
Pittsburgh Penguins rookie winger's postseason production puts him in elite company, Travis Yost writes.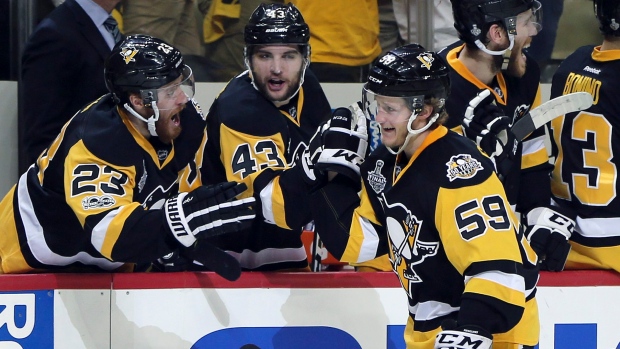 Maybe the best story following around this year's Pittsburgh Penguins is the explosion of rookie winger Jake Guentzel.
Guentzel, a former third-round pick, broke into the NHL this season. In the blink of an eye he went from possible Wilkes-Barre/Scranton call-up to playing on Pittsburgh's first line, attached to the hip of superstar playmaker Sidney Crosby.
Crosby, of course, has a knack for making players better. Just about every winger put on Crosby's wing historically has seen his production skyrocket. Guentzel is no exception, though his production has been curiously reliable. In the 40 regular-season games he played, Guentzel had 16 goals and 17 assists – good for 33 points.
The goal-scoring has been his calling card since his call-up, particularly so in tough 5-on-5 minutes. During the regular season, Guentzel averaged 1.6 goals for every 60 minutes of even-strength hockey he played. To put this into perspective, not a single NHL skater averaged a higher rate of scoring. Not one. His closest competitors – Rickard Rakell, T.J. Oshie, Auston Matthews, Jeff Skinner and Crosby – are all brand names in hockey.
It's difficult for any AHL hockey player to make a jump to the NHL and stick. It's almost impossible to be as productive as Guentzel was coming into the playoffs. Although the numbers might have spoken for themselves, some people questioned the legitimacy of his production. Could he sustain it when the scope of competition increased come playoff time?
Guentzel has answered that question and then some. Through Game 2 of the Stanley Cup final, Guentzel has already notched 12 goals. That number puts him in pretty impressive territory – particularly for a player of his age.
Out of curiosity, I looked at how rookie skaters have produced in the postseason historically. The below table shows the most productive playoff goal scorers over the last 100 years – the only criteria being that the player needed to be in a rookie season (age 18 to 26).
The company Guentzel is keeping is, in one word, interesting: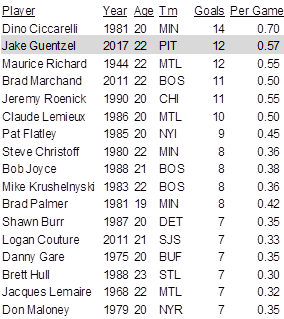 Any time you're on a short list of players to ever accomplish something (and half of them are already in the Hall of Fame), it's a massive compliment. I think this more than anything speaks to how difficult it is to perform as a rookie in general – you just don't see guys with limited NHL experience jump into the ring and score like Guentzel has.
There are two interesting points here. One, Guentzel has a real chance to become the most productive rookie goal scorer in NHL playoff history. He's already pulled even with the legend Maurice Richard and is two shy of the ridiculous 14 goals Dino Ciccarelli put up in 1980. And two, we really have only seen two guys have productive rookie goal-scoring playoff runs in the modern era – Brad Marchand and Logan Couture back in 2011.
So, a massive tip of the hat goes to the former Omaha Maverick. This is definitely uncharted territory for a player with such limited professional experience. And although Crosby might be making things a bit easier for him, he's still the one finding the back of the net. In an era where NHL goaltenders stop just about every shot they see, that's laudable.
Jake Guentzel is for real.