Leafs stick with plan through draft
Toronto Maple Leafs general manager Lou Lamoriello says his team wasn't trying to "jump-start" anything in this weekend's NHL Draft and instead stuck with their plan already in place. TSN Maple Leafs Reporter Kristen Shilton explains.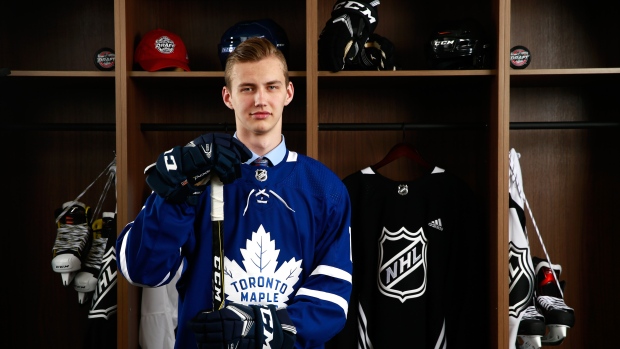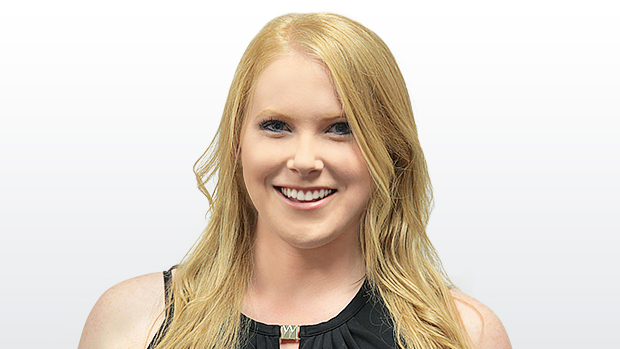 CHICAGO — The Toronto Maple Leafs have a plan, and they're sticking to it.
"Trust the process" has become a buzzy phrase around sports, but it's exactly how the Leafs approached the 2017 National Hockey League Entry Draft, which wrapped up rounds two through seven on Saturday afternoon. They were in on at least one big trade that was consummated, but refused to go over the price they set for themselves, one that wouldn't handicap the future they're so carefully cultivating.
Instead, after a quiet week leading up to the draft, Toronto walked out of the United Center with seven new players - four defencemen, two forwards and a goalie, all of whom will join one of the most impressive stables of prospects in the league. It might not be sexy, but the Maple Leafs continue to show they have no interest in catering to anyone's expectations but their own.
"Every transaction you make is for today with tomorrow in sight," general manager Lou Lamoriello said Saturday. "Where we are as an organization, we have to make sure we're doing that. We've said that right from the beginning - we're in a process. We're not going to try and jump-start anything, we're going to let it take it's course."
Lamoriello did admit that if there were opportunities along the way for the Leafs to improve - without compromising the team's future - they'd do it. The search continues in the trade market, and will likely ramp up when free agency opens on July 1, but until then Toronto is pleased with how the weekend unfolded in Chicago, particularly with how they were able to shore up the organization's blue line depth.
"[It wasn't] really a mandate [to draft defencemen], it was about who fell to us and who we thought was the best player in that moment," said assistant general manager and director of player personnel Mark Hunter. "It seemed there was more defence in the draft this year, and you don't usually see right defence as much, so this was one of those years there was more that fell down to us."
All seven players Toronto selected are at least 6-feet tall, with two of their defencemen measuring 6-foot-7 (Eemeli Rasanen) and 6-foot-6 (Fedor Gordeev). While excited about the potential upside of the new additions, Lamoriello preached patience as they continue growing their individual games - and as the foundation of the Maple Leafs continues to take shape.
"Everyone feels really good today. We put some size and strength in the lineup," he said. "There's no question you're better because you have players who are now assets, players that you're developing, and you have to be developing. You feel good about [Hunter and his staff] because they know the type of people we want and the types of players we're looking for."
--
Toronto Maple Leafs 2017 NHL Draft Class
Defenceman Timothy Liljegren (first round, 17th overall)
2016-17 stats with Swedish Elite League's Rogle BK J20:
GP: 12 G: 5 A: 2 P: 7
2016-17 stats with SHL's Rogle BK:
GP: 19 G: 1 A: 4 P: 5
A right-shot, puck-moving defenceman with good skating ability, Liljegren became perhaps the biggest steal of the draft when he fell to the Leafs at 17. A bout of mono last fall stalled his season and he shuttled between four different teams before the campaign was over. But Liljegren is impressive to watch and has the ability to "lift fans out of their seat," as Hunter said. He has a high hockey IQ to match his skill set and as he continues to mature, his upside appears sky-high.
--
Defenceman Eemeli Rasanen (second round, 59th overall)
2016-17 stats with OHL's Kingston Frontenacs:
GP: 66 G: 6 A: 33 P: 39
Standing at 6-foot-7, Rasanen dwarfs just about anyone around him. And while you can't teach size, the right-shot Rasanen needs to develop the rest of his body to help improve his skating and mobility on the ice. "He's a little inconsistent because his legs don't carry his big body around [so well]," said Hunter. "But he's got a great shot and there's a huge upside on his skill."
--
Goaltender Ian Scott (fourth round, 110th overall)
2016-17 stats with WHL's Prince Albert Raiders:
GP: 50 GAA: 3.69 SV%: .895
For the second straight year, the Maple Leafs took a goalie in the middle of the draft. In Scott's case, his numbers from last season don't really impress, but Hunter was confident those were more reflective of him playing on a bad team than his skill set. Scott demonstrates solid technique and moves well laterally in the crease, and at 6-foot-3 he has the size teams covet in net. Experience will help fill the holes in his game.
--
Forward Vladislav Kara (fourth round, 124th overall)
2016-17 stats with VHL's Bars Kazan:
GP: 34 G: 3 A: 5 P: 8
2016-17 stats with MHL's Irbis Kazan:
GP: 31 G: 11 A: 9 P: 20
Hunter touted Kara as a "big, strong winger who plays a two-way game," but didn't shed any more light on the selection of the 19-year-old who is the most mysterious of the Leafs draft haul.
--
Defenceman Fedor Gordeev (fifth round, 141st overall)
2016-17 stats with OHL's Hamilton Bulldogs:
GP: 2 G: 1 A: 0 P:1
2016-17 stats with OHL's Flint Firebirds:
GP: 62 G: 3 A:10 P: 13
Gordeev and his family moved from Russia to Toronto when he was just seven years old, and right away, a Maple Leafs fan was born. Admitting he cried when he heard the Leafs had selected him, the blueliner has impressive size (he's 6-foot-6 and can dunk a basketball) and a blistering shot, but his overall game is still developing. "He's got skill, he just needs to calm down and make better plays consistently," Hunter said.
--
Forward Ryan McGregor (sixth round, 172nd overall)
2016-17 stats with OHL's Sarnia Sting
GP: 65 G: 14 A: 13 P: 27
The 18-year-old is another local selection (he's from Burlington) who's coming off a down year with the Sting where he didn't produce to the level the Leafs expect he's capable of. "He needs strength," Hunter said of the 6-foot, 159 pound winger. "He's got hockey sense, he's got skill. I believe he's got some upside and is going to take off next year."
--
Defenceman Ryan O'Connell (seventh round, 203rd overall)
2016-17 stats with CISAA's St. Andrew's College:
GP: 7 G: 0 A: 4 P:4
2016-17 stats with BCHL's St. Andrew's College:
GP: 47 G: 6 A: 27 P: 33
Pulling O'Connell right from their own backyard, Hunter said he "can really skate," but will be patient in his development. Right now the 18-year-old is slated to play with the BCHL's Penticton Vees next season and attend Boston University starting in 2018-19.