Pens proving it possible to win Cup without superstar D-man
A group of unsung blueliners has the Pittsburgh Penguins on the precipice of winning a second straight Stanley Cup and flipping a familiar script. TSN Senior Hockey Reporter Frank Seravalli has more.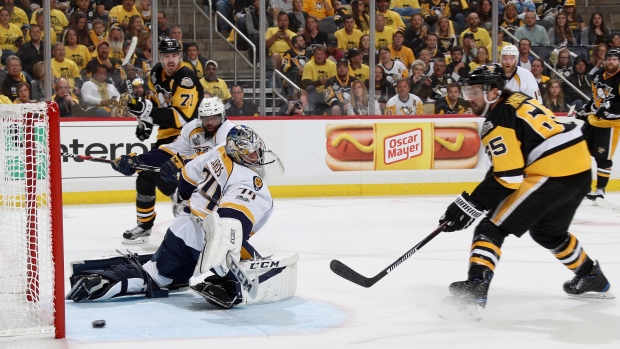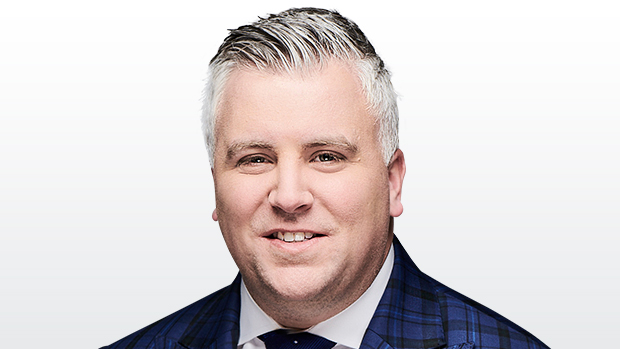 NASHVILLE, Tenn. — Just when it appeared the Pittsburgh Penguins' thin blue line was breaking apart - again - at the biggest moment of the season, they banded together for what coach Mike Sullivan called their "best night as a group of six."
Now, a unit that some didn't give a chance to get past the Columbus Blue Jackets without Kris Letang, has the Penguins on the brink of another Stanley Cup.
"I know we're no Kris Letangs back here," Justin Schultz said. "We're just trying to each step up a little bit and it's been working so far. We've got to get one more win."
The 2017 Penguins are proving it is possible to win the Stanley Cup without a superstar defenceman, the one thread that ties together each of the champions over the last decade.
Every team had at least one: Letang (2016, 2009), Duncan Keith (2015, 2013, 2010), Drew Doughty (2014, 2012), Zdeno Chara (2011), Nicklas Lidstrom (2008), Scott Niedermayer and Chris Pronger (2007).
The last Stanley Cup champion without a true star on the backend was the 2006 Carolina Hurricanes, also pieced together by current Penguins manager Jim Rutherford.
Rutherford said before this Stanley Cup Final started that the sum of Pittsburgh's defence corps is better than its parts.
Contrast that with Nashville's star-studded lineup including P.K. Subban, Roman Josi, Matthias Ekholm and Ryan Ellis. They also traded away Shea Weber and Seth Jones and lost Ryan Suter to free agency over the years. It's quite a juxtaposition.
"We're fortunate that we have the right guys that can play that role," Rutherford said on May 28. "As long as the six guys that are in the lineup [in] any given game play within themselves and don't have to eat up too many minutes, then this group is fine. We've seen that they've gotten it done, and they can do it."
At times during these playoffs, it almost seemed like they couldn't do it. Whether it was Games 5 and 6 against the Capitals, or Game 3 against the Senators, or even Games 3 and 4 in Nashville, the Penguins' makeshift defence seemed to be its biggest downfall.
Then you watch Game 5 against the Predators, or Game 7 against Washington, or Games 4 and 5 versus Ottawa and realize that they find a way - that injuries are, perhaps, overrated in hockey. There is a reason why the analytics community hasn't come close to perfecting a wins-above-replacement stat to mirror the one in baseball.
Not only did the Penguins shut out the Predators in Game 5, but their defencemen either scored or assisted on five out of the six goals they tallied.
"This team doesn't have success if that group of defencemen doesn't play the way that they've played throughout the course of this playoffs," Sullivan said. "These guys are defending hard. They're blocking shots. They're doing all the little things, I think, that don't necessarily show up on a scoresheet or you can't necessarily quantify in a statistic, but those little things add up to help a team win games."
There was Ron Hainsey, a trade deadline acquisition, piling on with the sixth goal in a 6-0 blowout in the Stanley Cup Final after ending the regular season as the NHL record holder for most games played (907) before appearing in his first playoff game.
"It's nice to score, but it's 6-0," the all-business Hainsey said during his intermission interview. "If I could get the game-winner in Game 6, it might mean something."
It's almost hard to imagine what this Penguins defence would look like without Rutherford's handiwork before March 1. Knowing Letang and Trevor Daley would be out, he traded for Hainsey and Mark Streit.
Daley has still missed four playoff games and even when he's in, he sometimes looks like he's gutting through it on one leg. Ditto Justin Schultz, who also missed four games along the way, after suffering what appeared to be a shoulder injury against Ottawa.
"You know, I've said it on a number of occasions throughout the course of these playoffs that our defence group is, in a lot of ways, the unsung heroes of this team," Sullivan said Friday. "I think they fly under the radar for obvious reasons. We have a lot of dynamic forwards who make a lot of great plays throughout the game, that a lot of times, on a lot of nights, [they] become the story line."
--
Contact Frank Seravalli on Twitter: @frank_seravalli