Locke gets rare win as Bucs dump Marlins
Jeff Locke worked into the sixth inning in his first win in more than a month, and the Pittsburgh Pirates dropped the reeling Miami Marlins 5-1 on Tuesday night. Locke (3-2) struck out six and walked four in 5 2/3 shutout innings for his first victory this season against a team other than last-place Milwaukee. Neil Walker hit a two-run homer in Pittsburgh's fifth straight win, and Josh Harrison and Jung Ho Kang had two hits apiece.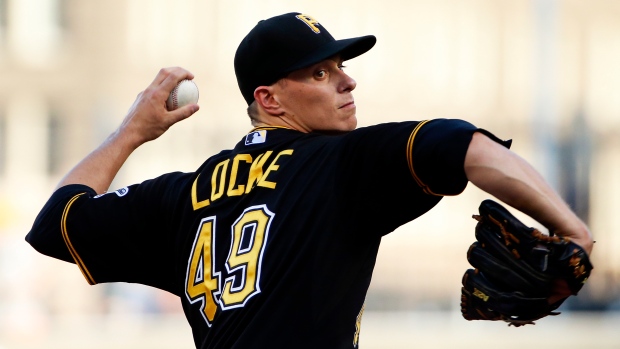 PITTSBURGH, Pa. - Jeff Locke doesn't have the same electric stuff as the other four guys in Pittsburgh's rotation.
The left-hander has to find different ways to put up zeros. When his curveball obeys the way it did in Tuesday night's 5-1 win over Miami, Locke fits in quite well.
Avoiding the major trouble that has plagued him at times this season, Locke tossed 5 2/3 shutout innings to pick up his first victory in nearly six weeks and extend Pittsburgh's winning streak to five.
From Locke's perspective, he is just trying to keep pace on a rotation that ranks second in the majors in ERA behind the power arms of A.J. Burnett and Gerrit Cole.
"Everybody has been throwing the ball so well," Locke said. "You never want to feel like the weakest link, not that you ever do. You never want to feel like you let anybody down. You just want to keep it going as long as you can."
Locke (3-2) wasn't exactly crisp, needing 104 pitches to get 17 outs while walking four and striking out six. Yet he wriggled free whenever Miami threatened. The Marlins left 10 runners on base and went 1 for 6 with runners in scoring position.
Neil Walker hit a two-run homer as the Pirates moved back above .500 (23-22), and Josh Harrison and Jung Ho Kang had two hits apiece. Pittsburgh is batting .306 during its winning streak while raising its team batting average to .250. Heady territory considering the Pirates were mired around .220 at the beginning of the month.
"It's been more consistent team at-bats," Harrison said. "You know early in the year we showed flashes of here or there but it wasn't throughout the lineup. That's how we are when our whole lineup is like that, we're a dangerous team."
Miami rookie Jose Urena (0-1) failed to make it out of the fifth inning in his first big league start, giving up five runs in 4 2/3 innings. Martin Prado had an RBI double and Christian Yelich added two hits for Miami, which fell to 2-7 under manager Dan Jennings.
The Marlins recalled the 23-year-old Urena from Triple-A earlier in the day to make a spot start for a rotation beset by injuries. Urena was an impressive 4-0 with a 1.22 ERA in the minors, but the Pirates made quick work of his mid-90s fastball and scored all five of their runs with two outs.
"I felt when I had two strikes that I had the hitter done already," Urena said. "I made a mistake up in the zone and those are things you learn as a rookie. You can't stop until you get to three outs."
Kang singled home Harrison to give Pittsburgh the lead in the first. Harrison — who has multiple hits in six of his last 11 games — doubled home Jordy Mercer in the third and Walker then sliced his third homer of the season into the seats in left field.
That was more than enough to put away the Marlins, who have lost 13 of their last 16 games, a stretch that included Jennings replacing Mike Redmond. Third base coach Brett Butler was reassigned Tuesday morning, but Jennings declined to get into specifics. Lenny Harris took over for Butler in what Jennings expects to be a smooth transition.
There were no obvious issues. Then again, Harris didn't have much to do.
LOCKED IN
Locke came in winless in his previous six starts as his ERA ballooned to 5.28, easily the worst among the starters. He seemed to find something during a no-decision against Minnesota last week, settling down after giving up three runs in the first.
The 2013 All-Star kept it going against the Marlins, pitching carefully to Giancarlo Stanton and taking his chances with the rest of Miami's struggling lineup. Locke's solid outing came after he gave his usually bushy black curls a trim earlier in the day. The clean-cut look worked in his first scoreless appearance since last August.
TRAINER'S ROOM
Marlins: 1B Michael Morse was placed on the 15-day disabled list with a strained ligament in his right ring finger to make room for Urena. ... RHP Jose Fernandez will throw a simulated game on Wednesday as he continues his comeback from Tommy John surgery. ... RHP Henderson Alvarez is focusing on strengthening his ailing right shoulder and has not been cleared to throw. ... RHPs Jarred Cosart and Mat Latos will work off the mound later this week.
UP NEXT
The Pirates go for their second straight series sweep and third of the season on Wednesday when Cole (6-2, 2.05 ERA) tries for his seventh win of the season. Cole tossed a career-high 8 1/3 innings and struck out 10 in a victory over the New York Mets last Friday. The Marlins, who have already been swept five times, will send out lefthander Brad Hand (0-1, 5.48) for his first start of the season.