Love had 'very honest' talk with James before re-signing
Forward Kevin Love says he and superstar LeBron James had a "very honest" talk before he decided to re-sign as a free agent with the Cavaliers. Love announced he was returning last week and said Thursday that his new five-year, $113.2 million contract with Cleveland is "inked and official."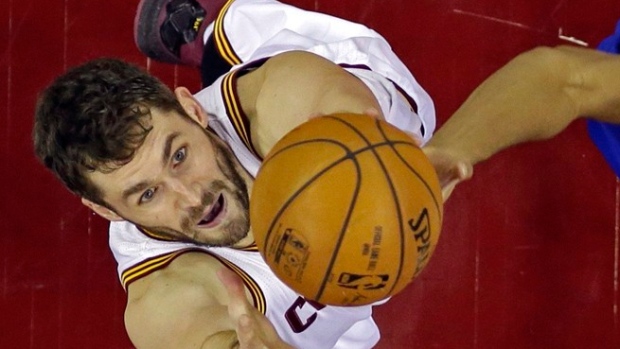 CLEVELAND - Kevin Love's poolside chat with LeBron James persuaded him to jump back in with the Cavaliers.
Love, who announced last week that he will stay in Cleveland, said Thursday that he and James had a "very honest" talk before free agency opened and the discussion led him to re-signing with the Cavs, a team he hopes to help win an NBA championship.
The Love-James relationship was constantly analyzed last season as the Cavs tried to mesh new players under first-year coach David Blatt.
There were some awkward periods, but Love indicated on a video posted on The Players' Tribune (https://youtu.be/gX7ZudlthIc ) that any issues between he and James were resolved when they met shortly before free agency opened.
"He happened to be in Los Angeles the same time I was," Love said of James, who agreed to a two-year contract on Friday with Cleveland, two persons familiar with the deal told the Associated Press.
"So, we just talked everything out and a lot of stuff was very honest and we came to a really good place and we agreed on a lot of things, so I think that was also a very big deal when you're talking to the best player in the world."
The pair were photographed sitting near a pool and Love said "it turns out pools are great meeting places" when he revealed he would re-sign with Cleveland.
The Cavs sent out a release shortly after Love signed his new deal.
"From the moment Kevin arrived, he has shared our plan for winning in Cleveland. Today confirms our mutual belief in that vision," general manager David Griffin said.
"As one of the truly elite players in the NBA, Kevin's value and impact was critical to our success this past season and we are thrilled that he will be part of our core group for many years to come."
The league set its salary cap for the 2015-16 season on Wednesday, and based on the new data, Love will get a five-year, $113.2 million contract. His salary for next season will be $19.69 million.
But Love said his desire to win a title with the Cavs outweighed every other consideration when deciding where to continue his career.
He was unable to play in the NBA Finals after suffering a serious shoulder injury in the opening round against Boston and undergoing surgery.
Love, who averaged 16.4 points and 9.7 rebounds in 75 regular-season starts, said watching the Warriors celebrate after winning Game 6 in Cleveland motivated him to return to the Cavs, who pulled off a blockbuster trade last summer to pair him with James and All-Star guard Kyrie Irving.
"I expressed this to LeBron and he'd been through it a couple of times now — I can actually go wherever I want and pick the team I want to play for," Love said.
"But every time I went through the different scenarios I always came out at the same place, and that was to be in Cleveland and try to win championships. I would be able to really help this team win and going forward make a very big impact on this team and on this city, trying to bring a championship or championships."
After some ups and downs during the regular season, Love was comfortable in his role and was playing well when his shoulder was dislocated in the opening round of the playoffs. Boston centre Kelly Olynyk yanked Love's left shoulder from the socket, causing extensive damage which required surgery. Love is expected to be ready for the season opener.
Love was the Cavs' first free-agent move, but not the only one.
James agreed to terms of a two-year package that includes a player option for 2016-17. The four-time MVP's salary will jump to $22.97 million next season.
The Cavs are still working toward a deal with forward Tristan Thompson, who is represented by James' agent, Rich Paul. Thompson emerged as valuable player in the post-season after Love got hurt.
Also, the Cavs announced the signing of guard Iman Shumpert, who received a four-year, $40 million contract. Cleveland may also make the signing of guard Mo Williams official. He's reuniting with James and is a bargain at two years for $4.3 million as the Cavs needed to upgrade their backup guard situation.
J.R. Smith, acquired in a trade during the season, remains a free agent and it's not clear if the Cavs will re-sign him. He opted out of a $6.4 million contract last week and hit the market.