Love of the game and faith keep Jagr going
On the cusp of sitting alone in second in career NHL points, a 'religious' work ethic and deep passion for the sport just might keep hockey's ageless wonder in the NHL until he's 50, TSN Senior Hockey Reporter Frank Seravalli writes.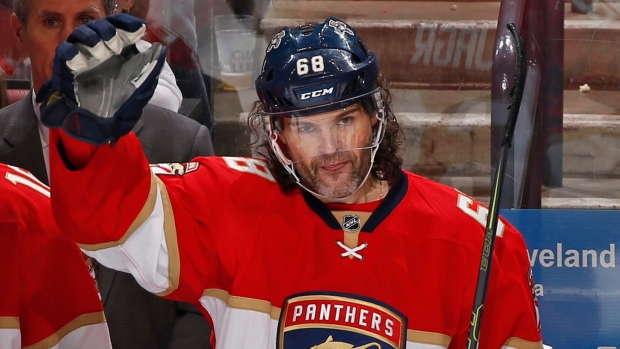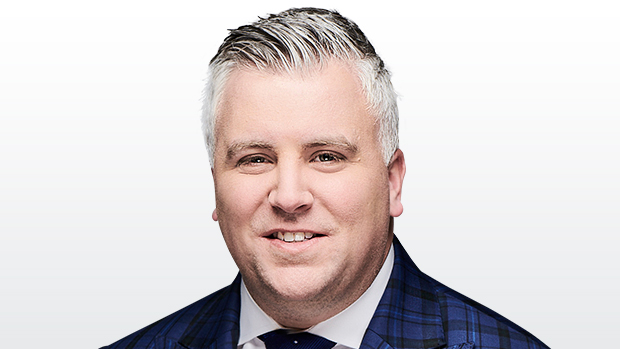 SUNRISE, Fla. - Jaromir Jagr missed a big boxing match last weekend, but he was eager to hear the results because the challenger was one of the few active professional athletes older than him.
Days before his 52nd birthday, Bernard Hopkins took on a 27-year-old New Yorker who was born after his first career win.
"Let me guess. He won, right?" Jagr asked, thinking he knew where this was heading.
Well, not exactly. Hopkins was dangling on the ropes in the eighth round when a sequence of uppercuts blasted him through the ropes, leaving him dazed on the floor below — another cautionary tale of a star who thought he could outrun Father Time.
The bemused expression left Jagr's face, the parallel lines connecting.
Really, how else did anyone think that fight would end?
That day of reckoning, that uncomfortable ending, will ultimately come for Jagr. Father Time remains undefeated, of course.
The 44-year-old Jagr just doesn't think that day is anywhere close, especially after a sluggish start to the season left some in the Florida Panthers' front office wondering whether he could still keep up.
"I'll tell you one thing, they are very wrong," Jagr said Monday. "I understand people think the end is coming, that I'm crazy. The numbers (six points in the first 17 games), they're just numbers. It doesn't tell you actually how I felt and how I played. I feel better than last year.
"There are a lot of younger players with a lot worse numbers than me in the league. When it's them, they say that they're struggling. When it's me, they say, 'He's old; it's catching up to him.' They are very wrong."
Jagr answered any lingering critics with a masterful three-point effort the following night, vaulting him into a tie with Mark Messier for second on the NHL's all-time scoring list with 1,887 points.
The only NHL player to skate against No. 1 overall picks 45 years apart – 1971's Guy Lafleur and 2016's Auston Matthews - will beat Messier's mark with one more point. His first opportunity to do so is Thursday when Florida hosts Boston.
"When he came into Pittsburgh, he dazzled us with his power and his skill," Messier said last week. "Later on in his career, he's inspired us with his passion and dedication. He's played long enough to really understand the significance of what the game means to him as a person and a player."
To really understand Jagr, though, is to peel back the facade of the ageless mullet, past the folkloric midnight training sessions and beyond the goofy teammate who lives to torture the equipment staff.
Jagr, six weeks shy of 45, is all of those things. But at his core, he is one of the NHL's deepest thinkers, a man of faith and unapologetically himself in a sport that demands conformity.
When hearing Roberto Luongo talk about Jagr's "religious" work ethic, you would hardly know Jagr is a man who endeavours to visit church most game days, home or on the road. He said he feels his head is "hooked up to electric steam" as soon as he walks in.
Gilded hand-painted faces of the Eastern Orthodox Church's Holy Trinity adorn his locker in Florida, as they have in his other four NHL stops since finding religion in Russia during his three-year stay in the KHL.
Because of his faith, Jagr says he can keep playing until 50.
"Anything you want, you just ask. I just ask," Jagr said. "People think it's a joke. It's not a joke. They just aren't connected. Once you are connected, you know it's the truth. The bible doesn't lie."
Jagr said he learned in Russia to not hide his religion or be ashamed of it. Religion was banned when he was growing up in Czechoslovakia because it conflicted with communist propaganda. Jagr's grandfather died in jail in 1968 after being locked up by Soviet forces for refusing to work his farm for free. It is one of the reasons Jagr has worn No. 68 his entire career; it also honours the period of political liberalization and brave rebellion in his homeland in 1968.
Jagr once said he could have seen himself becoming a priest because of the strong connection between dedicating your life to your work and helping others.
"The game has to be the No. 1 priority in his life to play this long," Messier said in a conference call.
For Jagr, nothing else is close. He plays not to chase records, but because he loves the game.
On the night he tied Messier's mark, he kissed his girlfriend goodbye and told her not to wait up. At 12:30 a.m., more than two hours after the game ended, Jagr was the only man left in BB&T Center, training alone long after teammates and security guards left.
Jagr scoffed at the notion that he is slowing down. His skating has been the most frequent point of attack for critics.
"If you say that my legs are slower than they used to be, well, you're kind of wrong," Jagr said. "When I watch myself when I was skating 20 years ago or 15 years ago, I'm a lot quicker right now than I was then. Trust me, I've looked at the game. I've watched the tapes. It's the only way you can tell.
"The league is just a lot quicker. If somebody told me I've slowed down, well, yes, relative to everyone else. I didn't slow down. Everyone else just got quicker."
Jagr said he could play 30 minutes a night now if asked. His stamina and longevity are beyond reproach. In 23 NHL seasons, he has only missed 107 regular-season games due to injury.
Jagr needed 94 fewer games than Messier to score 1,887 points. He would have been hundreds of points closer to Wayne Gretzky if not for the 148 games Jagr missed due to three NHL lockouts and three seasons played in Russia – which is why Messier said the inevitable passing "feels kind of anticlimactic in a way."
"I guess in my own mind," Messier said, "he surpassed me a long time ago."
The game, Jagr says, is "coming full circle." Two decades ago, he clashed with coaches who wanted him to dump the puck and chase it down on the forecheck.
Puck possession and controlled zone entries, a Jagr staple for 1,662 regular-season games and counting, are the name of the game in 2016-17.
"It's like everything else - the style of dressing," Jagr said, laughing. "My style of hair is coming back, too."
Jagr is a hit with teammates not for his legendary status, but because he doesn't flaunt it. He is inclusive of everyone from star to fourth liner. He doesn't drink, but he is part of team adventures on the road — hanging with teammates who are old enough to be his children. Some 434 players — more than half of NHL rosters this season — were born after Jagr won his first Stanley Cup with the Penguins in 1991.
Nick Bjugstad said the only thing that makes Jagr seem remotely old is that his favourite game to play on the team plane is 90s throwback Tetris.
Bjugstad, 24, sits next to Jagr on the plane. He said Jagr has constantly been talking about buying a monkey.
"He keeps telling me he is going to buy two monkeys, one for me and one for him," Bjugstad said. "I keep trying to tell him it's illegal to own a monkey, or something. I don't know what we'd do when we go on the road."
"If people can have poisonous snakes, why can't you have a monkey?" Jagr shouted back across the locker room.
Jagr said there may be a surprise involved.
"You know how on Christmas morning, some people get a ring at the doorbell and there's a big package with a bow on the top?" Jagr asked. "There's going to be a monkey inside for Bjuggy. It's going to be awesome."
When will Jagr put a bow on his Hall of Fame career?
"If somebody tells me they want me to play a certain way to score goals, that's not going to happen. That's when I'd rather retire," Jagr said. "I play a different style. I'm not going to chip it in and go get it. I don't create anything like that. That's not me."
No one is going to tell him that now. Not yet, anyway, with Jagr accounting for nearly a quarter of the Panthers' even-strength point share, still among the Top 25 for all NHL players this season.
Jagr reiterated he wants to play until 50 — or beyond. If he isn't breaking records here in the NHL, it will be in his native Czech Republic where he is the majority owner of HC Kladno. Only he will decide, true to himself until the end.
"Whenever I feel like it," Jagr said, simply. "It's all in your head. Whatever you want, it's going to happen. I've just got to keep the faith."
Contact Frank Seravalli on Twitter: @frank_seravalli