Lundqvist remembers road hockey with the Nylanders
Rangers veteran goalie says facing young Leafs forward William Nylander is a reminder of just how long he's been around.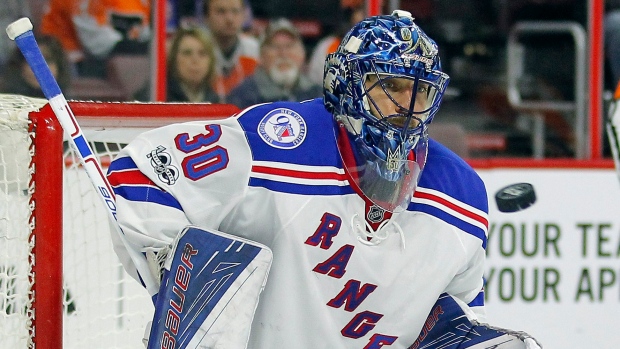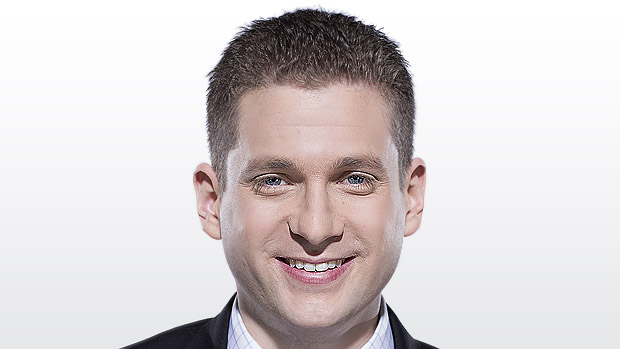 TSN Toronto reporter Mark Masters checks in with news and notes from Maple Leafs practices and game-day skates. The Leafs and Rangers skated this morning at Madison Square Garden ahead of their game tonight.
- Henrik Lundqvist breaks into a big grin when asked if he has any memories of a young William Nylander. Lundqvist was teammates with William's father, Michael Nylander, from 2005-07 and spent a lot of time with his fellow Swede and his young sons. "William would be out on the street playing with his brother [Alexander] and I joined them a couple times," the Rangers goalie recalled. "They weren't very big, but you could tell the guys had talent. You could really see it, the way they were moving the puck." Nylander was just nine years old when his dad moved to New York. "I didn't really know who [Lundqvist] was, I was so young," the Leafs rookie said sheepishly. "I just knew he was the goalie on my dad's team, but once you get older you understand how big he was. I was playing goalie, I think, and he would shoot on the driveway when I was growing up." The roles will be reversed on Friday night as the Leafs pay their first and only visit to Madison Square Garden this season. "It makes you realize you're getting older and you've been here for a while when things like this happen," said Lundqvist, who will turn 35 in March. "I've seen his stats this season. I'm really happy for him." Beyond the road hockey sessions with Lundqvist, Nylander has fond memories of attending games at MSG. "It's going to be pretty cool," the 20-year-old said. "I mean, you'd come here for playoffs and it'd be buzzing. It will be fun. It's the World's Most Famous Arena, so it's going to be pretty cool."
- How does Nylander assess his season so far? "It started well and then had some dips and now trying to stay steady." Nylander has scored just twice in the last 20 games. "He's had a hard time scoring five-on-five just because it's a harder game five-on-five," said head coach Mike Babcock. "We challenge him all the time to be more involved, be on the puck and go get the puck instead of waiting for it to come to you." Fifteen of Nylander's 26 points this season have come on the power play and he has a pretty straightforward answer when asked how he can produce more at even strength. "I've had chances," he said, "just have to bear down and score." Nylander's linemate, Nazem Kadri, has seen an evolution in his game. "Defensively he's a lot more conscious," Kadri said. "Being able to play with me and Leo [Komarov], I think he's become a lot more responsible, especially on the walls in zone. I mean, that's the difference between offence and defence and he's starting to understand that. He's been great along the walls in our own end, being able to get the pucks out."
- Frederik Andersen is expected to make his 34th start for the Maple Leafs. He only started 37 games for Anaheim last season. Has Andersen noticed any more wear and tear this year? "I haven't really noticed it," he insisted. "I try to take it day-by-day and recover when I have the chance." Leafs forwards and defencemen noted it may be hard to get the legs going early in the game coming off a bye week. What will it be like for a goalie? "You got to be focusing on fundamentals and making sure you track the puck all the way and move around for loose pucks," Andersen explained. "That's probably the biggest challenge when you come back, try to get that feel of being in the flow of the game." Curtis McElhinney is expected to make his Toronto debut on Saturday night in Ottawa.
- After missing eight games with a groin injury, Rick Nash returns to the Rangers' lineup on Friday. "Had a talk with him yesterday before practice and he's 100 per cent ready to go," said head coach Alain Vigneault. "Before he got injured he was one of our best two-way players, if not our best two-way player. He was competing real hard and using all his tools that make him the player that he is, a power forward that can take pucks to the net and make it real challenging on the opposition." Nash has 13 goals and seven assists in 30 games this season.
- The Rangers are one of just two Eastern Conference teams the Leafs haven't faced yet this season. "They can skate, I think we can skate," Babcock said. "I was particularly impressed by [Chris] Kreider and [Michael] Grabner's speed when we did the pre-scout. They obviously worked hard in the off-season to get their team quicker and it looks like they are." Grabner, who had nine goals in 80 games with the Leafs last season, leads the Rangers with 19 goals (all at even strength) in 41 games this season. After tonight, the Columbus Blue Jackets will be the only conference opponent the Leafs haven't played.
- NYPD detective Steven McDonald passed away on Tuesday at the age of 59. He was shot three times while on duty in Central Park in July 1986 leaving him paralyzed from the neck down. But McDonald, a third-generation cop and huge Rangers fan, remained on the force, serving as a goodwill ambassador. Every NHL season since the Rangers have given out the Steven McDonald Extra Effort Award to one of their players. Voted on by the fans, the award goes to the player who goes "above and beyond the normal call of duty." The Rangers will honour McDonald, who was laid to rest Friday, before tonight's game. The ceremony will air live on TSN4 starting at 7:08 pm. "He's an icon for us as a team," said Rangers captain Ryan McDonagh. "It's a sad moment for sure, but his message will live on forever for us and this group. There will be some emotion and we want to make sure he gets the recognition he deserves and, at the end of the day, put on a good performance for him." McDonald's funeral was on the television in the Rangers dressing room when the media entered for the post-skate availability Friday.
* Lines at Leafs morning skate:
Hyman-Matthews-Brown
van Riemsdyk-Bozak-Marner
Komarov-Kadri-Nylander
Martin-Gauthier-Soshnikov
Leivo
Rielly-Zaitsev
Gardiner-Carrick
Hunwick-Polak
Marincin
Andersen
McElhinney