Luukkonen leads way as European goalies return to CHL after ban lifted
Sudbury selected Finnish netminder Ukko-Pekka Luukkonen with the third-overall pick in the 2018 Canadian Hockey League import draft after a four-year restriction on selecting goalies was removed, making the Buffalo Sabres prospect the first European keeper chosen since 2013.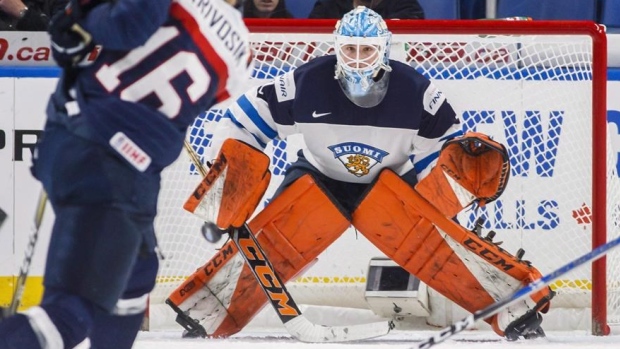 TORONTO — The Ontario Hockey League's Sudbury Wolves didn't wait long to pounce once the ban on foreign goaltenders was lifted for the 2018-19 season.
Sudbury selected Finnish netminder Ukko-Pekka Luukkonen with the third-overall pick in the 2018 Canadian Hockey League import draft after a four-year restriction on selecting goalies was removed, making the Buffalo Sabres prospect the first European keeper chosen since 2013.
"Given the rules at the time he wasn't an option until this year, so when they made the rule change you go back through your notes and memory bank and he was top of mind," said Wolves general manager Rob Papineau, who first had an interest in Luukkonen after watching him win gold and getting named an all-star at the under-18 world championship in 2016.
"From a scouting standpoint I don't think I was alone in thinking he was a very good goalie... Buffalo took him high in the NHL draft."
Goalies born outside North America became ineligible for the CHL import draft in 2014. The ban was implemented in part to benefit the development of up-and-coming Canadian goaltenders. CHL commissioner David Branch said at the time the decision was made after discussions with Hockey Canada.
The CHL changed its tune after talks in the spring, and the governing body making up the 60 team-league including the OHL, Quebec Major Junior Hockey League and Western Hockey League told teams about the change for the June 28 import draft in the weeks leading up to it.
The Canadian Press reached out to Branch for clarification on why the ban was lifted, but he has not yet provided comment.
Saginaw Spirit head coach Troy Smith believes it's the right move if the CHL wants to promote itself as the top development league.
"If we're going to be the best development league in the world, that includes goalies," said Smith. "We have to be open to everybody."
Papineau added: "They're good goalies, all these guys played at a national level with their countries and represented at some type of level. These are all guys at an elite level in their respective countries."
Luukkonen, who was selected 54th overall by the Sabres in the 2017 NHL draft, was the first of seven goalies taken amongst the 57 Europeans picked at the 2018 CHL import draft. He played the previous season in Finland's second-best league as an 18-year-old after making his pro debut a year earlier.
"After we had made the selection we made the initial point of contact and had a discussion about our team, our program, where we are and where we see ourselves going and why we felt we were the best place for him to play this year," said Papineau, who said he also spoke to Buffalo management.
The QMJHL was the only league that didn't draft an import netminder, with four going to OHL teams and three to the WHL.
Smith, whose OHL club went with Russian Ivan Prosvetov at No. 15, thought their could have been more.
"I actually anticipated a few more just because it was a new flavour, but seven is good number," said Smith.
London GM Mark Hunter has only drafted one import goalie in his time with the Knights, Russian Igor Bobkov in 2010, and referenced New England Patriots head coach Bill Belichick in his explanation for how the rule change affects his club.
"They give us the rules, we go by the rules, we adapt to the rules and try to make sure our program is winning," said Hunter.
CHL teams are allowed to have a maximum of two import players on their roster, including a goalie.
Switzerland's Akira Schmid (No. 20 Lethbridge Hurricanes), Finland's Kari Piiroinen (No. 30 Windsor Spitfires), Denmark's Mads Sogaards (No. 32 Barrie Colts), Russia's Maksim Zhukov (No. 48 Barrie Colts) and the Czech Republic's Jiri Patera (No. 104 Brandon Wheat Kings) round out the seven taken in 2018.
AROUND THE CHL: North Bay Battalion forward Justin Brazeau is the CHL player of the week after producing four goals and nine points in two games — including a seven-point performance in an 8-3 win over the Kingston Frontenacs on Sunday. The 20-year-old captain's three goal, seven-point outing match the club's all-time record set by Wojtek Wolski in 2006. The New Liskeard, Ont., native currently leads the OHL in points with 25 in 12 games.
— Emile Samson of the Blainville-Boisbriand Armada earned CHL goaltender of the week after posting back-to-back wins with one shutout and a .984 save percentage. The 19-year-old from Levis, Que., stopped 61-of-62 shots in total, including a 32-save 4-0 shutout win over the Val-d'Or Foreurs. Samson is 6-2-1 with a QMJHL-best 1.86 goals-against average and .939 save percentage.
— Eric Wellwood was named head coach of the OHL's Flint Firebirds on Oct. 18 after Ryan Oulahen stepped down on Oct. 12 citing "personal and family reasons." Flint was 0-7-0 to start the year under Oulahen and is currently on an 11-game losing streak heading into Friday's matchup with the Sarnia Sting.
— Former NHLer Adam Foote was named head coach of the WHL's Kelowna Rockets on Tuesday, one day after the club relieved Jason Smith of his duties. Kelowna was 4-10-0 to start Smith's third campaign with the team. Foote's son Nolan is a defenceman on the Rockets, while his other son Cal played for them last season.
— As of Wednesday, the top 10 teams in the CHL rankings are: 1. Prince Albert Raiders (WHL, 13-1-0); 2. Rouyn-Noranda Huskies (QMJHL, 11-2-0); 3. Halifax Mooseheads (QMJHL, 11-3-0); 4. Ottawa 67's (OHL, 10-3-1); 5.Vancouver Giants (WHL, 10-2-2); 6. Baie-Comeau Drakkar (QMJHL, 9-3-1); 7. Victoria Royals (WHL, 8-3-0); 8. Mississauga Steelheads (OHL, 8-3-1); 9. Sault Ste. Marie Greyhounds (OHL, 8-3-2); 10. Moncton Wildcats (QMJHL, 8-3-2).
___
Follow @KyleCicerella on Twitter
Kyle Cicerella's junior hockey notebook will be published every Thursday.