MacKinnon, Soderberg help Avalanche beat Wild
Carl Soderberg had two power-play goals, Nathan MacKinnon also scored with the man-advantage and added two assists, and the Colorado Avalanche beat the Minnesota Wild 7-2 on Saturday night.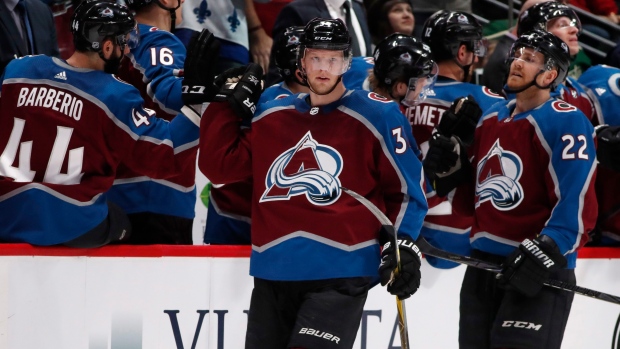 DENVER — The Colorado Avalanche are playing with a swagger they didn't have while struggling last season.
Carl Soderberg had two power-play goals, Nathan MacKinnon also scored with the man-advantage and added two assists, and the Avalanche beat the Minnesota Wild 7-2 Saturday night.
Mikko Rantanen also had a goal and two assists, and Gabriel Bourque and Patrik Nemeth each scored in the opening period for the Avalanche, who extended their season-best winning streak to five games in front of a raucous crowd at the Pepsi Center. Tyson Jost added the final goal in the third and Jonathan Bernier stopped 34 shots while filling in for starter Semyon Varlamov for the second straight game.
"It was like playoff hockey," Rantanen said. "You look at the crowd and how pumped they were, a divisional rival, (Minnesota). It's a big game, so a 7-2 win shows the confidence we have right now."
Colorado won five of six on its homestand and now heads into its bye week with 22 wins and 47 points. The Avalanche totalled just 22 wins and 48 points last season.
"We're night and day from where we were last year, two years ago, three years ago," MacKinnon said.
Emotions boiled over in the third when Colorado centre Alexander Kerfoot bumped into Minnesota goalie Devan Dubnyk in the net. The frustrated Wild netminder then jumped on the back of Kerfoot and appeared to punch him in the head.
Not long after, MacKinnon scored the Avalanche's third power-play goal of the game 7:17 into the period to make 6-2, and Dubnyk was pulled.
Eric Staal scored in the final minute in each of the first two periods and Dubnyk made 26 saves before being relieved by Alex Stalock in the third for Minnesota. Stalock stopped five of the six shots he faced as the Wild dropped to 8-13-1 on the road.
"We took a step back today," Minnesota coach Bruce Boudreau said. "We got to learn how to win on the road. That's ridiculous how we can play so good at home and completely opposite on the road."
Soderberg scored his first goal 8:03 into the second and Rantanen added to it with 3:41 remaining in the period to put Colorado up 4-1. Soderberg's second goal was the first of three for Colorado in a heated final period.
"That's a throw-away game," Dubnyk said. "It's certainly a game we wanted the points in, but we've been playing good hockey lately and there's no point in looking anymore into that game than what it was."
Earlier, Bourque opened the scoring with his first goal of the season on a feed by Colin Wilson 7:38 into the game. The Avalanche added to it with 1:44 left in the period when MacKinnon dropped a no-look pass back to Nemeth, who shot through traffic and beat Dubnyk over his right shoulder.
Immediately afterward, Dubnyk angrily slammed his stick into the post.
The Wild responded with Staal's goal off a rebound with 33 seconds left in the first. Then they trailed 4-1 when Staal again connected — this time with 38 seconds left in the second.
The Avalanche, however, never relented.
"Great way to go into the break," Colorado coach Jared Bednar said.
Prior to the game, the Avalanche retired former star Milan Hejduk's No. 23 jersey. Hejduk played his entire 14-year career with Colorado and was part of the team's 2001 Stanley Cup championship team. He finished with 375 goals and 805 points in 1,020 games. As part of the festivities, general manager Joe Sakic spoke about his former teammate and ex-linemates Peter Forsberg and Alex Tanguay carried out the '01 Stanley Cup to a loud ovation from the Pepsi Center crowd.
Hejduk's No. 23 was the sixth number retired in the history of the Avalanche, joining Joe Sakic (No. 19), Peter Forsberg (No. 21), Patrick Roy (No. 33), Adam Foote (No. 52) and Ray Bourque (No. 77).
"It was really awesome," Hejduk said. "It's something I will remember forever. It was great. It was awesome."
NOTES: Wilson and Kerfoot had two assists for Colorado. ... Varlamov missed his second straight game after leaving Tuesday's game against Winnipeg with a lower-body injury. ... The Wild had won four straight against Colorado. ... Mike Reilly and Chris Stewart were scratched for Minnesota. ... Sven Andrighetto (lower-body) sat out for a third straight game for Colorado.
UP NEXT
Wild: Host Calgary on Tuesday night.
Avalanche: At Dallas on Saturday night.