Making sense of the Neymar transfer
As Neymar nears the Camp Nou exit and appears to be on the verge of a transfer to Paris Saint-Germain and Ligue 1, the football world is trying to come to grips with one one of the most earth-shattering deals in sports history.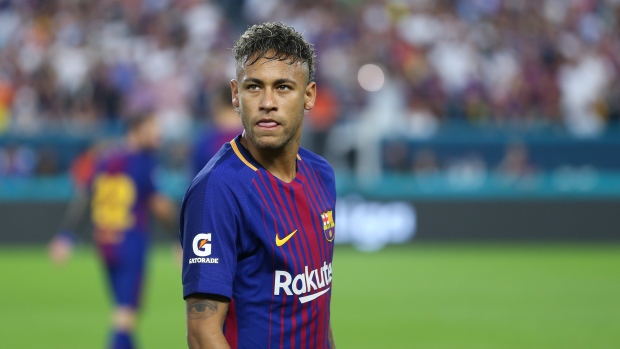 There are a number of reasons why Neymar's transfer to Paris Saint-Germain - the one that is actually seemingly happening - is eye-popping.
At 25, the Brazilian forward is still in his ascendancy, so to see a player of this stature leave Barcelona is almost unheard of.
Barca is the team that players like this head to when they've decided they've outgrown their clubs. Luis Suarez wanted out of Liverpool. Thierry Henry did all he could at Arsenal. David Villa's ambitions eclipsed Valencia's. For Neymar to walk away now turns everything we know about the international order of club football on its head.
Why would PSG be attractive? For one thing, close friend and former Barca teammate, Dani Alves, just joined the squad from Juventus.
It also doesn't hurt that the team is filthy rich. Owned by Qatar Sports Investments, the team is essentially bankrolled by the Qatari government. Their spending power dwarfs the rest of France's Ligue 1, meaning that a club led by the likes of Julian Draxler, Marco Verratti and Edinson Cavani are perennial title contenders (last season's finish as runners up to Monaco marked the first time since the Qatari takeover of the club that PSG didn't win the Ligue 1 crown) and are locks for the Champions League on a yearly basis. Like he did at Barca (eight times to be exact), Neymar can win trophies at PSG.
There is also the matter of being his own man. At Camp Nou, Neymar will never be the star attraction as long as Lionel Messi is around. Arguably the most celebrated Barca star in club history, Messi will forever be the face of Barcelona until he leaves with Neymar left to play second fiddle (or, perhaps, third if you were to ask Suarez). While Neymar is beloved by the Barca faithful, it will never match the adoration reserved for Messi. When it comes to personal glory, the only path towards a Ballon d'Or for Neymar goes through the exit door.
The "why" of the matter is a little easier to explain than the "how," because the process to get Neymar to the French capital is anything but simple.
We start with the transfer fee.
Since Barca has no intentions of selling one of their Big 3 attacking players, the only way for Neymar to join PSG is if the Ligue 1 side activates the player's release clause. According to Spanish rules, every professional footballer must have a clause in his contract that allows for his transfer if met by another side. In order to ward off interest, Barca slapped a theoretically crazy €222 million ($330.3 million CDN, $263.2 million US) release clause on Neymar. In pound sterling, that's £199.1 million. PSG will match the clause because for its oil-rich Qatari governing body, the fee is eminently affordable and presents a way to generate even more money for the club.
This smashes the record transfer fee by more than doubling it. The current record is Paul Pogba's return to Manchester United last summer from Juve at £89.3 million. Prior to that it was a pair of moves to Real Madrid with Gareth Bale (in 2013 from Spurs at £85.3 million) and Cristiano Ronaldo (in 2009 from United at £80 million) arriving at the Bernabeu.
The fee to be paid for Neymar seems more fitting for the purchase of an entire club. The owner of recently relegated Sunderland, Ellis Short, is believed to be looking for around £170 million for the Championship side in a potential sale. So basically, that works out to Neymar minus Roberto Firmino (signed by Liverpool from Hoffenheim for £29 million in the summer of 2015).
So once PSG coughs up the €222 million, everything is done and dusted, right?
Well, no. This is the part of football transfers the North American sports fan sometimes doesn't understand because it isn't prevalent over here. On top of a transfer fee, a team must come to personal terms with the player. In order for a transfer to go through, both must be achieved.
So what does this mean?
In hockey, defenceman Kris Letang currently has five years and $36.25 million remaining on the eight-year extension he signed with the Pittsburgh Penguins. If the Pens were to trade Letang tomorrow, the team acquiring the defenceman would take on his contract. Teams can sometimes retain salaries in trades, but this is the general understanding of the North American sports transaction.
That's not how it works in football.
Neymar is currently making €9.18 million a season with Barca (As an aside, the other salary quirk in Europe when it comes to contracts is that deals are expressed in a weekly wage, rather than yearly. It's much more common to read that "(Player) has signed new deal with (team) that will pay him £X a week" than to see his contract as an annual figure). That wage package will not carry over to PSG. In order for a transfer to go through, a new salary – "personal terms" in the common parlance – must be agreed upon between the prospective new team and the player.
To recap, then, we have a €222 million transfer and a new contract for Neymar that Rory Smith of The New York Times reports to be for a staggering €150 million over five seasons.
So all told, that means Neymar will cost about €372 million?
Well, no. On top of the transfer fee and the personal terms, there is the matter of the agent fee, a figure that has become more prevalent in recent transfer windows. The agent fee is exactly what it sounds like – the player's agent, who brokers any deal, gets a cut of that deal. For the 2016-17, English Premier League season, teams paid £220 million in agent fees alone. The Pogba transfer to United netted Dutchman Mino Raiola – one of football's so-called "super agents" – a reported commission of £41 million.
"We don't look after clubs, we don't look after anybody else, we look after the player," agent Jonathan Barnett explained to the BBC of the role that he and other agents play. "And by that, we make sure their life is properly run, any problems are taken care of and their life is made very easy so that all they can do is concentrate on playing football. We get paid for what we're worth. If we do a good job for our player then we get paid. If we do a bad job, we don't. There are plenty of agents who don't earn a living. You've got to be good at what you do and then you get paid rightly."
The agent fee payout in the Neymar deal could reach €40 million and that will go to…his dad. That's right, Neymar's agent is his father, so you can consider the transfer as the ultimate act of filial piety.
Okay, so a transfer fee of €222 million, a contract of €150 million and an agent payout of €40 million takes the full transaction to an approximate cost of €412 million ($615 million CDN, $489.45 million US, £369.7 million).

While this is no doubt the largest player transaction in sports history, its actual value won't be known for years to come. And as Neymar exits the shadow of Lionel Messi, he enters a brand new one of his own creation – the one made by this transfer, one that will be inextricably linked to Neymar for the rest of his career.