Malkin scores two as Penguins beat Devils
Evgeni Malkin scored two goals and the Pittsburgh Penguins took advantage of a couple of defensive lapses by New Jersey in posting a 6-1 victory over the Devils on Sunday night.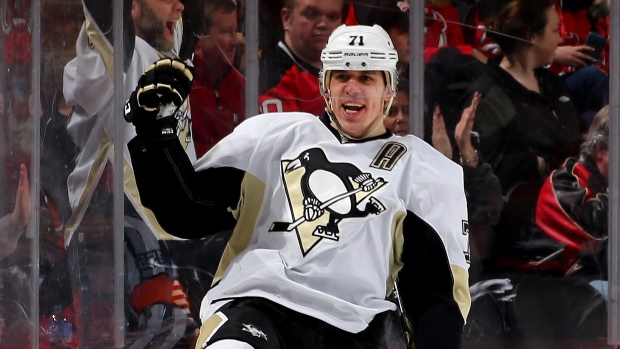 NEWARK, N.J. - The Pittsburgh Penguins weren't happy with the way they played in a loss to Calgary, and they took it out on the New Jersey Devils a day later.
Evgeni Malkin scored two goals and the Penguins took advantage of a couple of defensive lapses by New Jersey and the absence of All-Star goaltender Cory Schneider in posting a 6-1 victory on Sunday night.
"It was a really good game for us," said Nick Bonino, who added goals along with Matt Cullen, Bryan Rust and Scott Wilson. "The last time we were in this building we kind of did what we did yesterday and had a bad game and a bad effort. With the Devils, if you get a couple of goals early, it opens them up a little bit, and when they need to press for goals, we were able to take advantage of it."
Backup goalie Matt Murray made 17 saves as the Penguins rebounded from a lacklustre 4-2 loss to Calgary at home.
"Six goals is a lot," Malkin said. "But again, we were mad yesterday and we came ready to play tonight.
Kyle Palmieri scored his 25th goal of the season for New Jersey, which got more bad news after the game when it was disclosed that Schneider sprained his right knee Friday night and will be out at least two weeks. He had limited Pittsburgh to six goals in the last six meeting.
Keith Kinkaid made 24 saves replacing him.
"It's just an off day for me, and it's not the best game to have an off day when you have an opportunity like this," Kinkaid said.
The win was the Penguins' fourth in six games and it moved them into seventh place in the Eastern Conference, a point ahead of Detroit, which lost to Chicago. The loss was the eighth in 10 games for New Jersey, which is six points out of a playoff spot with 15 games left in the regular season.
The Penguins decided this one in the opening 21:37, taking a 3-0 lead.
Malkin and Cullen scored 38 seconds apart roughly halfway through the first period to stake Pittsburgh to 2-0 lead, and Bonino scored on a rebound at 1:37 of the second to put it in command.
"They are a hard-working team, especially at home," Penguins defenceman Kris Letang said. "They have a hard-checking game and they are tough to play against, so it was as big a response (for us) as you could ask for."
Devils enforcer Jordan Tootoo picked up an instigator penalty for a fight with Tom Sestito at 7:49, and Malkin put the Penguins ahead with a blistering one-timer from the right circle at 9:14 after exchanging passes with Sidney Crosby.
Cullen intercepted David Schlemko's pass coming out of his zone and beat Kinkaid with a shot between the circles at 9:52.
"I have to make a few stops for me team," Kinkaid said. "I have to make a big stop to give them the momentum, and I took the momentum out of them."
Bonino scored on a rebound in close early in the second to make it 3-0.
Palmieri gave the Devils some hope, scoring with a backhander on a breakaway at 7:52, and the Devils had a chance to close the gap with high-sticking penalties to Malkin and Olli Maatta gave New Jersey a two-man advantage for 1:22 at 12:04.
Murray made a great pad save on Adam Henrique during the power play, and New Jersey never threatened again.
"That was the big point in the game," Murray said. "I think if they score on that, it might be a different game."
Malkin, who has four goals in his last four games, got his second of the game and 27th of the season with a shot after Devils defenceman Jon Merrill fell while trying to clear a puck at his own blue line. The Russian beat Kinkaid with a shot from between the circles.
Rust scored on a deflection at 6:49 of the third period, Wilson scored with just under four minutes to go.
NOTES: Crosby now has a five-game point streak (3 goals, 6 assists). ..Penguins LW Carl Hagelin was scratched after waking up and not feeling well. He was hurt against Calgary and passed the concussion protocol. ... Devils C Jacob Josefson was out with an upper-body injury. ... Pittsburgh recalled F Conor Sheary from the minors on Sunday. ... Penguins D Justin Schultz was in the lineup for the first time since being acquired from Edmonton on Feb. 27. He had the primary assist on the Rust goal.