Manziel hopes Als 'haven't lost faith' in him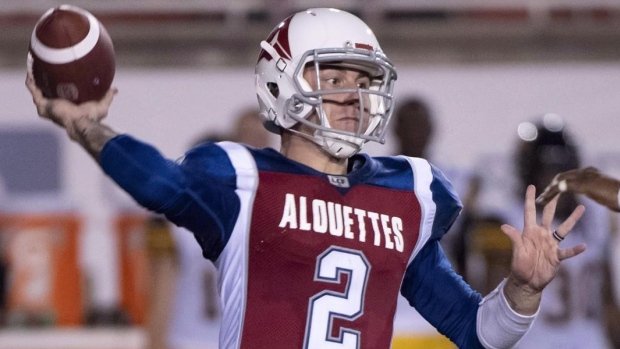 Johnny Manziel has voiced his frustration about serving as the Montreal Alouettes backup quarterback.
Speaking to reporters after practice Thursday, Manziel said he was frustrated the team didn't give him his starting position back after clearing concussion protocol two weeks ago and hopes the team hasn't lost faith in him.
"I hope this organization haven't lost faith in my ability to play and I still get a chance to come back and get a chance to be with the ones and play," said Manziel, who returned to practice Thursday after missing three days with the flu. "That's what I came up here to do and that's what I want to do."
Manziel said he thought the Alouettes would stick with him once he returned from injury after parting with so much to acquire him from the Hamilton Tiger-Cats earlier this season.
"They traded half of an organization I feel like in terms of what they gave up to get me here," he said. "I would think I would get a chance to come in and still play. That's where maybe it's a little bit lost on me.
"Missing the game because of the concussion and then not getting to play once I was back, it's been frustrating for sure. Because I felt like there was a lot of hope and a lot of faith in me being the guy here and how quickly that's changed in two weeks is tough."
Manziel suffered a concussion in the team's Week 9 loss to the Ottawa Redblacks when he was hit at the goal line trying to run for a touchdown. Antonio Pipkin replaced Manziel the next week and after a loss to the Edmonton Eskimos, led the team to two straight wins. Manziel said he would have liked to be in the lineup during the team's recent run of better play.
"You look at the game against Ottawa and I know our defence played really well and we made the plays that we needed to get a win," he said. "But it would have been really nice to be in there the three weeks prior."
The team is sticking with Pipkin as their starting quarterback. Despite admitting to being frustrated, Manziel said he'll still be a good teammate.
"It's hard not being out there but I'm supportive of Pip and all the rest of the guys as we go along," Manziel said.
"I feel like I've been doing what I need to do in the building, regardless of the concussion or not. I was here and I fully expected to come back. I'm going to continue to be the best teammate I can be."
In two games with the Als, Manziel has gone 27-of-46 for 272 yards with no touchdowns and four interceptions. Pipkin has gone 54-of-84 for 762 yards and one touchdown to four interceptions in three games.