Maple Leafs come back, win in OT to take series lead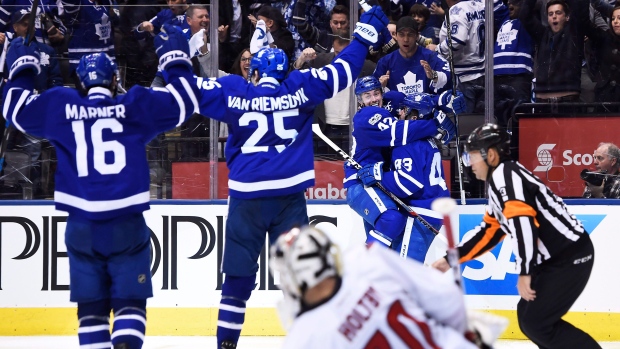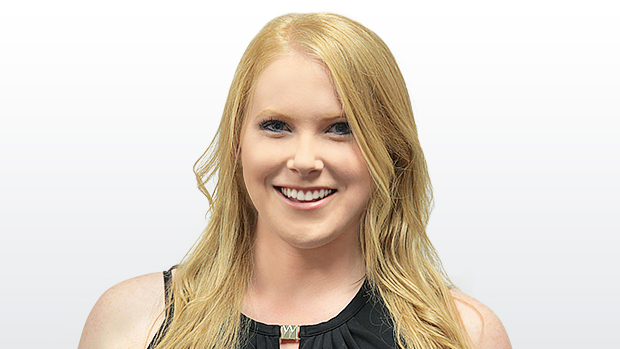 TORONTO – Not long ago, the Toronto Maple Leafs were deemed too young, and too inexperienced, to compete with the Presidents' Trophy-winning Washington Capitals in the postseason. But the Maple Leafs came to win, and now they lead the first-round series two games to one after Tyler Bozak's power play strike in overtime propelled them to a 4-3 victory in Monday's Game 3.
All three of this series' games have gone past regulation, the first time that's happened for the Maple Leafs' franchise since the 1933 Stanley Cup Final against Boston. And despite trailing 2-0 less than five minutes into their first playoff game on home ice in four years, Toronto refused to go away, and were rewarded with their second straight victory.
"We can battle, we can compete, we're driven, we're motivated. We want to win," said Morgan Rielly. "We're not going to take anything for granted, we're not going to do anything except work. We believe in ourselves, we believe in our systems, we believe in one another and there is no quit in this team."
Toronto had their work cut out for them after digging a quick hole that could easily have turned into a grave. Their start was about as disastrous as they could have imagined, with two lightning-fast scores given up to Nicklas Backstrom and Alex Ovechkin. Backstrom scored while play was four-on-four, the first time the Capitals have managed a goal at that strength all season.
Toronto looked inept in all three zones, sending passes flying well past their intended targets and losing every battle. Instead of making simple plays with the puck they were flinging stretch passes around haphazardly and got hemmed in their own zone repeatedly.
"There was definitely a sense of uncertainty," Rielly said of the mood on the bench early. "That's always tough; you put yourself behind the eight ball a little bit. There's a little bit of urgency, an anxious feeling going on but I thought we handled it well. We re-grouped between periods and came out strong."
Toronto needed their biggest weapons to set up and counter the attack from Washington's top line, which was rolling around in the offensive zone with ease in the first period. Nazem Kadri and Leo Komarov got the Leafs going with bone-rattling hits on Brooks Orpik and Ovechkin that sparked a response at last from the apprehensive Leafs.
Going into the game, Auston Matthews, William Nylander and Kadri, who were three of Toronto's four leading scorers in the regular season, had accounted for zero points. Each ended up with their first goal of the playoffs to lead Toronto's comeback.
"[Those hits] definitely shifted the momentum for us," said Matthews. "[Kadri and Komarov] have been great for us all series, not just on the scoresheet but playing against the top line all night. It was awesome for us to get the momentum after that shift. We showed a lot of resilience tonight. There was never any doubt in the room."
For all the talk about whether the Maple Leafs would be too drained from Saturday's double-overtime victory, it was Toronto who got the better of the Capitals and played faster as the game wore on. Washington's first shot didn't come until more than 14 minutes into that frame, and the Maple Leafs led 29-9 in shot attempts.
Washington head coach Barry Trotz said after the game this series was never going to be "David vs. Goliath", maintaining the Maple Leafs were too good a club for his group to take lightly, but his players opined there were several "lucky bounces" for Toronto that added up to a win.
Meanwhile Mike Babcock has introduced the concept of "pucker factor" into this series and left the pressures of it firmly on the Capitals' shoulders. His feelings haven't changed as Toronto now sits in the driver's seat.
"If you talk to our guys, our guys think they're a good hockey team," said Babcock. "When you're playing a good hockey team I think you gain respect for yourself and the process and you start believing that maybe you can do this."
The Maple Leafs have made it clear the last week how much they believe in each other, statements easily dismissed as lip service by a team too naïve to realize what they were headed for in the postseason. Toronto made a lot of mistakes in Game 3, especially on their back-end. Players were left wide open in the slot in front of Frederik Andersen regularly and they have been plagued by a surprising lack of discipline, yet they survived.
There's a long way to go before an ultimate winner is decided, but the Maple Leafs are, amazingly, in control of the series.
"We've always been confident in here," Bozak said. "It's never bad to be in an underdog position. There's a little less pressure, but we put a lot of pressure on ourselves to perform and we believe in ourselves in here and that's the most important thing."

Takeaways
Just hold on: As impactful as Kadri and Komarov's hits were to getting the Maple Leafs re-engaged, a 5-on-3 penalty kill in the second period may have been their biggest turning point. With Toronto trailing 3-1, Matt Martin was called for laying some shots on Tom Wilson's face; he was assessed an instigating minor and five minutes for fighting. Matt Hunwick had also gotten the gate for a hooking penalty before the fisticuffs, so Toronto had a full two minutes down two skaters to kill off. The Capitals put two shots on goal but were held off by the Maple Leafs' active sticks, a missed opportunity for Washington to put a spike in Toronto's comeback hopes – Babcock acknowledged the game would have been over if Washington had converted. While the penalty kill struggled in Game 2, it answered the bell at the right time. Martin Marincin led the way in shorthanded ice time at 3:42 and Toronto finished 3-for-3 on the kill.
Pick me up: Throughout the season, Toronto has been bailed out time and again by the sensational play of Andersen, and if not for his 47-save performance with their banged-up blue line on Saturday they wouldn't be leading this series at all. But Monday the rest of the team had to pick Andersen up, after those defensive breakdowns helped get him in trouble off the bat. Giving up two goals on the first two shots he faced – a backdoor tap-in by Backstrom, a one-timer from the top of the circle by Ovechkin – put Toronto on pace for a long night. Andersen didn't even make his first save until 9:38 into the game. A shortside strike in the second by Evgeny Kuznetsov, similar to Tom Wilson's overtime-winner in Game 1 but off a Marcus Johansson rebound, was a tricky play but one Andersen should have had. But the Dane came through when necessary, making the big stops Toronto needed to get to overtime. Andersen finished with 23 saves on 26 shots for an .885 save percentage.
Back in action: After missing the first two games of the series with an upper-body injury, Nikita Zaitsev returned to patrol the Maple Leafs' blue line. Already deep into testing their depth on the backend, Toronto needed Zaitsev to round into playoff form quickly, but it took him some time to get in a rhythm. On Backstrom's goal, Zaitsev made a bad read on the coverage and left the centerman alone and couldn't track back in time to stop him from pocketing the puck. He and Jake Gardiner were overmatched by the Capitals' top line, which Zaitsev all but confirmed when he said afterwards it was "the hardest first period of my life." Gardiner ended up seeing some time with Morgan Rielly and Rielly took on more power play and penalty kill minutes than Zaitsev as he was eased back into the pace of play. Zaitsev ended the night minus-two, a team-low.
Next game: Toronto hosts Washington in Game 4 on Wednesday.