Maple Leafs fire head coach Carlyle; Horachek and Spott take over
Randy Carlyle has been fired as coach of the Toronto Maple Leafs. The move comes on the heels of a brutal road trip during which the Leafs lost five of seven games and showed little signs of being able to snap out of its struggles. Assistants Steve Spott and Peter Horachek will run the bench for Wednesday's game against the Washington Capitals, the first in the post-Carlyle era.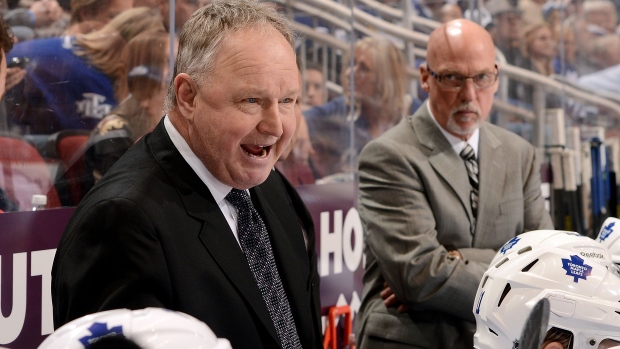 TORONTO - Inconsistency ended Randy Carlyle's tenure as coach of the Toronto Maple Leafs, according to general manager Dave Nonis.
Carlyle was fired Tuesday after the Maple Leafs lost five of seven games on their last road trip. The Leafs have a 21-16-3 record this season and currently hold one of the two wild-card spots in the Eastern Conference.
"I think we'd all agree we've had some good periods, good stretches, but I don't think I can stand here in front of you and say that we've been consistent," Nonis said at a news conference. "We just felt at this point this was the right time to make the change and move ahead and try to get this team back playing like we have played for periods this season."
Assistants Peter Horachek and Steve Spott will handle coaching duties for Wednesday night's home game against the Washington Capitals. Horachek ran the first practice of the post-Carlyle era.
Nonis did not indicate if or when the Leafs might hire a full-time head coach. According to TSN Hockey Insider Darren Dreger, a replacement process and candidates review will begin immediately, however, no timeline has been established for a new hire. Dreger adds that all Leaf players are now potential trade targets as the team moves forward.
It's possible Horachek and/or Spott could handle the job for the rest of the season, though there are several external candidates available. They include Pete DeBoer, who was recently fired as coach of the New Jersey Devils.
TSN Hockey Insider Bob McKenzie reports that the most likely scenario is Horachek becoming the interim head coach, as there will likely be many big name coaching candidates available this summer.

Carlyle, who was informed of management's decision Monday night, longed for answers back to last season, when the Leafs lost eight straight in regulation and 12 of their final 14 games to fall out of playoff contention.
When Brendan Shanahan took over as president, he and Nonis reviewed aspects of the organization and opted to fire Carlyle's assistants, Dave Farrish, Scott Gordon and Greg Cronin, and give him a two-year contract extension. Even with hindsight, Nonis said that was the right decision.
"Randy deserved to come back," Nonis said. "I think he's an excellent coach. You don't coach over 700 games without being good at it. Good coaches get let go and unfortunately today we had to do that and it has nothing to do with the summer or whether or not he was the right guy. He was the right guy to bring back and unfortunately today this was the right decision for our team."
The Leafs were blown out by the Buffalo Sabres and Nashville Predators in consecutive losses in November, bringing up concerns that Carlyle's job may be in danger. When asked if players were trying to get their coach fired, defenceman Cody Franson answered no and added an expletive.
Following those losses and in the aftermath of a controversy about not saluting fans at Air Canada Centre following a win, the Leafs went 9-1-1 to rocket into a playoff spot. Recently, some old problems began to creep up, especially on this 2-5 road trip.
"It's been too much of a roller-coaster," Nonis said. "It's not that (players are) not capable because they are, it's not that they haven't done it because they have. That's probably the biggest reason, or one of the biggest reasons, for the change today."
Carlyle went 91-78-19 in 188 games as Leafs coach over parts of four seasons.
The native of Sudbury, Ont., replaced Ron Wilson with 18 games left in the 2011-'12 season. Wilson was fired following the infamous "18-wheeler going right off a cliff" losing streak named for then-GM Brian Burke's quote.
Carlyle and the Leafs made the playoffs in the lockout-shortened 2013 season before falling behind three games to one in the first round against Boston. They came back to force a Game 7 and led 4-1 with 11 minutes left before losing in overtime.
In 2013-14, the Leafs were easily in a playoff spot when goaltender Jonathan Bernier suffered an injury. They lost eight in a row in regulation and dropped 12 of their final 14 games.
Carlyle's job appeared in jeopardy then, but Shanahan decided he wanted some time to evaluate the team. The final decision came with his firing, the fourth NHL coach this season to get the axe.
Paul MacLean of the Ottawa Senators was first, then Dallas Eakins of the Edmonton Oilers, followed by DeBoer.
Carlyle won the Stanley Cup as coach of the Anaheim Ducks in 2007.
"He's a good man, a good coach and he'll be back in this game quickly," Nonis said.