Maple Leafs place Enroth on waivers
Backup goalie lost all four of his starts for Toronto this season, posting a .872 save percentage and 3.94 goals-against average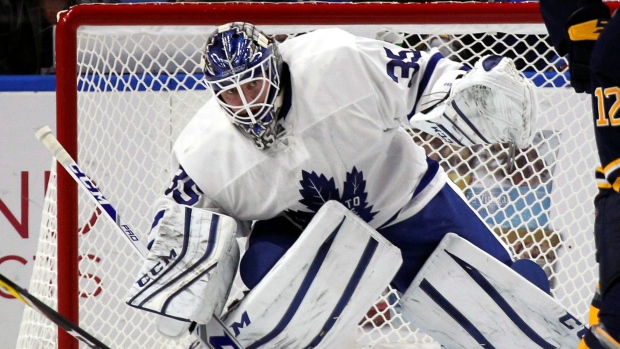 The Toronto Maple Leafs placed goaltender Jhonas Enroth on waivers Monday.
Enroth was signed as a free agent on Aug. 22, to a one-year, $750,000 contract. He lost all four of his starts for the Maple Leafs this season, posting a .872 save percentage and 3.94 goals-against average.
Toronto head coach Mike Babcock confirmed Fredrik Andersen will start against the Minnesota Wild on Wednesday, but didn't clarify who will back him up. Antoine Bibeau has been the top netminder for the AHL's Toronto Marlies this season, going 6-5-0 with a .907 save percentage, and was briefly recalled late last week to Vancouver when Andersen was battling an illness.
The most talked-about scenario for the Maple Leafs now involves Karri Ramo. The 30-year-old veteran has been skating daily since the summer in Toronto as he rehabs a torn left ACL and meniscus damage and is close to being medically cleared to return.
Ramo attended one practice with the Maple Leafs on Nov. 4, but hasn't been seen around the team since. He briefly had a stall in the Maple Leafs practice rink at MasterCard Centre and at Air Canada Centre, but both of those have been cleared out for weeks.
He was 17-18-1 last season with the Calgary Flames, finishing with a .909 save percentage and 2.63 goals-against average before the injury ended his season in February.
Enroth's most recent start against the Calgary Flames on Nov. 30 was his worst of the bunch. Enroth gave up two goals on the game's first three shots and one more before the first period ended. Babcock said he was "disappointed" after the 3-0 loss, and singled out his goaltender as not being ready to play.
All of Enroth's starts came on the second night of back-to-backs. He allowed three or more goals in each of the losses. He also let in three during his only extended relief appearance of Andersen.
News that the 28-year-old had been waived broke after he was a full participant in Monday's practice. Babcock was succinct in addressing Toronto's current goaltending situation.
"Met with [Jhonas] today. Obviously wasn't going good enough," Babcock said. "We're just in a situation where we're making a change."
If Enroth clears waivers, he will likely be reassigned to the Marlies, who already have three goalies on their roster (Bibeau, Garret Sparks and Jeff Glass).