Maple Leafs trade Bernier to Ducks for pick
The Toronto Maple Leafs traded goaltender Jonathan Bernier to the Anaheim Ducks on Friday for a conditional draft pick in the 2017 NHL Draft.
Kristen Shilton, TSN.ca Toronto Maple Leafs Reporter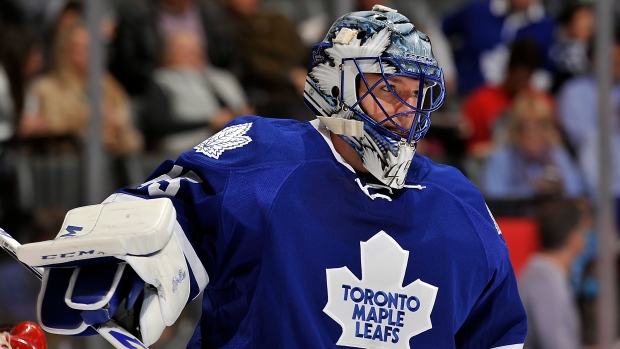 Moments after watching future Toronto Maple Leafs compete in a scrimmage at development camp Friday, general manager Lou Lamoriello made an announcement about the current roster.
The Maple Leafs had traded goaltender Jonathan Bernier to the Anaheim Ducks before the scrimmage ended. Anaheim sent Toronto a conditional draft pick in the 2017 draft in exchange for the goalie.
Lamoriello had gotten off the phone with Bernier just before addressing the media.
"[Jonathan]'s a pro, he certainly understands why," Lamoriello said. "Any time you make that type of a phone call, you always make a second phone call after because the player's thinking about what just happened. He's been a solid individual since the day I got here. We couldn't feel more comfortable with him as a person and what he did for us. But right now, we've moved on."
Bernier posted a 12-21-3 record with a .908 save percentage and a 2.88 goals-against average with the Maple Leafs last season, recording three shutouts. The Laval, Que., native was drafted in the first round (11th overall) by the Los Angeles Kings in the 2006 NHL Draft and traded to Toronto in 2013.
"I had no idea there was a trade coming up or that I was going to get moved," Bernier told reporters on a conference call Friday. "Lou called me this morning and gave me the news. I'm very happy to come to the Ducks. They have a great team as well. I think it's going to be a great fit for me and a new chapter."
The Maple Leafs acquired goaltender Frederik Andersen from the Ducks in June for two draft picks. The team quickly signed Andersen to a five-year, $25-million extension.
Bernier told TSN Hockey Insider Pierre LeBrun in June that Toronto's decision to go after another netminder wasn't a shock.
"I was expecting [the move] obviously with the season I had last year," Bernier said. "I'm sure I put some doubts in a lot of people's minds. That's the business, right? You got to win and you got to prove that you're consistent and you're a good goalie to stay in this league. So I wasn't surprised. Maybe a little surprised on the long-term contract, but that's the way it works."
He also told LeBrun he hadn't heard from the Leafs since his exit meeting in April but that he was "more than ready" to compete next season. He'll have a chance to prove himself once again to Ducks' head coach Randy Carlyle, who was bench boss in Toronto when he arrived from L.A.
"There's really nothing bad [to say], I really, really enjoyed my time in Toronto," Bernier said. "Probably one of the greatest organizations, greatest fans. Only good memories I'll have [from] playing in Toronto."
Lamoriello confirmed Friday the team will acquire a new backup for Andersen before training camp begins in September. They have three goaltending prospects in their system now with Antoine Bibeau and Kasimir Kaskisuo under contract and Garret Sparks a restricted free agent who was given a qualifying offer earlier this month.