Marchand plays his way into Hart Trophy debate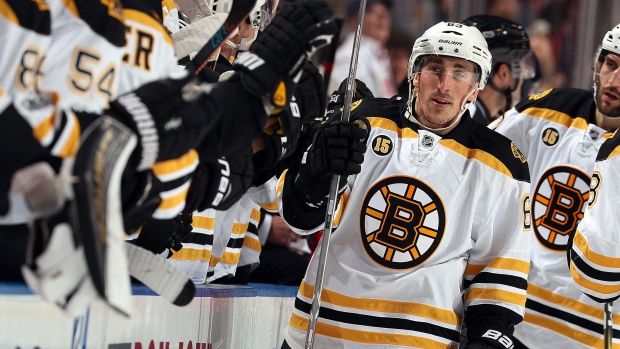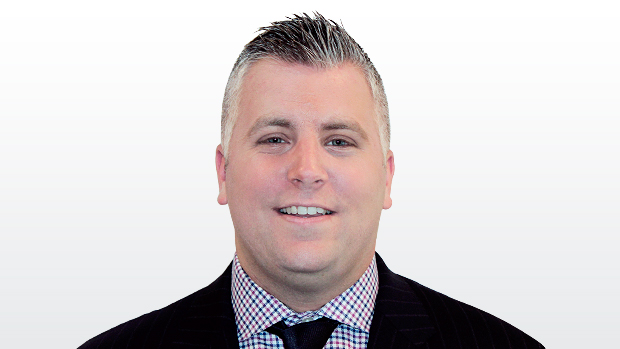 Milan Lucic joked with reporters Thursday in Edmonton that he felt guilty about taking shifts away from Brad Marchand during their years together in Boston.
Maybe Marchand would have morphed from Little Ball of Hate into Little Ball of Hart sooner.
The NHL's supreme shift disturber officially tossed his name into the growing Hart Trophy debate this week by overtaking Sidney Crosby in the goal scoring race on Wednesday, then matching Connor McDavid with three points one night later.
Marchand, 28, is hockey's hottest player in 2017. He's posted a staggering 27 goals in his last 30 games and is dragging the Bruins toward their first Stanley Cup playoff appearance since 2014.
No Bruin has won the Art Ross since Bobby Orr in 1975. No Bruin has led the league in goals since Phil Esposito in 1974 - when he also became the last Bruin to win the Hart.
What makes Marchand a candidate to break that drought isn't his point total or goal scoring prowess.
Even a casual hockey observer recognizes that Marchand has been an elite scorer for some time now. He finished sixth in goals last season and carried that over to the World Cup of Hockey, where he led the tournament with five goals - including the gold medal clincher.
Only eight NHL players have more even-strength goals than Marchand (140) since his first full season in 2010-11. In fact, his 92 even-strength goals compared to his 17 power play strikes over the last four seasons is easily the best ratio among the NHL's top 10 scorers in that time period.
Rather, it's Marchand's evolution as a more complete player that has made his game Hart quality.
Marchand's 42 assists are 14 more than his previous career high. He is trending toward ending the season with more assists than goals for just the second time in his career - and first since 2013-14.
He leads the NHL in points on the road (49) this season, five more than McDavid.
And Marchand plays an integral role on the NHL's 2nd-ranked penalty kill. At 1:49 of penalty killing action per game, no other forward among the NHL's top 10 scorers is within a full minute of Marchand.
McDavid, 20, is next closest at 47 seconds of shorthanded time on ice per game - and the Oilers' penalty kill is ranked 23rd. Crosby sees an average of eight seconds on the penalty kill per night.
Marchand has never finished higher than 10th in voting for any major NHL award in his seven seasons, yet he is now right in the thick of the action - just as he is on the ice.
Marchand's torrid last three months have widened the Hart ballot, adding intrigue for an MVP award that was mostly wrapped up by Kane at this point last season given the way he pulled away from the pack.
Members of the Professional Hockey Writers Association can only vote for five players, but here are six others with legitimate Hart Trophy hopes over the last month of the season:
CONNOR McDAVID, Edmonton
Stats: 70 GP, 24 goals, 55 assists, 79 points
Scoop: McDavid has maintained at least a share of the NHL's points lead every day since late November as he helps the Oilers creep closer to clinching their first playoff berth since 2006.
SIDNEY CROSBY, Pittsburgh
Stats: 63 GP, 35 goals, 39 assists, 74 points
Scoop: Crosby leads the NHL with 1.17 points-per-game after missing the first six games of the season with a concussion.
BRENT BURNS, San Jose
Stats: 70 GP, 27 goals, 43 assists, 70 points
Scoop: Burns is three strikes shy of the first 30-goal season by an NHL defenceman since Mike Green in 2008-09.
DEVAN DUBNYK, Minnesota
Stats: 36-16-3 record, .930 save percentage, 2.11 goals against-average
Scoop: Dubnyk is tied for the league lead in save percentage and has been a consistent rock for the Central-leading Wild.
NIKITA KUCHEROV, Tampa Bay
Stats: 63 GP, 31 goals, 38 assists, 69 points
Scoop: Kucherov has already bested his career-high numbers while pushing the injury-plagued Lightning to the brink of the playoffs with little help.
ERIK KARLSSON, Ottawa
Stats: 69 GP, 13 goals, 50 assists, 63 points
Scoop: Karlsson leads the Senators in points, the NHL in blocked shots and has helped turn Ottawa's goal differential into a positive while they challenge for the Atlantic lead.
EVGENI MALKIN, Pittsburgh
Stats: 62 GP, 33 goals, 39 assists, 72 points
Scoop: Malkin is once again keeping pace with Crosby with perhaps the best season no one is talking about.
Contact Frank Seravalli on Twitter: @frank_seravalli