Marchand rips NHL's faceoff crackdown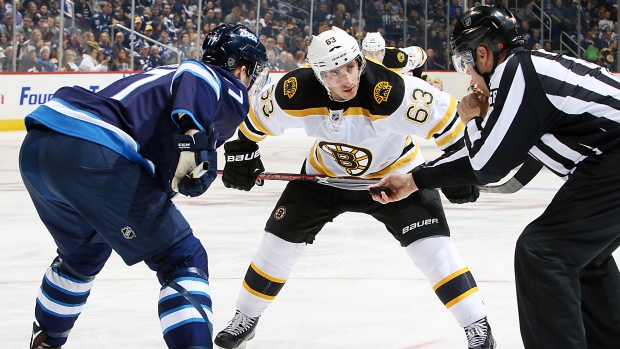 The National Hockey League has a mandate to crack down on faceoff violations this season and Brad Marchand isn't happy about it.
"This faceoff rule is an absolute joke," the Boston Bruins winger said on Tuesday. "That's how you ruin the game of hockey, by putting that in there. They're gonna have to do something about that because we can't play this year like that."
There were eight faceoff violation penalties called on Monday night in the NHL, including three in the first 24 minutes of the Toronto Maple Leafs-Ottawa Senators game.
"It seems like every year they're making huge changes, and I know they're trying to add a little more offence to the game and make it a little more exciting, but you don't want to ruin the game, and that's frustrating for everyone," Marchand said. "I know a lot of people that I've spoken to over the last few days have stopped watching games because it's so been so annoying dealing with the new changes. You can make changes and try to better the game, but you can't put [rules] in that ruin it."
It's important to note that no rule has been changed this off-season. The league is attempting to enforce the existing rules more strictly to curb "cheating" on faceoffs. Wingers must wait on the draw, while the centre taking the faceoff cannot move his skates from behind the hashmarks.
"Basically you have to be a statue. You can't move," Marchand said of what his role as a winger means now. "I think there was even a play last night where there was a penalty given and it was on 4-on-4 before the [first] penalty even started. That's just a joke. I don't know how you suspect guys to step back, guys are excited to get in there and try to help out your centreman."
The Bruins are next in preseason action on Tuesday night when they host the Detroit Red Wings at TD Garden.