Markstrom needs the net; hasn't seen much of it in pre-season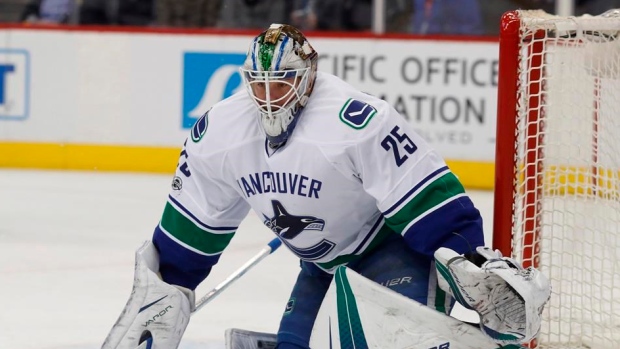 VANCOUVER – Jacob Markstrom wants to be an everyday goaltender for the Vancouver Canucks. However, the way the preseason has gone – he's only managed to see the net in game action twice so far. That's hardly any way to prove to himself, the organization and Canucks fans that he's fully recovered from off-season knee surgery and ready to take on the greatest workload of his National Hockey League career.
Markstrom, who will get the start Saturday in the Canucks pre-season finale against Edmonton, has appeared in just two exhibition contests so far in September. And one of those was a scheduled 30-minute appearance in the team's opener at Staples Center in Los Angeles on September 16. His other game action was in Shanghai in the first of the two China Games on September 21. Markstrom has not faced game competition in more than a week now. And with another full week off after Saturday night before the team's October 7 regular season opener, the 27-year-old is hardly finding the kind of rhythm most would-be starters covet at this time of year.
"With that China trip, it's been a little different than a normal camp, but every opportunity you get to get in there it's exciting and especially now when the season is close enough it's going to be fun to get in there again," Markstrom said after Friday's practice at the University of British Columbia.
Markstrom was sharp in Los Angeles, stopping all 19 shots he faced in his first NHL game action of any kind since February 16. His second outing was not as successful as he yielded five goals in a 5-2 loss on the other side of the world. Back at home now, he's anxious to return to the crease to find the form he's going to need if he's going to wrestle the majority of the starts from fellow Swede Anders Nilsson.
Markstrom, who required surgery to repair the meniscus he tore during a Canucks Skills Competition event gone wrong, has reported no issues with the knee but realizes he really hasn't had the type of workload that will test it.
"It's getting better, but it's hard to tell," he admits. "In practice, you feel good but it's a little different in a game. The most important part is that the body feels good and I feel healthy and I feel strong. It's a work in progress every day, but I'm excited to play and to get in there and get some game time."
Markstrom's performance against the Oilers will be monitored closely. It's expected he will be back in goal for the season opener, but beyond that it's unclear how Travis Green plans to handle his goaltenders. If the idea behind signing Nilsson in the off-season was to create healthy competition for the Canucks net, it will be interesting to see how Markstrom responds after Nilsson's nearly flawless 30-save performance against a solid Calgary line-up in a 3-1 win over the Flames on Thursday.
Despite the fact games that count are just a week away, Markstrom insists there has been no discussion between the coach and the goaltenders about their workload this season.
"You have to win hockey games to play and play good to play, that's how it is, how it should be and pretty much how it's always been," he says. "I'm just excited that the season is closing in and I'm excited to get in net (tomorrow)."
Markstrom started 23 games and appeared in 26 as Ryan Miller's understudy last season. His career highs came a year earlier when he started 30 games and made appearances in 33. There certainly appears to be an opportunity to push for 45-50 starts this season if he holds up his end of the bargain. For that to happen, he'll need a better save percentage than the .910 he posted a year ago or the .906 he's accrued in 109 career games split between Florida and Vancouver.
After showing patience as a back-up, the time has come for Jacob Markstrom. And what better way to test himself for the long road ahead than by facing what should be a stacked Edmonton line-up on Saturday night. The result doesn't matter, but the performance between the pipes certainly does. And Markstrom feels he's ready for whatever Connor McDavid and company send his way.
"The last pre-season game a lot of teams want to have as many of their players as they can," he says. "Those are exciting games, fun games, it's almost like a regular season game. We're going to play them (the Oilers) a lot this winter, so it doesn't hurt to get their full line-up."
It's been a slow go for Markstrom to this point of the pre-season, but that will likely change moments after face-off on Saturday night. This is the stage he's sought for years now. It's time to see what he can make of the opportunity.