Agent, columnist clarify comments on contract talk involving Marner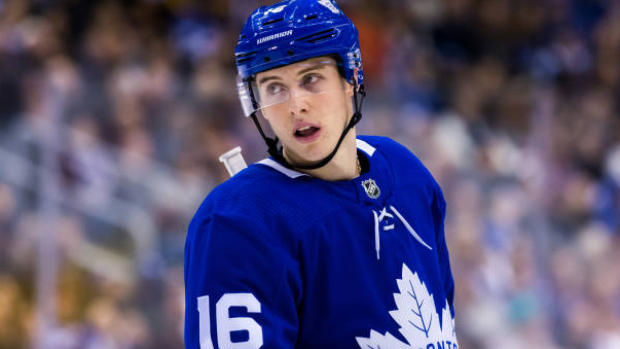 According to The Toronto Star's Dave Feschuk, comments made by Mitch Marner's agent Darren Ferris regarding the Maple Leaf winger's contract negotiations in his column from Tuesday were intended to refer to events from the summer.
"So far they've been trying to lowball (Marner)," Ferris told Feschuk in the Star column, published hours after Auston Matthews signed a five-year contract extension with the Toronto Maple Leafs. "That's the reason we've come to this point."
Ferris clarified those comments on TSN Radio 1050 on Wednesday morning, explaining that the quotes were "taken out of context from the summer."
"Unfortunate that the article had to come out yesterday," he added.
Ferris reiterated that Marner still plans to wait until after the season to work on an extension, but the two sides made progress on a deal before the season started and that there is no animosity between the two side in neogitations. "We're not far off. We last ended on a positive note," he told TSN Radio 1050 Toronto.
Feschuk then tweeted after the TSN 1050 interview that the quotes were from Tuesday and that he just spoke to Ferris, who acknowledged he meant to say they 'referred to' events from the summer.
In Tuesday night's Star column, Ferris said Matthews' new five-year, $58.17 million contract wasn't a team-friendly discount and Marner, who is a pending restricted free agent, won't take one either.
"That's probably the best contract in the NHL," Ferris told Feschuk. "There's no team-friendly discount there."
"Nobody else is taking a discount. And now you're asking (Marner) to take one again? It's nonsense," Ferris said inthe column. "Mitch already did them a favour on the entry-level deal."
TSN Hockey Insider Bob McKenzie said Tuesday that Marner will be looking for a deal equal to Matthews' in value. Matthews will carry the league's second highest cap hit next season at $11.634 million.
"In Mitch Marner's heart and mind, and that of the people surrounded him - his family, his agent Darren Ferris - they absolutely, 100 per cent believe earnestly that Mitch Marner is worth every bit as much as Auston Matthews. They do," McKenzie told TSN Radio 1050 Toronto.
Marner is currently in the final year of his entry-level contract with a salary cap hit of $894,167, per capfriendly.com.
The 21-year-old has 20 goals and leads the Leafs with 63 points in 52 games this season. Marner, selected fourth overall in the 2015 NHL Draft, has 61 goals and 132 assists in 211 career regular-season games with the Leafs.