Marner thriving as power play quarterback
Maple Leafs winger has produced four of his eight points this season on the man advantage, Mark Masters writes.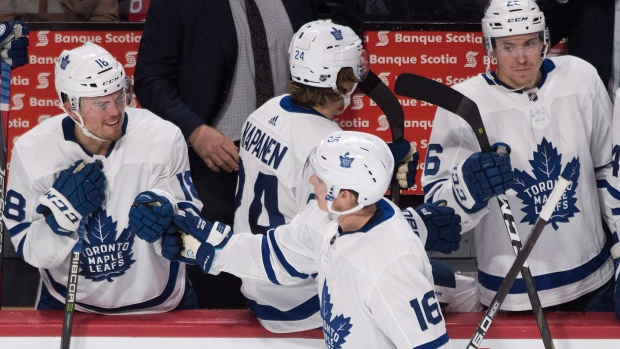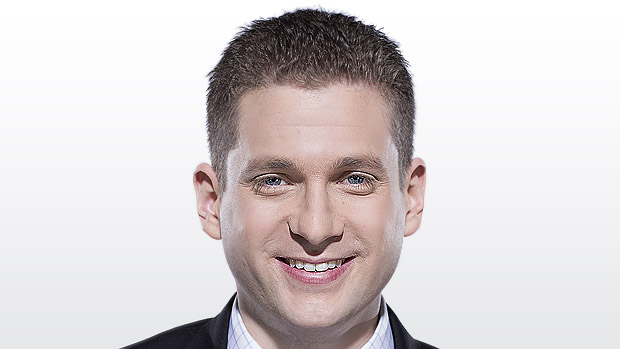 TSN Toronto reporter Mark Masters checks in daily with news and notes on the Maple Leafs. The Leafs and Red Wings skated at Little Cesar's Arena on Thursday morning.
----
Auston Matthews leads the NHL in goals with seven while John Tavares is just one behind. But the Red Wings aren't overlooking Mitch Marner as the explosive Maple Leafs offence rolls into the Motor City.
"Marner's a great player," said Detroit head coach Jeff Blashill. "And, obviously, Matthews and Tavares are too, but so is Marner. I mean, Marner doesn't need to take a backseat to anybody. He's an excellent player, one of the best in the league – certainly one of the very, very top power-play guys in the league in getting it in the zone and once he's in making tons of plays."
When the Leafs go on the power play it's like opposing teams are entering the Marner matrix. His office is on the right flank and he's a big reason why Toronto's stacked top unit has converted on five of 10 chances to start the season. Explaining what makes Marner so effective in that role is simultaneously simple and difficult.
"Ummm, where do I start?" said Kasperi Kapanen, who logs time on the penalty kill and goes up against Marner in practice. "I mean, he does it all really. He comes down the wall and just sees so many different options. He can shoot it by you, he can see the high tip, he can see the guy on the back side or even throw it back to Matty or even [Morgan Rielly] still up top, can go back to him. He just sees it all."
Marner's eyes light up when he gets a chance to quarterback things on the man advantage where he's produced four of his eight points this season.
"I mean, coming down there's so many options around the net," he said, "and if not you can just throw it there and there's a lot of rebounds always on the power play."
"He knows what you're thinking before you know what you're thinking," said Leafs coach Mike Babcock, "and that makes him an elite player."
John Tavares, who has two power-play goals so far, lines up with Marner both on the power play and even strength. What's he noticing?
"His quickness and being able to have the poise that he has with the puck," Tavares noted. "And the cerebral sense out there to have an idea kind of where everybody is ... he's smart enough to find the right guys at the right time."
When it comes to five-on-five play, Marner is benefiting from playing alongside a powerful down-low presence like Tavares.
"He's very, very good at escaping pressure," Marner observed. "That's pretty impressive to watch and something you can learn off of, seeing how when someone pressures him, how he can get away from him so quickly and maintain the puck in balance."
The chemistry between Tavares, Marner and Zach Hyman is growing by the game. And Marner believes they can still be quicker moving up the ice and fine tune some spacing issues in the offensive zone.
"For me and Hymie it's about reading that and getting open and finding soft spots for him, so when he does get out of pressure that he's got an outlet," Marner explained.
Matthews has scored on seven of 14 shots so far this season and is bound to cool off at some point. His career NHL shooting percentage is just a hair below 17 per cent. But the Arizona native made changes to his shot this season and, according to old friend Dylan Larkin, Matthews has really thrown goalies off.
"Yeah, it's quick," Larkin said with a chuckle when asked about the Matthews shot. "He has such strong hands and I think it helps his shot. His co-ordination with his shot, he pulls it in and rips it all in one motion, [is deceptive]. I think the goalies, some of the goals that have gone in, I think they're thinking about it too much. It's going in for him. When you're feeling it that's what happens and we need to get in front of him and block some of his shots."
William Nylander is among the closest friends Kapanen has on the Leafs, but the pair haven't spoken since the speedy Finn took the smooth-skating Swede's spot on the right side of Matthews.
"We haven't been talking much," Kapanen confirmed. "I saw him really quickly at the end of the summer, but he's going through a lot right now and I want to give him privacy and respect that for a little bit and hopefully he signs soon. He's a big presence on the team and we all miss him. It's none of my business what they're doing, but I hope he signs soon."
Although the longer Nylander remains unsigned, the more time Kapanen will have to make an impact. This is his first prolonged look in a top-line role at the NHL level.
"It feels good getting a little more responsibility and playing a little more than usual," Kapanen acknowledged. "But I still try to play the same game I've been playing the last few years ... same old me, just a different line."
​Since being promoted to the Matthews line early in Sunday's game in Chicago, Kapanen has produced three assists. He had just two assists in his previous 70 NHL games, including 13 in the playoffs.
The winless Wings will get a boost as veteran defenceman Niklas Kronwall returns to the lineup tonight after missing the first three games of the season with a lower-body injury.
"He's skating great," Blashill said. "I think he looks awesome. He's done a good job in the last year of really, I think, getting his skating back in a good spot. I think he's looked good through most of the year, had a setback there, but I thought yesterday he looked good. At the end of the day, he's really smart, real good poise with the puck and still an excellent passer. I think he was a No. 1 defenceman in this league for a good amount of time, probably overshadowed for most of his career, probably in my opinion didn't get the credit he deserved at all. I think he's still a real good player when he's out there because of the fact that he's real smart, moves the puck well and helps everybody around him be a better player."
Lines at Leafs morning skate:
Hyman-Tavares-Marner
Marleau-Matthews-Kapanen
Lindholm-Kadri-Brown
Leivo-Gauthier-Ennis
Johnsson
Rielly-Hainsey
Gardiner-Zaitsev
Dermott-Marincin
Ozhiganov-Holl
Andersen starts
Sparks