Martin excited to begin life with Leafs
Rugged forward Matt Martin is intent on showing he can contribute offensively in Toronto with the Maple Leafs.
Kristen Shilton, TSN.ca Toronto Maple Leafs reporter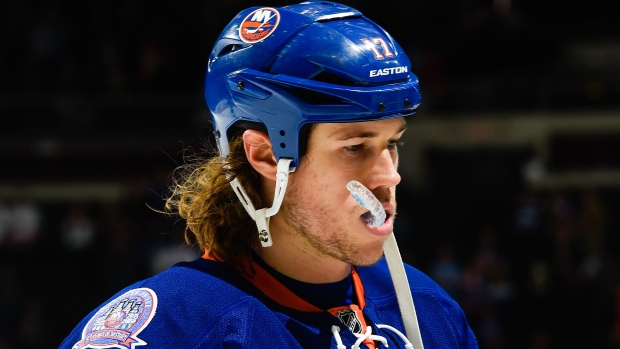 MILTON, ONT. - Summer 2016 was a season of change for Matt Martin.
First the left winger severed ties with the New York Islanders, the only NHL club he had played for in seven professional seasons, when he signed a four-year, $10-million contract with the Toronto Maple Leafs on July 1.
By late August he'd terminated another bond – with his shoulder-length hair. It's no secret Toronto's general manager Lou Lamoriello insists his players adhere to strict grooming standards, but the new hairdo still wasn't easy to accept.
"I scheduled a few haircuts over the summer that I didn't quite make it to," Martin said at the Maple Leafs and Legends charity golf tournament on Monday. "A couple weeks ago it was time. We went [to the salon] and cut ties with the hair. Now I'm all clean-cut. Everyone says I look a little younger, so I guess that's a good thing."
With one hurdle cleared, Martin, 27, can focus on other adjustments. Aside from fellow winger James van Riemsdyk, Martin is unfamiliar with most everyone on the Maple Leafs roster. But the forward, who has built a career on his bruising, physical style, may find his reputation precedes him with some new teammates.
"Matt Martin, I just met him this morning, but I've run into that guy a thousand times on the wall and in the corner over the last 10 years," said forward Brooks Laich, a long-time Washington Capital and division rival of Martin's. "He'll be a big, physical element for our team."
That's what Toronto is counting on. Stocked with a multitude of speedy, talented young forwards, the Maple Leafs have been lacking in intimidation factor. Enter Martin.
"I don't want to say that's the easy stuff for me, but that's something I've done for seven years - bring that physical game and stand up for teammates when needed," Martin said. "That's kind of in my nature, that's something they expect from me and I expect from myself. Obviously you want to keep growing as a player and being better offensively, being better defensively, and I think [head coach] Mike Babcock is the type of coach who can bring out the best in a player."
When he signed with Toronto, Martin dismissed the notion he's just a fighter and reiterated on Monday his commitment to contributing offensively. Martin is coming off career-high numbers in 2015-16, when he tallied 19 points (10 goals, nine assists) and added 119 penalty minutes. It was the first time the 6-foot-3, 220-pound skater had ever scored more than eight goals in a season.
But last season's league-leading hit total (363) and 11 fighting majors (more than Toronto's entire roster combined) are what made the Maple Leafs pursue him. Toronto has highly prized players who can find the back of the net. Martin's ability to help protect them will be paramount to his success.
"I just want to play the same way I played [with the Islanders]," Martin said. "It's nothing fancy, just try to be physical, bring energy, stick up for teammates when need be and produce offensively any way I can. There's a lot of young talent on this team and I'm excited to get to play with these guys. In terms of setting expectations, it's really about keeping it simple and not expecting too much; just doing what I can to help the team."
As the Maple Leafs gear up for the open of training camp next week, Martin won't be the only tough guy in attendance. The club extended a Professional Try Out (PTO) to veteran Brandon Prust last month. Like Martin, Prust's physicality has piqued Toronto's interest.