Martin's obsession with practice leads to greatest ever glory
Nobody has thrown more granite on the pebbled ice than curling legend Kevin Martin. And that's why he's been named the greatest of all-time.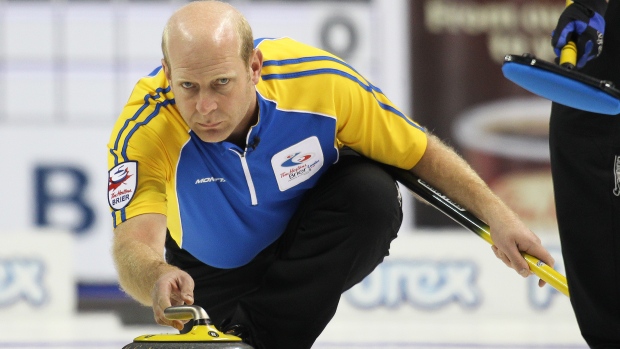 BRANDON, Man. – Nobody has thrown more granite on the pebbled ice than curling legend Kevin Martin. And that's why he's been named the greatest of all-time.
"I don't think anybody would argue that I worked harder than anybody else. I don't think any curler would argue that," Martin told TSN.ca "I threw more practice rocks than anybody else has ever done in the history of the sport. I think I can say that without boasting. I don't think anybody is going to argue it."
The 52-year-old retired skip isn't playing at the Tim Hortons Brier this week in Brandon, but has been making daily headlines, nevertheless. As part of TSN's Greatest Canadian Curlers project, Martin was named the best male skip in history on Thursday before his Olympic foursome also including John Morris, Marc Kennedy and Ben Hebert were named as the best team a day later.
Finally, the Old Bear was named the greatest Canadian curler of all-time on Saturday after earning 14 of 31 first-place votes from a panel comprised of curling personalities including broadcasters, reporters and elite-level curlers.
Martin's resume is extensive:
1 Olympic Gold
1 Olympic Silver
4 Brier Tankards
1 World Championship
18 Grand Slams
Playing as a junior in the 1980s, Martin never thought about the possibility of getting to the pinnacle of the sport.
"Could you imagine? When you're in junior, you're just hoping to win the next game and you never worry about longevity of playing forever," said Martin.
It may sound cliché, but just like other sporting greats such as Wayne Gretzky, Michael Jordan and Tom Brady, Martin attributes practice as the reason for all the success and glory.
From the very beginning, alongside Hall of Fame coach Jules Owchar, Martin was a relentless rink rat, putting in as many hours as possible to improve his game. In the early years, Martin said he had to practice more than anybody else to have a chance against the Rick Folks and Ed Lukowichs of the world.
"They would always outsmart you…brilliant skips," explained Martin. "But I always thought if I practiced way harder than those guys than I could make more shots and make up for the lack of knowledge because you can't learn curling too quickly at a young age."
Martin won the first of his 13 provincial crowns in 1991 and followed that up with his first Brier title a few weeks later in Hamilton. Martin called that surprise victory one of the top moments of his career along with the Olympic gold medal in 2010 and his 18 Grand Slams.
That Brier victory also advanced Martin to the first of three career Olympic Games (it was a demonstration sport in 1992) appearances. The then 26-year-old got hammered in the bronze medal game, 9-2, by American Bud Somerville, but Martin said the experience in Albertville, France was important.
"I definitely wasn't ready to win at that time, but I learnt a ton from that Olympics," he said.
As Martin's career progressed, so did the game itself. After playing with no free guard zone for years, Martin needed to adapt to the game with the addition of the three and four-rock rules.
"You did have to evolve as a player to stay up near the top," he said.
A love for what you're doing doesn't hurt either.
"That's kind of the necessity for being able to do well for a long time," said Martin. "You do have to be passionate about it and enjoy what you're doing."
Greatest Shot?
So, what does the greatest of all-time have as the best shot of his career? Well, that's an interesting story.
"It was a real wild one," Martin said.
It didn't happen in a dramatic Brier or Olympic final as the country watched with bated breath. You won't find it in any highlight packs either. This shot happened sometime in the mid-1980s when a young Martin and his Northern Alberta Institute of Technology foursome were playing in the semi-final of the college provincials.
Martin remembers it vividly.
With the last shot of the game, the skip needed to make an out-turn, angle raise with a rock that was just over the hog line. That's just the half of it. The raised rock needed to go through a tiny port just outside of the house before taking out two-shot stones on the button. Of course, Martin made it.
"I can still remember that one as clear as a bell," said Martin. "I can remember that angle exactly so that's a good one, but it wasn't for a big event."
Martin's legacy lives on with his 29-year-old son Karrick, who now plays lead for Wild Card's Team Brendan Bottcher and are off to Sunday's semi-final after beating the defending champions in Team Brad Gushue Saturday afternoon.
"They've got a really good team," said Martin. "They get along extremely well. Brendan is really coming into his own. Karrick and Brad are extremely strong on the front end. They've got a really good group and I think Darren's energy has helped that team a lot."
Curling wasn't always a top priority for the Hall of Famer's son, however.
"When Karrick was young, he always played hockey, hockey, hockey. He really didn't start curling until he was 17. And he would say 'I'm not going to play that wussy sport curling,' well now he plays every day and doing very well at it," said Martin.
Team Bottcher will play in the semi-final Sunday afternoon at 2pm et/11am pt.