Martin scores 37 to lift depleted Timberwolves over woeful Knicks
Kevin Martin shook off an illness to score 37 points, and the Minnesota Timberwolves, missing three starters, beat the New York Knicks 115-99 on Wednesday night. Martin tied a career high with seven 3-pointers and Shabazz Muhammad had 17 points and eight rebounds for the Wolves, who were missing Ricky Rubio, Thaddeus Young and Nikola Pekovic.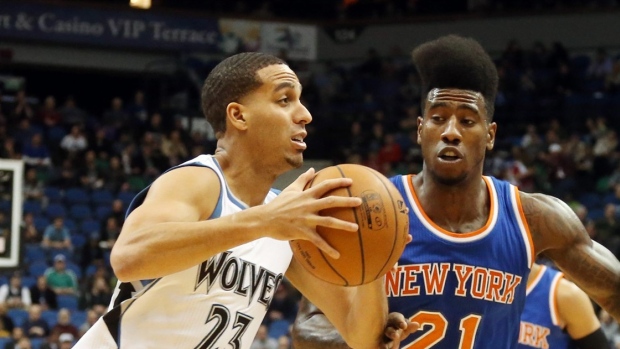 MINNEAPOLIS - The Minnesota Timberwolves were coming off consecutive blowout losses to end a six-game road trip, were missing three starters and had two other key veterans getting IV fluids before the game just to suit up.
Then came the cure for what ails any reeling NBA franchise these days — the New York Knicks.
Kevin Martin shook off an illness to score 37 points and the Timberwolves snapped a five-game losing skid with a 115-99 over the Knicks on Wednesday night.
"I know a lot of guys just wanted to lay down," Martin said after the Wolves went 1-5 on a six-game trip in which Ricky Rubio and Nikola Pekovic were injured and Thaddeus Young left the team after the death of his mother. "And Flip (Saunders) came in here and had one of the most intense practices I've seen in the last 10 years. ... We knew we had to respond so we don't have another one of those practices."
Martin tied a career high with seven 3-pointers and Shabazz Muhammad had 17 points and eight rebounds in his first career start for the Wolves.
Carmelo Anthony had 20 points and Amare Stoudemire added 19 for the Knicks. But New York's 23 turnovers led to 28 points by Minnesota, and the Knicks got swept in the Milwaukee-Minnesota back-to-back.
Anthony and Stoudemire combined to shoot 14 of 19 and the rest of the Knicks were just 20 for 50.
"I just don't want to get used to feeling this feeling, you know, losing basketball games, games that we should be winning," Anthony said. "Just letting it slip out of our hands, regardless if it's early in the season or not."
The Wolves were playing their first home game in 18 days and both Martin and Corey Brewer needed fluids before the game in order to play. Martin then scored 13 points on 5-for-8 shooting in the first quarter to get the Wolves rolling.
The Knicks have been among the worst teams in the league at defending the 3-pointer this season, which invited even the Timberwolves to let it fly. They entered the night last in the league in 3-point attempts per game at just over 14 tries a night.
Martin hit 3 of 4 from deep in the first quarter and the Wolves made eight by halftime, which was more than they had made in an entire game this season. They finished with 11.
The gimpy Stoudemire was spry in the first half against the depleted front line, but both he and Anthony combined for just four points in the entire second half.
"A lot of things have to change," new Knicks coach Derek Fisher said. "It's not really to talk about. It's for us to do the work and get there."
TIP-INS
Knicks: Fisher played it coy before the game when asked about the status of injured PG Jose Calderon and F Andrea Bargnani, both of whom are believed to be nearing a return. Fisher said they would be evaluated on Thursday and Friday before making a decision about the game on Saturday against the 76ers. ... Jason Smith was the only other Knick in double figures with 14 points.
Timberwolves: Saunders was using rookie PG Zach LaVine in the starting lineup after Rubio went down on the second game of the road trip. But with LaVine looking a little overwhelmed, Saunders gave the veteran Mo Williams the start and he delivered his best game of the season with 14 points and 13 assists. ... Brewer finished with 14 points on 5-for-8 shooting.
PLAYING BIGGER
Stoudemire got off to a great start by bullying the smaller Wolves in the paint, scoring 17 points on 6-for-8 shooting in the first half against the likes of Robbie Hummel and Anthony Bennett. But he played only six minutes in the second half and the Wolves still managed to out-rebound the Knicks 35-33, including 15-8 on the offensive glass.
MUHAMMAD'S BIG NIGHT
Muhammad was maligned as a rookie last season for his offensive limitations. But he dropped 20 pounds in the off-season and worked hard to improve his game, and it showed in his first start. He threw down a soaring dunk on a lob from Brewer and battled the bigger Knicks on the glass to jumpstart the Wolves.
"I think he's learning how to use his aggression in more positive ways," Martin said.
UP NEXT
Knicks: Host Philadelphia on Saturday.
Timberwolves: Host San Antonio on Friday.