Martin trade latest page-turning moment for youth-centred Jays
Russell Martin is an aging piece no longer needed by a rebuilding Blue Jays team that sent the veteran catcher and a boatload of cash to the L.A. Dodgers on Friday, ending their last prominent connection to the success of yesteryear, Scott Mitchell writes.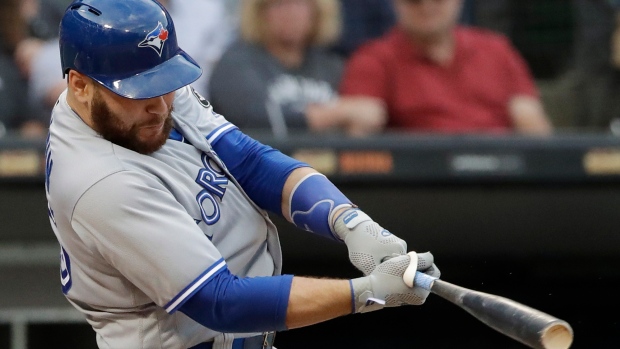 TORONTO — With nine arbitration cases for the Toronto Blue Jays to go about solving, Friday started out as an important paperwork day.
It ended with Russell Martin, the last prominent connection to the success of yesteryear, being traded to the Los Angeles Dodgers in exchange for a pair of prospects.
Heading west to Chavez Ravine alongside the veteran catcher is a boatload of cash — $16.4 million to be exact — to help cover the $20 million remaining on the final year of the five-year, $82-million contract Martin signed with the Jays more than four years ago.
That investment, made by former GM Alex Anthopoulos in November of 2014, was one of the key moves that helped propel the Blue Jays back into the postseason, giving the organization leadership behind the plate, someone familiar with what winning cultures are all about, and a well-rounded player that contributed in many areas over the first two years of the contract.
"I think the world of Russ," Blue Jays GM Ross Atkins said Friday evening. "I told him on the phone he's one of the toughest individuals I've ever watched play the game of baseball."
In 2015 and 2016, Martin accumulated a total of 5.5 fWAR and walked to the plate 500-plus times in each of those seasons.
The past two years, however, have shown what the rigours of the position can do to a player in his mid-30s, as Martin struggled to stay on the field in 2017, hitting the disabled list twice, before sinking to a sub-Mendoza Line batting average and being left on the bench in favour of younger options in the second half of the season in 2018.
Despite being healthy, Martin's final game came Sept. 3, leaving him as a non-entity until John Gibbons allowed him to "manage" on the final day of the season.
While Martin is an aging piece no longer needed by a rebuilding club in Toronto, he should still be able to provide value to the contending Dodgers as either a backup or timeshare option with his versatility and ability to get on base.
Framing and game-calling are two of Martin's other strengths that have not diminished as he heads into his age-36 season, but controlling the running game is another story.
In 2018, Martin allowed 58 stolen bases — he gunned down just 16 runners — the fourth-most in all of baseball.
For this Blue Jays team, this is another step towards the future.
The trade of Martin allows the Jays to hand over their catching position to Danny Jansen, with Luke Maile and Reese McGuire vying for backup reps.
"We'll want one guy to play on a regular basis, as much as we can, so that lends to Luke being on our major league team because more playing time for one of the two younger catchers in Triple-A seems to make some sense," Atkins said. "At the same time, that is nothing near etched in stone and there's a lot of time left in this off-season, too."
Called up for the first time in August, Jansen held his own, slashing .247/.347/.432 with three home runs in 31 games.
The 23-year-old right-handed hitter kept his strikeout rate in check (17.8 per cent) and generally looked like he had a plan at the plate, posting a 9.5 per cent walk rate.
Maile, who's heading into his age-28 season and coming off his best campaign as a pro, and McGuire, 23, profile as defensively-capable backup solutions. Both also have options that would allow them to be sent to Triple-A Buffalo as depth, giving the Jays some flexibility.
In exchange for Martin, the Blue Jays receive Ronny Brito, a middle infielder who will turn 20 in March, and right-hander Andrew Sopko, who finished up his 2018 season in Double-A.
Brito, ranked No. 23 in the Dodgers system by MLB Pipeline prior to the trade, has shown some pop, slashing .288/.352/.489 with 11 homers in the rookie level Pioneer League last summer, while Sopko registered a 3.88 ERA in 53.1 Double-A innings and scouting reports have the 24-year-old profiling as a back-of-the-rotation starter.
Now back to that Friday deadline for teams and players to exchange arbitration figures.
Of the nine cases the Jays were potentially facing, eight of them were solved without having to go to an arbitrator's hearing room in February.
Reliever Ryan Tepera, who earned $574,700 and is entering arbitration for the first time, is the only unsettled case.
Alongside the annual arbitration projections available over at MLB Trade Rumors, here's a look what they'll earn in 2019:
SP Marcus Stroman
MLBTR projection: $7.2 million
Actual contract for 2019: $7.4 million
Stroman and the Jays avoided a rubber-match in a hearing room by agreeing to bump the right-hander by $900,000 from the $6.5 million he earned in 2018. In his first two trips through the arbitration process, Stroman lost in 2018, but won his case in 2017. They won't reach that point again.
RP Ken Giles
MLBTR projection: $6.6 million
Actual contract for 2019: $6.3 million
A perfect 14-of-14 in save attempts after coming over in the deadline deal for Roberto Osuna, Giles gets a hefty raise from the $4.6 million he earned in 2018, thanks mainly to his 91 career saves.
CF Kevin Pillar
MLBTR projection: $5.3 million
Actual contract for 2019: $5.8 million
While Pillar leaves many wanting more on a yearly basis, the 30-year-old has posted at least 2.0 fWAR for four straight seasons, finishing second on the team among position players behind Randal Grichuk's 2.1 fWAR last season. He gets a 2019 raise to provide leadership for a non-contender.
RF Randal Grichuk
MLBTR projection: $4.8 million
Actual contract for 2019: $5 million
Grichuk posted career highs in doubles (32) and home runs (25) in 2018, leading to his best wRC+ (115), on-base percentage (.301) and OPS (.803) since 2015. He gets a raise from $2.8 million to see if he can author an age-27 breakout.
SP Aaron Sanchez
MLBTR projection: $3.8 million
Actual contract for 2019: $3.9 million
Maybe this is the year the 26-year-old finally gets over his finger woes and returns to being the pitcher that led the American League in ERA in 2016. If there's one benefit to Sanchez only making 28 starts over the past two seasons, it's that it has depressed his price when contract time arrives.
2B Devon Travis
MLBTR projection: $2.4 million
Actual contract for 2019: $1.925 million
Travis is coming off the healthiest season of his career — 103 games represent a new career high — but it was far from his most productive. A negative fWAR (-0.5) and a paltry .232/.275/.381 slash line last season still didn't keep Travis from receiving a raise of $475,000 for 2019, even if it was well below his projection.
RP Ryan Tepera
MLBTR projection: $1.7 million
Actual contract for 2019: Will go to arbitration in February
Tepera is the lone unsettled case the Blue Jays have to deal with next month during arbitration hearings, which are scheduled for Feb. 1-20 in St. Petersburg, Fla. The 31-year-old righty has registered ERAs of 3.62 and 3.59 in 2018 and 2017, respectively, as a key setup man in the Jays bullpen.
3B Brandon Drury
MLBTR projection: $1.4 million
Actual contract for 2019: $1.3 million
Shipped to Toronto alongside Billy McKinney in the J.A. Happ trade, Drury will open the season at third base in April, before quickly being displaced to either second base or a utility role by Vladimir Guerrero Jr. In his first trip through arbitration, the oft-injured Drury's salary jumped from $621,900 to $1.3 million. He'll be arb-eligible again in 2020 and 2021.
RP Joe Biagini
MLBTR projection: $1 million
Actual contract for 2019: $900,000
The starter experiment is over, and the Jays will give Biagini an opportunity to regain his footing in a bullpen role this spring for under a million bucks. Biagini has an option remaining and can be sent to Triple-A if he doesn't win a job out of spring training.​