Masters: How Duclair overcame character concerns to become the Duke of Broadway
Anthony Duclair was not invited to last year's world junior camp. But, as TSN's Mark Masters writes, the New York Rangers forward did get an invite to the summer evaluation camp and that's when the team's braintrust noticed a change in his personality.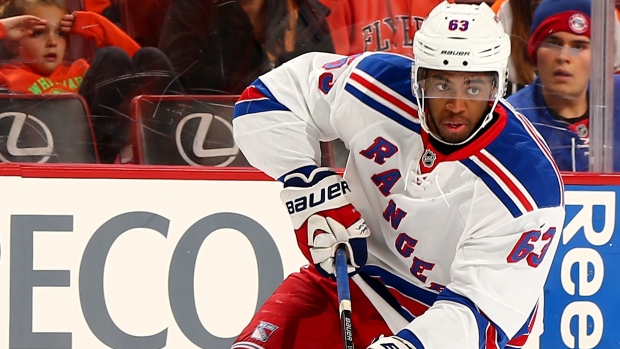 TORONTO – Anthony Duclair admits that his draft year was a disaster.
Injury and inconsistency kept Duclair's numbers down during the 2012-13 season as concerns over his character grew louder and louder. At one point, the Quebec Remparts forward was handed a team suspension over attitude issues.
As outlined by Bob McKenzie, scouts were filing reports on Duclair that looked like this:
"We thought he was selfish with too much 'me' and not enough 'we' in his game, plus he played careful. He didn't want to pay the price against tough competition, but lit up weak teams."
Duclair had first-round potential, but fell to the third round finally getting scooped up by the New York Rangers with the 80th pick.
"I had a bad year all around with distractions off the ice, but I regrouped as a person and matured over the summer," Duclair explained. "I looked myself in the mirror and I told myself, 'I can give much more.' And I think hard work paid off for me."
Duclair put up 50 goals and 49 assists in 59 games with Quebec last season and then, this fall, put forward an outstanding training camp performance to earn a spot with the Rangers as a 19-year-old. Along the way, he earned the nickname "The Duke of Broadway."
Duclair started the season hot with one goal and four assists in his first seven games. But recently his game slipped a bit and the Montreal native found himself in the press box as a healthy scratch. The Rangers approached him about the possibility of playing at the world juniors and Duclair let them know he would welcome the opportunity.
Duclair's history with Hockey Canada isn't great. He was part of a gold-medal Under-18 team at the 2012 Ivan Hlinka Tournament, but played only a minor role, ultimately becoming the 13th forward by the championship game.
He was not invited to last year's world junior camp.
But Duclair did get an invite to the recent summer evaluation camp and that's when the team's braintrust noticed a change in his personality.
"He was great with everyone," said Ryan Jankowski, Hockey Canada's director of player personnel. "He was great within our realm of what we try and do at the summer camp to learn about the players as people and their character."
"I think maturity is a big part of it," Duclair said. "And just staying humble, staying grounded, staying down to earth is really important when things go well. I think I have improved that part of my life."
Team Canada head coach Benoit Groulx, also the bench boss with the Gatineau Olympiques, noticed that Duclair's game went to another level after he was left off the Canadian world junior team last year.
"I got to tell you this," said Groulx, who was an assistant on Brent Sutter's world junior staff last year in Malmo, Sweden where Canada finished fourth, "last year after Christmas, he was tough to play against. He ended up scoring 50 goals and when you have a 50-goal scorer, whether it's in the Quebec league, Ontario league or Western league, you got to respect that. I think Anthony, last year, proved himself."
Duclair is now playing a prominent role in Canada's quest to end a five-year gold-medal drought. He is pencilled in as the team's top-line right winger.
"Well, he's a nice piece for us, especially on the right side where we don't have a lot of natural right wingers," said Jankowski.
There is a good chance Duclair will end up playing on the same line as Connor McDavid.
"I saw him play for the first time in person this summer and the hype is real," Duclair said. "This guy is for sure going to be an NHL superstar given his talent, his skill, his vision. His speed is just incredible and at such a young age as well. It's just exciting to watch."
Sometimes a player who gets loaned by an NHL team to a junior club has mixed emotions. After all, it can be tough to leave the big league where you're living your lifelong dream. But Duclair seems genuinely pumped for this chance.
"I haven't played in this tournament before," he said with a big smile. "This is my last opportunity and it's in my hometown so I'm more excited than ever."