Matthews, Andersen closing in on return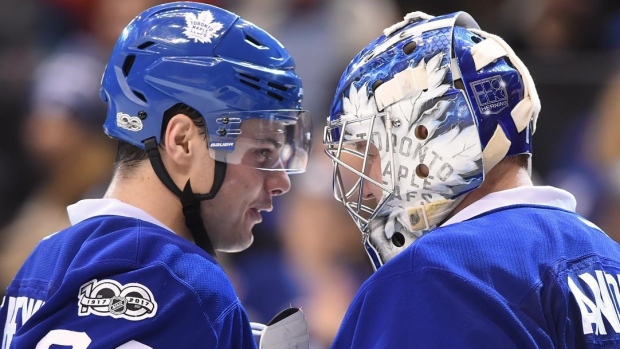 The Toronto Maple Leafs are getting closer to welcoming back two key members of their team, head coach Mike Babcock said after Saturday's victory over the Montreal Canadiens.
Forward Auston Matthews, out since February 22 and goaltender Frederik Andersen, who has missed the last two games with an upper-body injury could both be back as soon as Tuesday.
"I think Matty's playing right away here, I'm not 100% certain," Babcock told the media after Saturday's game. "Freddie's playing right away, I think."
Forward Leo Komarov and defenceman Nikita Zaitsev have also been out of the Leafs lineup but will need more time before they are ready to return to action.
"I don't know if it's another game, but it's not long-term," Babcock said about Komarov.
Zaitsev, meanwhile has been out four games due to illness, but is back on the ice.
"Zaits skated today and yesterday so that's the first time he's skated and he said he's feeling better and he was in the room after so that was positive."