Matthews, Kopitar set for first NHL clash
Toronto Maple Leafs rookie Auston Matthews has long been compared to Los Angeles Kings captain Anze Kopitar. The two meet for the first time in the NHL on Tuesday night in Toronto, writes TSN's Kristen Shilton.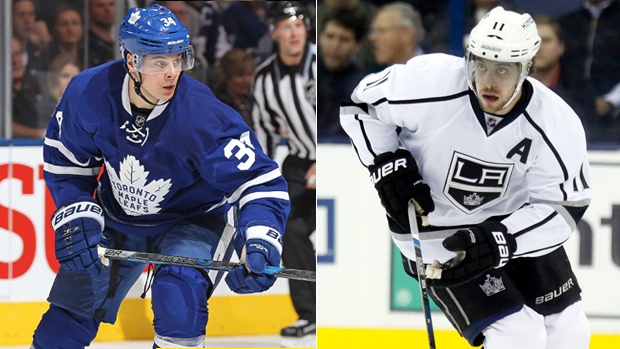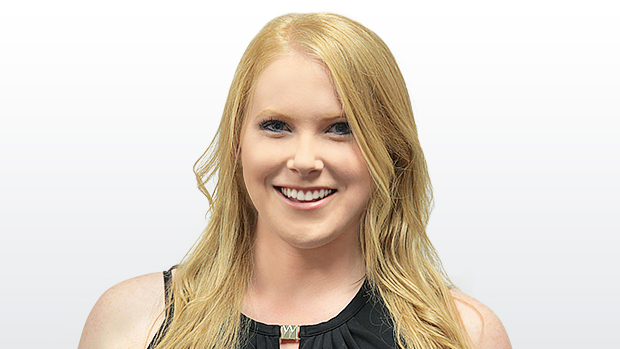 TORONTO – Before he had even been drafted to the NHL, Auston Matthews was fielding questions about Anze Kopitar.
The Toronto Maple Leafs rookie has long been compared to the Los Angeles Kings captain because of their similar playing styles. The two meet for the first time in the NHL on Tuesday night in Toronto.
"That's definitely a player I've always liked to watch and looked at," Matthews said after the morning skate. "I played against him in a couple tournament games at the World Cup. [He plays] a two-way game, makes plays all over the ice. Good on draws. He's one of the best players in the game."
Matthews reminisced about the years he spent watching the Kings when they battled his hometown Arizona Coyotes and how much he enjoyed the intensity of that rivalry. While Matthews has long had an eye on the Kings and Kopitar, the Selke Trophy winner is still getting up to speed on the 19-year-old rookie.
"To be quite honest with you, I haven't watched him enough yet to really say a whole bunch of stuff," Kopitar said. "[We're] both left shots, pretty big body, like to hold on to the puck. His playmaking ability is at a very high level. He's shown he can score and compete at a high level, so he's obviously having a good year, but we're going to try and spoil that tonight."
While comparisons between the two players are easy to make, Leafs head coach Mike Babcock said Matthews needs to focus on forging his own NHL path.
"I've only met one Nick Lidstrom and one Kopitar," Babcock said. "You've got to become your own guy. Work on your skill set, become the best player you can be. I think Auston at a young age is well advanced. He's got a long way to go and he knows that but he wants to be an elite two-way guy and he's trying to get better every day."
The Maple Leafs are riding a three-game winning streak heading into Tuesday night, looking to improve on their 4-1 record at home. Los Angeles has won their last two, recovering from the early loss of goaltender Jonathan Quick by settling down in front of Peter Budaj.
The Kings have allowed 30 or more shots on goal only twice in 11 games, while Toronto has only allowed 30 shots or fewer in four of their 12 contests.
"The reason they do a real good job in the neutral zone is they wear out your defence in your zone," Babcock said. "They're a big, heavy team. They turn the pucks over. The other thing they have that lots of teams don't have is two centres [Kopitar and Jeff Carter] who are number-one centres. Usually you only have one, now you have to worry about two."
The fact one of Babcock's own top centres – Matthews – and his line with William Nylander and Zach Hyman hasn't produced an even-strength point in six games isn't an area of concern for the Toronto coach.
"I just look at quality of chances," Babcock said. "Sometimes it goes in, sometimes it doesn't. When you do good things, good things will happen. [Matthews]' most scoring chances of the year were last game [against Vancouver]."
Morning skate notes
Defenceman Matt Hunwick returned to the ice for the first time since being placed on injured reserve on Oct. 31. He has been nursing a lower-body ailment, but Babcock said on Monday that Hunwick's return could be "right around the corner."
The Kings have six Ontario natives on their roster, and defenceman Drew Doughty says the joy of coming back and playing in Toronto doesn't dissipate over time. "We all get pretty excited for this game, with all our family and friends in the stands, obviously for one. I think the biggest thing is we all kind of came here watching games when we were kids. This is the NHL team you would watch, and to be able to actually play here when you grow up it's pretty special. Every time I come back it has a special place for me."
Frederik Andersen spent the first three seasons of his NHL career with the Anaheim Ducks, the primary rival of the Kings. He's faced them seven times in his career, going 5-0-1 with 2.24 goals-against average and a .928 save percentage. The netminder will get the start on Tuesday to do battle once again. "I think you can start with Kopitar," Andersen said in terms of what makes the Kings tough to play. "It'll be a good challenge, a good test for us to see where we're at. It's going to be tough around the net tonight."