Matthews, Laine highlight All-Star rosters
Frank Seravalli, TSN Senior Hockey Reporter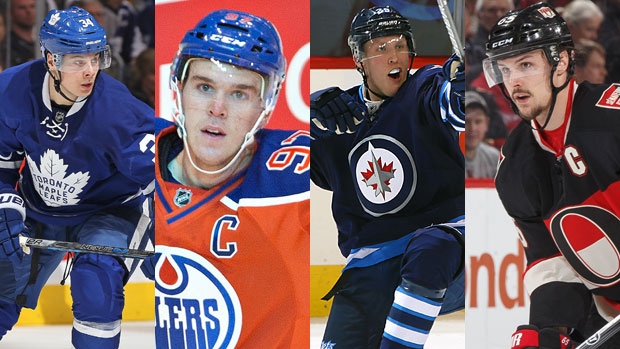 Auston Matthews and Patrik Laine are going Hollywood.
Hockey's two show-stopping rookies will take their talents to Tinseltown for the 2017 All-Star Game in Los Angeles, the league revealed Tuesday as it announced the 40 players selected by the NHL's hockey operations department.
All-Star Weekend is slated for Jan. 28-29 at Staples Center.
Matthews and Laine were the only players chosen to represent the Maple Leafs and Jets. They headline a strong class of first-time all-stars, including Connor McDavid, Nikita Kucherov, Brad Marchand, Seth Jones and Wayne Simmonds.
The Atlantic-leading Montreal Canadiens were the only Canadian club to have multiple representatives, with Shea Weber joining Carey Price at the game. Ottawa's Erik Karlsson, Calgary's Johnny Gaudreau and Vancouver's Bo Horvat are Canada's other choices. Horvat, 21, is the Canucks' youngest all-star since Pavel Bure was chosen at the same age in 1993.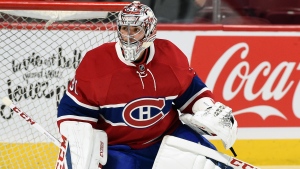 Price was among four players — including former Habs star P.K. Subban (Central), Sidney Crosby (Metropolitan) and McDavid (Pacific) previously voted in by fans to captain their respective divisions in the 3-on-3 mini-tournament format.
Crosby, 29, is scheduled to participate in just his second-ever All-Star Game — and first since the 2007 edition in Dallas. Crosby was not selected as an all-star last season. He missed previous all-star weekends due to injury, a lockout, the Olympics, as well as his own choice to stay home and rest. Crosby was suspended for one regular-season game in 2015 for not participating in Columbus. The NHL will unveil its complete Top 100 greatest players of all-time list, which Crosby will assuredly be joining, on Jan. 27 in LA.
All-Star Weekend will also mark Matthews' first NHL appearance in California, where he was born and played a portion of his minor hockey.
Matthews, 19, and the 18-year-old Laine have gone tit-for-tat in the first half of their rookie seasons. They are tied for the rookie lead in goals with 21 and both tracking toward 40-plus goal debut seasons. Matthews, Laine, McDavid and Horvat will each earn a $212,500 bonus this season for being selected to the All-Star Game, the maximum allowed for the distinction under the entry-level contract system.
Laine suffered a concussion in Buffalo on a clean hit from Sabres defenceman Jake McCabe last weekend, which will keep him sidelined for an undetermined amount of time. There is also some doubt as to whether Subban will be fully healthy in time for the game. Subban remains out of the lineup since suffering what's believed to be a herniated disc in his back on Dec. 17; surgery reportedly remains an option for Subban.
With only 11 roster spots and up to eight teams in each division - and all 30 clubs needing at least one representative — the NHL's 3-on-3 format lends itself to a few worthy candidates being left off the list.
Neither Chicago's Artemi Panarin nor Columbus' Cam Atkinson, sixth and eighth in NHL scoring at the midpoint of the season, were selected.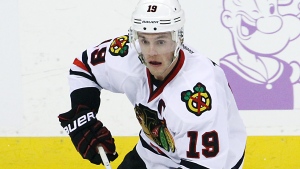 "I have to completely admit that there is a handful of guys on this team that are definitely more deserving," Blackhawks captain Jonathan Toews said Tuesday. He will join teammates Patrick Kane, Duncan Keith and Corey Crawford in Los Angeles.
The case could also have been made for more Edmonton Oilers, specifically goaltender Cam Talbot. McDavid, voted in by the fans, is the Oilers' lone selection despite the team sitting one point off the Pacific Division lead at the halfway mark. Leon Draisaitl, 21, is tied with Matthews in points with 35.
Goaltender Mike Smith makes sense as Arizona's only representative, but selecting San Jose's Martin Jones over Talbot is a head-scratcher. Talbot is the NHL's leader in minutes played and shots faced; his save percentage (.920 vs. .917) is better than Jones's and their wins (20) are equal. Talbot has helped McDavid lead the Oilers' resurgence.
Montreal's Michel Therrien (Atlantic), Minnesota's Bruce Boudreau (Central), Columbus' John Tortorella (Metropolitan) and San Jose's Pete DeBoer (Pacific) will coach their division's team at All-Star weekend by virtue of holding the highest points percentage for games through Tuesday.
--
Atlantic Division
F Nikita Kucherov (TBL)
F Brad Marchand (BOS)
F Auston Matthews (TOR)
F Frans Nielsen (DET)
F Kyle Okposo (BUF)
F Vincent Trocheck (FLA)
D Victor Hedman (TBL)
D Erik Karlsson (OTT)
D Shea Weber (MTL)
G Carey Price (MTL)*
G Tuukka Rask (BOS)
Central Division
F Patrick Kane (CHI)
F Patrik Laine (WPG)
F Nathan MacKinnon (COL)
F Tyler Seguin (DAL)
F Vladimir Tarasenko (STL)
F Jonathan Toews (CHI)
D Duncan Keith (CHI)
D P.K. Subban (NSH)*
D Ryan Suter (MIN)
G Corey Crawford (CHI)
G Devan Dubnyk (MIN)
Metropolitan Division
F Sidney Crosby (PIT)*
F Taylor Hall (NJD)
F Evgeni Malkin (PIT)
F Alex Ovechkin (WSH)
F Wayne Simmonds (PHI)
F John Tavares (NYI)
D Justin Faulk (CAR)
D Seth Jones (CBJ)
D Ryan McDonagh (NYR)
G Sergei Bobrovsky (CBJ)
G Braden Holtby (WSH)
Pacific Division
F Jeff Carter (LAK)
F Johnny Gaudreau (CGY)
F Bo Horvat (VAN)
F Ryan Kesler (ANA)
F Connor McDavid (EDM)*
F Joe Pavelski (SJS)
D Brent Burns (SJS)
D Drew Doughty (LAK)
D Cam Fowler (ANA)
G Martin Jones (SJS)
G Mike Smith (ARI)

* - Fan-voted captains