Matthews misses practice, but making progress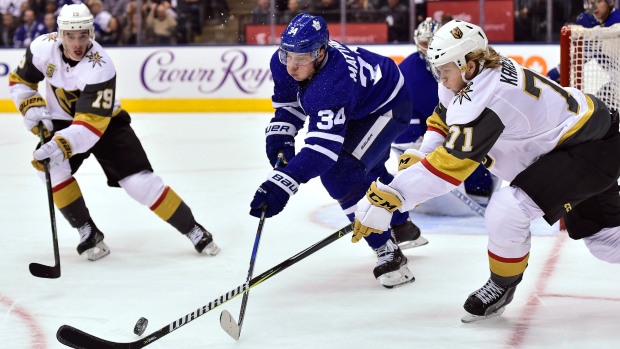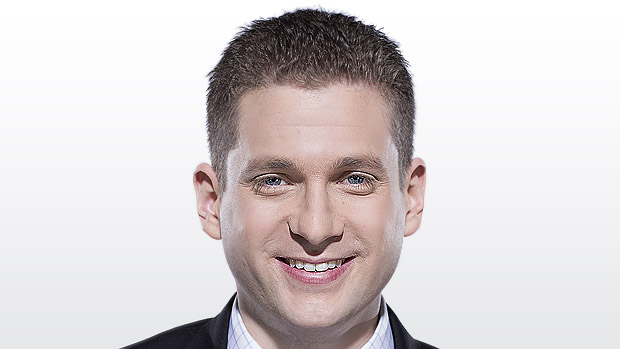 TSN Toronto reporter Mark Masters checks in daily with news and notes from Maple Leafs practices and game-day skates. The Maple Leafs practised at the Mastercard Centre on Thursday.
Auston Matthews missed practice once again on Thursday as he continues to rehab an upper-body injury. Is the star centre making progress in his recovery?
"Oh yeah, for sure," said head coach Mike Babcock. "But I'm not going to give an update every day. What I'm going to do is tell you he's day-to-day and then when we start seeing him out there skating around we'll know he's a day closer."
The Leafs play the Bruins at home on Friday and in Boston on Saturday, but then won't play again until next Thursday when New Jersey comes to town. If Matthews were to sit out the next two games and then return against the Devils that would give him 10 days between games. But Babcock insists the schedule isn't a factor.
"I mean, if he's ready to go, he's ready to go," the coach said. "The kid wants to play hockey. So, it's not serious, but it's something we got to get fixed."
Of course, the final decision rests with the team's medical staff. Earlier this season, they held James van Riemsdyk and Matt Martin out of a game against the Philadelphia Flyers due to minor injuries.
"It's not that much of a conversation," said Martin. "It's usually, 'You're not playing,' and you try to say something and it doesn't change their mind and you just get over it ... Even with Auston last game, he's upset, he wants to play. We always want to play. It's a hard thing for us to accept."
Sport science vs. 'Saskatchewan science'
The way injuries are handled has changed dramatically since Babcock, who grew up in Saskatoon, first started out in hockey.
"The bus driver used to sharpen the skates and you didn't get hurt on the ice, because you were scared because he was the medical guy," the coach said with a grin. "It was perfect. No one got hurt. No one was on the table. I always bug our guys, there's Sports Science and there's Saskatchewan science and sometimes I like Saskatchewan science."
Andersen, Gardiner also sit out (maintenance)
On Thursday, the decision was made to keep Frederik Andersen and Jake Gardiner off the ice at practice. Babcock said it was a "maintenance day" for each player.
Andersen injured his arm on Wednesday against the Wild when Connor Carrick collided with him while skating around the net. But the goalie was able to stay in the game and declared himself OK afterwards.
​"It didn't feel too good right away and I got a little lucky I didn't hyperextend it more than a little bit," Andersen told reporters on Wednesday night. "It was a scary moment, but thank God the post gave out a little bit."
Toronto's goalie coach, Steve Briere, filled in for Andersen at practice.
Nylander not worried about nine-game drought
William Nylander has now gone nine games without a goal, matching the second longest scoring drought of his young NHL career. His longest dry spell with the Leafs came almost a year ago when he went 13 games without bulging the twine from late November to mid-December.
But the 21-year-old isn't losing sleep over his goal-scoring slump. He's happy with the chances he's creating and is still producing points (four assists in the last six games). However, his shot totals have dipped, with only six in the last four games.
"I think I've had the opportunities, but maybe just haven't been able to get the shot off," he said. "Last game, I had a few chances where I wasn't able to get the shot off or it got blocked or whatever ... Goals will come when they come, there's no point wasting energy (worrying about) that."
Nylander insists the transition from playing with Matthews to slotting in on the Nazem Kadri line has been minimal. Kadri usually gets the tough matchup in home games and Nylander is pumped to be part of that shutdown group.
"I think it's fun," he said. "It makes you complete even harder in the faceoff circle and the D zone to create more offence."
Kadri needs to bring intensity on the road
After scoring on Wednesday night, Kadri is up to nine goals on the season. At home when Babcock has the last-change advantage, Kadri gets the tougher matchups while on the road most teams key on Matthews. And yet seven of Kadri's goals have come inside the Air Canada Centre.
The 27-year-old said that a couple years ago he came to the realization that better defensive play could feed his offensive game.
"The more responsible you are in the D zone, the more options you give your defencemen to give you the puck," he explained. "And cleaner break outs and cleaner neutral zone play, that all translates into offensive opportunities, so the better you can do, that the more time you'll spend in the offensive zone, which means more scoring opportunities."
Kadri has certainly become a more well-rounded player since Babcock started matching him against top lines.
"He's as competitive as they come," said Martin, "and he wants to be a great player and when he's in those matchups against great players you kind of see him excel and really dial in for those."
"Well, he has a job and so he knows what his job is and that's when he's engaged," said Babcock. "Now he's got to figure out a way, when they don't give him the matchup, to be that engaged. The beauty of the league is there's 82 (games) ... so you got to play them all."
Kadri is on pace for 44 goals, thanks in part to his inflated shooting percentage (20.5), which is well ahead of his 11.6 per cent career average. And while the current pace may be unsustainable, Kadri is determined to prove his career offensive year last season (32 goals) was no fluke.
"It's constantly proving people wrong," Kadri said of his motivation. "I want to be a type of player where I can bring it year in and year out and I don't want to be one of those guys where you have to wonder if he's going to show up each and every night, so I'm working hard on and off the ice to give myself the best opportunity to come through for my teammates."
Gauthier waits for his chance
Frederik (the Goat) Gauthier skated once again as the extra forward at Thursday's practice. Babcock was asked what the centre did with the Marlies to earn a call-up.
"He's just getting stronger and faster and he's good defensively," the coach said. "We feel like we can put the Goat in at any time and he'll help. We were going to put him in right away, but we won a couple games so he's watching. I don't think it hurts him to be here."
Lines at Thursday's practice
Forwards
Komarov-Kadri-Nylander
Hyman-Marleau-Brown
van Riemsdyk-Bozak-Marner
Martin-Moore-Leivo
Gauthier
Defencemen
Rielly-Hainsey
Polak-Zaitsev
Borgman-Carrick
Goalies
McElhinney
Briere
Power-play units at Thursday's practice
Carrick
Bozak-Kadri-Marner
van Riemsdyk
Rielly
Nylander-Leivo-Marleau
Martin^
^ Placeholder for Brown