Matthews practices with Leafs for first time since shoulder injury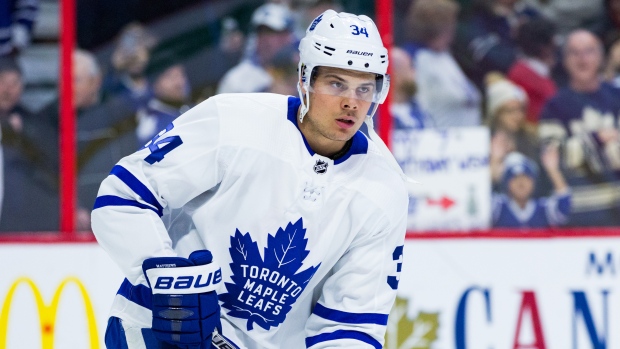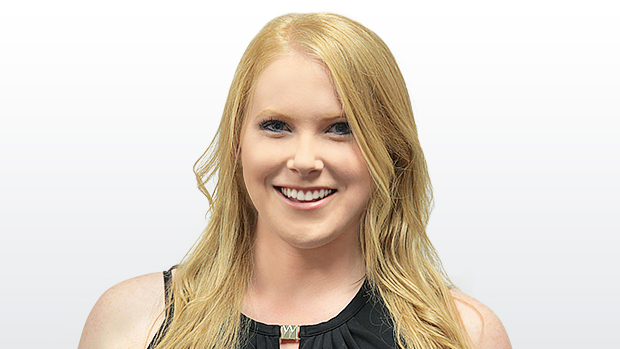 TORONTO – Auston Matthews participated in the Maple Leafs' practice on Sunday for the first time since injuring his shoulder on Oct. 27, but despite making headway in his recovery, the team's top centre isn't confident yet on when exactly he'll be returning to game action.
"I don't know, honestly," Matthews said Sunday in regards to a recovery timeline. "Kind of just taking it day by day. [The shoulder] feels a lot better. I think it has progressed quite well. It's still not all there, but hopefully it continues to progress and I get back out there as soon as possible."
Two days after Winnipeg Jets' defenseman Jacob Trouba laid a heavy hit on Matthews and forced him onto injured reserve, the Leafs announced the 21-year-old would be out a minimum of four weeks. That projects his earliest return as Nov. 26 against Boston, but there are plenty more strides Matthews has to make before slotting into Toronto's lineup again.
Matthews spent Sunday's practice in a red no-contact jersey without taking part in line rushes or special team drills, and then worked one-on-one with assistant coach Jim Hiller after the session for some additional conditioning. It was a heavier workload than Matthews undertook last Thursday at Toronto's morning skate in San Jose, the only other time he's been involved in a full-team activity, but Leafs' head coach Mike Babcock has repeatedly cautioned against jumping to conclusions about when Matthews will be back.
"He was wearing red [today] and he wasn't in any contact drills," Babcock surmised on Sunday. "He's got to work and get back in shape. He's been able to skate the whole time, but until he's every day in here, I don't know when he's returning."
"You'll just know [when you're ready], I guess," Matthews added. "[Taking] contact, feeling back in game shape, being able to do a full practice, all that kind of stuff. A lot of protocol you have to go through."
While Matthews was leading the Leafs in goals (10) and points (16) when he got hurt, Toronto has been able to roll right along without his contributions. Through the nine games Matthews has missed, the Leafs are 6-3-0, good for third place in the NHL, but seeing the wins pile up doesn't make Matthews feel any better about having to sit out.
"In all honesty, it doesn't really matter," he said. "I'm going to come back when I feel ready. It's great to see us getting a lot of wins though."
As of right now, Matthews is still trying to get into as close to game shape as possible. Before he was allowed back on the ice with teammates, Matthews had been working with everyone from Leafs' trainer Jon Geller, to player development consultant Darryl Belfry, to assistant director of player development Hayley Wickenheiser.
Still, nothing can quite prepare a player for going full speed again.
"It's obviously going to be tough on the lungs," Matthews assessed of his first practice back. "Just kind of getting back to the pace of play and getting a feel for the puck in that kind of setting. It's [just] nice to be back out there with the guys. It beats skating by yourself all the time."
It was with that thought in mind that Babcock opted to bring Matthews on Toronto's most recent road trip through Boston and California, even when there was no chance he'd play. Without a family at home to preoccupy him, Matthews was grateful for the chance to stay engaged with his teammates – and get a little sun.
"These are all your friends, it's a tight-knit group," he said. "It was good to spend some time in nice weather before it gets real cold here. It's tough coming back when there's snow on the ground when you touch down in Toronto, but it just felt good to be out there and feel a part of the team."
Over the last week or so when he's skated, Matthews has been shooting more and more, with steadily more power. Unlike the shoulder injury he suffered last season on his right side, Matthews (who's a left shot) is dealing with an ailment now to his left shoulder. He said right after getting hurt there was no more concern about long-term complications with his shooting mechanics after a left-side injury, and on Sunday detailed how he's still trying to bring the shot back to where it was.
"[It's] not all there," Matthews admitted. "Little mechanics of it, the strength in your arm is still coming back, not fully there. Accuracy is a little off, but I think all that stuff will come back soon."
Having been through this type of problem before (not only last season, but also prior to his NHL career), Matthews knew what to expect the last few weeks, but said the process is "not exactly the same" this time around, so he's been careful not to push anything too quickly.
"You just have to take it day-by-day, listen to your body and work with the trainers, and I'll get back out there as soon as I can when I'm feeling well," he said