Matthews returns to practice, but doubtful for Saturday game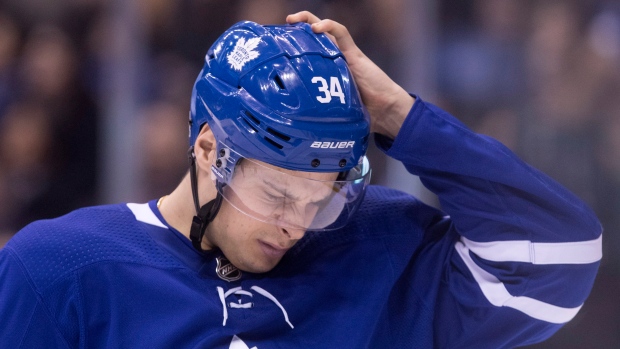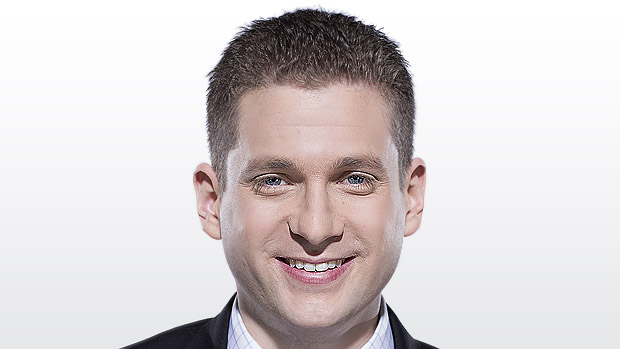 TSN Toronto reporter Mark Masters checks in daily with news and notes from Maple Leafs practices and game-day skates. The Leafs practised at the MasterCard Centre in Toronto on Wednesday.
Auston Matthews practised with the Maple Leafs on Wednesday for the first time since sustaining a shoulder injury on Feb. 22. Toronto's top-line centre took part in the first couple of drills, but did not participate in line rushes and left the ice after about 25 minutes.
While every other player wore white or blue, Matthews was clad in a red jersey throughout the workout, which usually indicates the medical staff doesn't want that player taking contact.
Leafs head coach Mike Babcock was asked if there's any chance Matthews may play in Toronto's next game on Saturday against the Pittsburgh Penguins.
"I don't know what they (medical staff) will do. I just noticed he was wearing red today and we don't have a whole lot of red in our uniforms," the coach said before shaking his head.
Nonetheless, the fact Matthews was able to take part in practice was a positive development.
"Well, I think it's good for him, right," Babcock said. "Just mentally, instead of hanging out by yourself. We were gone for 10 days and these are his buddies, so who do you hang out with in Toronto?"
Matthews skated on his own, under the supervision of skill development consultant Mike Ellis, while the Leafs were on the road last week. He also skated by himself for about 35 minutes before the start of Wednesday's practice.
"It's difficult sometimes," said goaltender Frederik Andersen, one of Matthews' good friends on the team. "You don't talk as much, because you don't see each other each day so it's a little different. But here and there we keep in touch and it's good to see him see back with us today."
"I kind of hung out with him a bit yesterday (Tuesday)," said Mitch Marner, "and I think he was excited to have us back. We're excited to be back."
If Matthews, who leads the Leafs with 28 goals this season, doesn't play on Saturday, his next chance to return will be Wednesday, March 14, when Toronto welcomes the Dallas Stars to the Air Canada Centre.
"The priority for him, obviously, is to do as much as he can each day and then when he's ready or over-ready we'll get him back in the lineup," Babcock said.
Light schedule a chance to get 'recharged'
There's no rush to get Matthews back as the Leafs, 14 points up on a playoff spot, are going through a very light part of their calendar. Toronto's players are actually getting three days off in a six-day span this week (Tuesday, Thursday and Sunday).
"We planned this into our schedule to set it up so the guys could get recharged," said Babcock. "We also feel we can get skating way better again as a group and that's a huge priority for us."
There was plenty of skating in Wednesday's workout, which stretched nearly an hour.
The break between games comes at a good time for the Leafs, who are winless in four.
"We were on a real good run for quite a period of time and (all good runs) come to an end and you usually dip a little bit no matter what you do," said Babcock. "Then you got to fight your way back and we're in the fight-your-way-back stage, obviously, to get on another run. We've been good at getting these (skids) to be pretty short and we got to do that again."
The dip in play for Toronto has coincided with the injury to Matthews, who has now missed 15 games this season. The Leafs have just two wins in the last 10 games (2-6-2) he's missed dating back to December when the 20-year-old was sidelined by a concussion.
Just how important is Matthews to the Leafs? Just look at the results of the NHLPA poll revealed on Wednesday. Players were asked who they would select to build a franchise around and Matthews (5.8 per cent) came in third behind only Connor McDavid (48.6 per cent) and Sidney Crosby (23.8 per cent).
"Third? I thought he'd be higher," defenceman Morgan Rielly said with a big smile. "I think guys value that. I mean, when you go out and compete against these guys (other players) all year you want to gain their respect and be one of those guys and I think Auston's certainly done that."
Players react to NHLPA poll
Rielly said he voted for teammate Connor Brown in the most underrated category, which was won by Washington's Nicklas Backstrom.
"He was right beside me when I was doing it," Rielly said in explaining his rationale, "but I stand by it."
Rielly voted months ago during a Players' Association meeting with executive director Donald Fehr.
"There's lots of questions that are tough that you have to think about," Rielly said, "because they do have value. When the polls are released, they're a big deal, guys look at them so you want to give honest answers."
Other than Matthews, there were plenty of other Maple Leafs included in the poll results:
Which coach would you most like to play for? Babcock finished fourth with 7.5 per cent support.
Which team (excluding your own) has the best fans? Leafs Nation ranked fourth at 4.8 per cent.
Which player is the best role model? Patrick Marleau pulled in 2.6 per cent of the votes to finish fifth.
Who's the toughest player? Matt Martin came in fifth with 2.7 per cent of the vote.
But only one Leaf finished first in a category. D.J. Smith, who works with the defence and penalty kill in Toronto, earned top honours when players were asked to name the current assistant coach destined for a promotion.
Smith won two Memorial Cup titles while serving as an assistant with the OHL's Windsor Spitfires before leading the Oshawa Generals to a championship as head coach in 2015. He was hired by the Leafs after that season.
"I'm a big believer that major junior is just NHL light," said Babcock. "It's like light beer, it's exactly the same thing. You got to coach stars and handle stars and you got to have success with them. To me, he has a good ability to talk to people and understands the game."
TSN's Kristen Shilton has more on Smith.
Andersen insists he doesn't need more rest
After an incredible run that saw him vault into Vezina Trophy contention, Andersen has now allowed three or more goals in 11 of his last 13 starts.
"I've been feeling great," Andersen said when asked if he needs more rest. "I just got to keep going and take advantage of these days. No matter how good you feel you can always rest up for what's ahead."
Andersen leads the NHL in shots faced (1,895) and is on pace to start a league-high 68 games this season. Babcock has consistently said he's unconcerned with the workload of his No. 1 goalie.
"I know I keep hearing he's playing all these games, but I just look at the schedule and the spacing and he gets some good breaks too so, to me, it's real simple; you want to play all the games or not? I've never ever seen a guy who said, 'Can I sit out one more, coach?' "
Andersen has a .910 save percentage since the start of February.
Marner inspired by cancer-stricken girl
During his second OHL season in London with the Knights, Marner got more involved in community events, including visiting a local hospital a few times each month alongside teammate Christian Dvorak. Those visits led to some lasting relationships, including one with a young girl named Hayden Foulon, now five, who has been battling Acute Lymphoblastic Leukemia.
On Tuesday, Marner sent Hayden a special birthday message on Twitter:
First diagnosed with cancer in 2014 when she was 22 months old, Hayden went into remission in June 2016 before relapsing a couple months later. She underwent a stem-cell transplant at Sick Kids Hospital and again went into remission last year. After nearly a year cancer-free, the leukemia has returned and she's now preparing for another fight.
"She's been battling for her whole life and I just want to make sure she gets the support and the help that she needs," said Marner after Wednesday's practice. "Obviously, that young and fighting through that much stuff, it's amazing to see."
A GoFundMe page has been set up for Hayden.
Marner often comes away from visits with Hayden and others battling disease feeling inspired.
"Just talking to them makes me feel better," Marner said, "knowing that you're trying to help these kids and leave an impression on them. But, at the same time, they're leaving an impression on you. That's the craziest thing to me, how much of an impression they leave on me. It's always great meeting them, talking to them and ending up being friends with them later on."
Lines at Wednesday's practice:
Forwards
Hyman-Nylander-Marner
Marleau-Kadri-Komarov
van Riemsdyk-Bozak-Brown
Martin/Leivo-Plekanec-Kapanen
Matthews
Defencemen
Rielly-Hainsey
Gardiner-Zaitsev
Dermott-Polak
Moore-Carrick
Goaltenders
Andersen
McElhinney