On This Date: Matthews scores four goals in NHL debut
Maple Leafs rookie Auston Matthews sets a league record by scoring four goals in first game. TSN's Kristen Shilton writes about a historic night for the Leafs' first overall pick.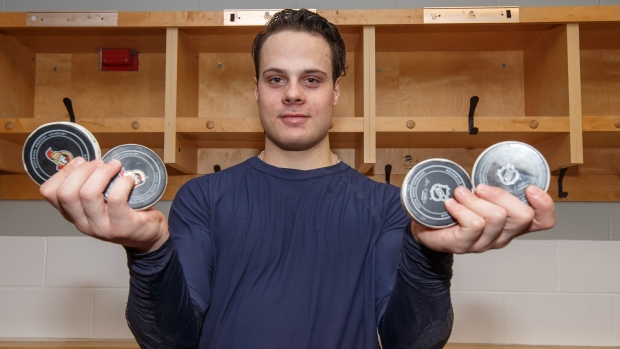 OTTAWA – If Auston Matthews had scripted his regular-season debut in the National Hockey League, it could not have been better than what transpired Wednesday night.
The Maple Leafs' rookie centre made league history in less than 40 minutes, becoming the first player in the modern era to score four goals in his first NHL game as the Ottawa Senators handed Toronto a 5-4 overtime loss.
"It's really something you can't write up," Matthews said. "It was pretty special having my parents here and have them share the moment with me. [My mom] has been a huge part, along with my dad, of just helping me get here. I'm just happy they could come and share the moment with me."
Matthews' first two goals were on his first two shots of the night. His second goal was unassisted after he single-handedly stickhandled through all five Senators on the ice before perfectly wristing the puck past Ottawa goalie Craig Anderson. He had a hat trick after 21:25, the first player in the NHL's modern era to score one in his debut. The NHL rookie, at barely 19, was flat-out spectacular.
Mike Babcock has seen a lot in his coaching career, but even he was at a loss for how to characterize what his young superstar achieved.
"We're all part of history tonight because we're here obviously," Babcock said. "Just for me, from my perspective since I've been the Leafs coach, that's the best night I've had since I've been here by 10 miles. Not even close. Because now we have an opportunity."
Babcock listed Zach Hyman, Mitch Marner, William Nylander, Connor Carrick and Nikita Zaitsev as players who stood out on the ice. While Matthews' unbelievable night will dominate the headlines, he wasn't entirely a one-man show.
Early in the first period, Matthews had a chance for his first score but fanned on his first attempt near Anderson's crease. He didn't on his next one. In quick succession, Matthews corralled a pass from Hyman and made no mistake, burying his first NHL goal. Matthews immediately pointed to where his parents, Brian and Ema, were jubilantly hugging in celebration.
Welcome to the show, kid.
Matthews was quick to credit his linemates for the opportunities they created for him. Nylander gave him his fourth goal on a platter. Stepping into a two-on-one as the second period wound down, Matthews took a perfect saucer pass from Nylander and planted it behind Anderson to give Toronto a 4-3 lead.
"It didn't really surprise me too much. I know what kind of player he is," Marner said of Matthews. "He was around the net all night and he got rewarded for it. [Nylander] and [Hyman], they got the puck down low and kept finding him and he was always around just cleaning it up."
Matthews is the fourth player in the modern era to score four times in his team's season opener. He became the second-youngest skater to ever have a four-goal game, behind the Maple Leafs' Jack Hamilton, at 18, in the 1943-44 season and the Washington Capitals' Bob Carpenter, at 18, in the 1981-82 season.
The game did end on a sour note for Matthews, who was beaten to the puck by Ottawa's Kyle Turris on the overtime winner. Matthews called the goal "100 per cent my fault" and was disappointed with how his storybook night abruptly ended.
Babcock wasn't. He and his team would have liked the extra point, but he was clear how his personnel can, and will, be better. They're off to a booming start.
Takeaways
- If it weren't for Matthews' stunning debut, Marner's first NHL contest would have been the story of the night. From his first shift, the rookie was one of the best players on the ice. Using his speed and skill to extend plays and manufacture scoring opportunities, Marner was flying around the ice, with at least four prime chances for his first NHL goal in the opening period alone. For all the talk of whether Marner was strong enough to play in this league, he took his hits – including one along the boards from Dion Phaneuf – in stride. But it's Marner's creativity that shone through. Babcock said he thought Marner may have been the best player in the game's first half. "I think stepping on the ice for the first time and taking it all in [is what I'll remember]", Marner said. "You only play your first game once so it was pretty fun and a thing I'm definitely going to cherish for a while."
- After a slow start to his Maple Leafs career in the preseason, Frederik Andersen struggled in his first regular-season game. While the Maple Leafs were producing offensively and needed key stops, Andersen, who finished with 25 saves, wasn't delivering at the level expected for a No. 1 netminder. Failing to glove a puck led to Bobby Ryan's first-period score and on Derick Brassard's unassisted second period goal, which tied the game 3-3, Andersen wasn't squared to the puck. Those are the types of saves Toronto needs him to make. But late in the third period, with the game knotted 4-4, Andersen made a pair of difficult stops that saved the game in regulation for his team. "[Andersen] was not good enough, but he'd be the first one to tell you that," Babcock said. "Thing about goaltending is, they pick you up lots of nights and some nights you've got to pick them up, that's the way it is. That might be the most comfortable position on our team if you're me. So I'm not going to spend any time worrying about that."
- Matt Hunwick took a hard hit along the boards in the first period from Chris Neil and was wincing in pain as he skated off. The team held him out of the rest of the game as a precaution, citing a lower-body injury. Roman Polak and Frank Corrado were healthy scratches for Toronto on Wednesday, giving them options if Hunwick is out for an extended period.
- Defenceman Nikita Zaitsev had a solid game in his NHL debut. Playing with Martin Marincin after his usual partner Hunwick departed, Zaitsev looked more confident as the game wore on. His heads-up plays in the neutral zone extended offensive opportunities for Toronto and his booming point shot nearly got him on the scoresheet more than once. With seven KHL seasons under his belt, Zaitsev is hardly a hockey rookie, but how he adjusts to the NHL game will be an important storyline for the Maple Leafs this season.