Matthews still working to reclaim form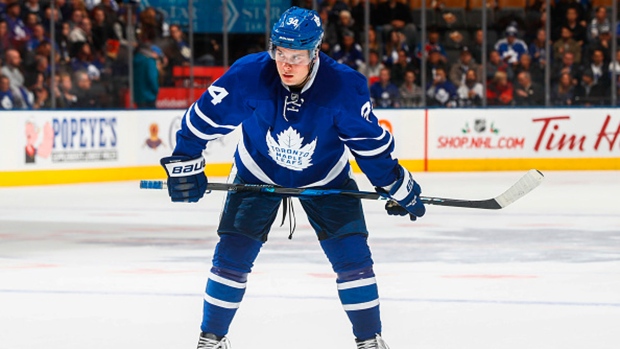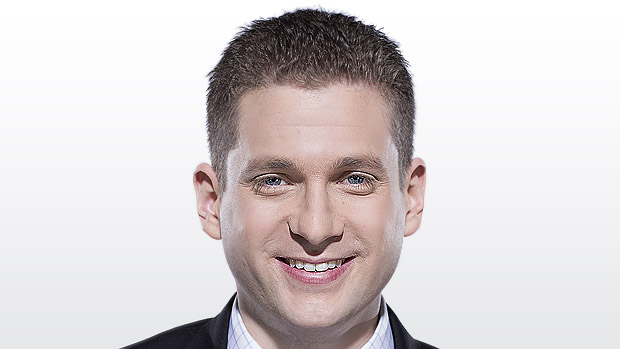 TSN Toronto reporter Mark Masters checks in daily with news and notes from Maple Leafs practices and game-day skates. The Maple Leafs and the Arizona Coyotes skated at the Air Canada Centre on Monday.
After a four-game injury absence, Auston Matthews scored twice in his return to the Leafs lineup on Saturday in Montreal, but he wasn't thrilled with his overall effort.
"I don't know if I really feel like I'm back," he admitted. "It really wasn't my best game, for sure. I got a little lucky there, scored a couple goals. It will take a few (games) I think ... it's a little bit of everything, touch, feel, kind of your agility and everything. You want to work to get that back."
​On this, he and head coach Mike Babcock agree.
"The two goals last game, you think he's back," Babcock said, "but he wasn't at all. So, we need to get him back and going and skating and playing with and without the puck like he can and being the dominating force he can (be)."
Babcock reverts to old line formations
Babcock juggled the forward lines midway through Saturday's game against the Canadiens, sparking a six-goal explosion. Matthews tallied both his goals while skating alongside Matt Martin and good friend Mitch Marner. But the lines were back to normal at Monday's skate and Babcock bristled when asked why he didn't keep that trio together.
"The beauty of this is when you get to coach the team, you'll get to do what you want," Babcock said. "When I coach the team, I do what I want. This is what I think – I like to win every night. That's what I try to do. So, I try to put the right people together for that."
As for the success of that line on Saturday?
"I think it's good entertainment for us, the score was 6-0 and the shifts, a lot of it didn't matter. I just want to win every night so I try to set up the lineup for it to be successful. They're not together tonight."
So, Matthews will be back with regular running mates Zach Hyman and William Nylander to start Monday's game against the Coyotes as Toronto aims for its seventh straight win.
It will be the 100th regular-season game of Matthews' burgeoning career. Has it felt like that long?
"No, not really," the 20-year-old said with a chuckle. "It's flown by. You know, I guess that's what everybody says, 'It flies by when you're in this league,' and it sure has. It will be a pretty special night."
Adding to the special feel is the fact Matthews, a native of Scottsdale, Ariz., will be facing the Coyotes for the third time. Matthews hit the scoresheet in both games against Arizona last season, scoring a goal in a shootout loss at the Air Canada Centre and picking up an assist in a win in the desert.
"That's my hometown team so, you know, when they're not playing the Leafs you want to root for them and just a lot of good friends on that team," Matthews said. "And, obviously, the organization and the kind of slot they've been in with the arena and everything, you want to see them succeed, because you want to see hockey stay in Arizona."
Matthews will also be playing against two of his closest friends and former national program teammates tonight in Clayton Keller and Christian Fischer. TSN's Kristen Shilton has more on that.
Arizona hasn't lost in regulation in Toronto since 2002 thanks to a 6-0-1 run at the ACC. Toronto, meanwhile, hasn't won seven straight since 2003.
Marner gloats about Argos win
The mood was light at Toronto's morning skate as the team returned to the office after a day off Sunday. Marner, a big Argonauts fan, attended the CFL East final at BMO Field alongside Matthews, Morgan Rielly and Frederik Andersen.
Marner's linemate, Regina native Tyler Bozak, was cheering for Saskatchewan as was Babcock, who grew up in Saskatoon and attended the game in a Roughriders jersey.
"Luckily enough, when I walked in today Babs and Tyler were together at the breakfast table and I walked in wearing my Argos hat, hands up celebrating," Marner said with a smile. "When you get time to rub it in it's always nice to do that."
Matthews, Rielly and Andersen actually left the game after the third quarter missing the frantic conclusion, which saw the Argos squander and then reclaim the lead.
"I was pretty tired so I went home," said Matthews. "Morgan and Freddie and I, we all went home and then the game turned into an absolute barnburner … probably should have stayed around for that last quarter. I think Mitch and Bozie made a bet. I don't know if he made a bet with Babs. I wouldn't make a bet with Babs. I still haven't gotten my bottle of wine from last year's World Juniors. You're out of luck if you're betting with him. I don't think he pays up."
Matthews and Babcock placed a wager on the gold medal game at last year's World Juniors, which Team USA won in a shootout.
Babcock, meanwhile, couldn't help but notice his players watched the game in a suite instead of braving the outdoors.
"It was cold," the coach noted. "I took a different route with the fans instead of in that secure suite there watching on TV (smiles). It was enjoyable. It was a great experience. Obviously, I grew up in Saskatchewan and so I'm a Roughrider fan. I'm really happy for Toronto and [coach Marc Trestman] and the team, obviously they did a good job. And for Larry [Tanenbaum] as ownership, it's a great opportunity for them. Any time you have a chance to win a championship I think it's real special."
Hjalmarsson's return a big boost for Coyotes
The last-place Coyotes have won two straight and will be getting a boost on Monday as defenceman Niklas Hjalmarsson returns from injury.
"It's big," said head coach Rick Tocchet. "He's a 25-minute guy. He gets the puck out in pressure situations. He's a shot-blocker, great guy in the room. We've really missed him. He'll add a lot of intangibles to our team."
Hjalmarsson has missed the last 10 games after sustaining an upper-body injury on Oct. 30 in Philadelphia. His return should take some strain off of Oliver Ekman-Larsson, who leads the team in ice time this season (25:18 per game).
"He's playing a lot of minutes," said Tocchet when asked about his general impressions of Ekman-Larsson. "He can eat a lot of minutes. He can make that first pass. You know, if they can make that first pass to break the forecheck, that's the key. There's not a lot of those guys in the league (who can do it) and when a team's forechecking hard and he can make that one pass through that, it's huge. He's a young guy. He's only 26 (even though) he's played eight years. He's got a good connection with the young guys, a very positive guy. He's added a lot to our team."
Positive vibes for Domi in return to ACC
Tocchet said he sensed some extra energy at the morning skate, especially among the group of Coyotes who are playing in their home province. Among that group is Max Domi, who broke into a big smile when asked about returning to the site of his World Junior triumph.
"Me and (Anthony Duclair) were talking about it earlier," he said. "A lot of good memories. Winning a gold medal here is probably at the top of my list for overall memories in the sport of hockey, so great rink, great atmosphere and I'm excited to play here tonight."
Domi scored in his only previous NHL game in Toronto back on Dec. 22, 2015.
​Lines at Monday morning skate
Forwards
Hyman-Matthews-Nylander
Marleau-Kadri-Komarov
van Riemsdyk-Bozak-Marner
Martin-Moore-Brown
Extra: Soshnikov, Leivo
Defencemen
Rielly-Hainsey
Gardiner-Zaitsev
Borgman-Carrick
Extras: Polak
Goalies
Andersen
McElhinney