Matthews trying to stay patient as pressure increases
Maple Leafs centre has fired eight shots on net in two games, but he's still looking for his first point of the series, Mark Masters writes.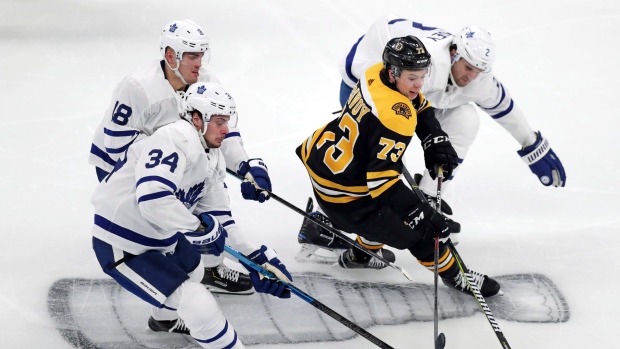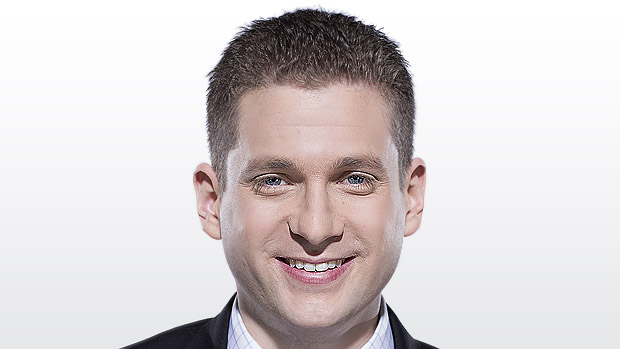 TSN Toronto reporter Mark Masters checks in daily with news and notes on the Maple Leafs. The Leafs and Bruins skated at Scotiabank Arena Monday morning ahead of Game 3.
Auston Matthews has fired eight shots on net in two games, but is still looking for his first point of the series. He's trying to stay patient as the pressure to score increases.
"You want to, obviously, score and create and produce," he said, "I mean, you're getting shots and opportunities from the slot and they're not going in so you just got to keep shooting and​stay patient. I think two years ago when we were in the playoffs against Washington it was the same situation, two games went by and no points and then kind of just went from there."
Matthews also scored in Game 3 last season against the Bruins, but unlike his rookie playoff series against Washington when he scored in Game 3 and then in every other game the rest of the way, that tally last year didn't lead to more points. In fact, Matthews now has just two points (one goal) in nine playoffs games against Boston.
"You've got to stay patient," the 21-year-old said. "You're going to get opportunities every game like we have been and try to cash in and one goes in and hopefully it's the domino effect."
What can Matthews, who now has just one assist in six games dating back to the regular season and linemates Kasperi Kapanen (one goal in his last 18 games) and Andreas Johnsson (one goal in his last 19 games) do to break through offensively?
"In the series, there are matchups," noted Leafs coach Mike Babcock, who will have last change tonight. "You're going to play the majority of your shifts against a certain matchup, a certain set of D. You've got to out-will them. That's just it. Skill is a wonderful thing; will is more important at this time of year and determination."
The Bruins, meanwhile, are downplaying their success against Matthews.
"It's like you don't want to wake a sleeping giant," said defenceman Charlie McAvoy, "so we just want to play hard against him, but not focus too much on him or any particular player."
After averaging 17:32 of ice time per game in last year's series, Matthews has been over 20 minutes in both games this year.
"Try to smother him as best you can and take away his options," said defenceman Torey Krug. "He's a great player, he'll make something happen. The more he plays it's more likely that he'll make something happen. We'll continue to try and clamp down on him."
----
Remarkably, the Bruins will have Krug in the lineup tonight. The 5-foot-9, 186-pound defenceman was rocked by a big Jake Muzzin bodycheck during the second period of Saturday's game. He struggled to get up afterwards and didn't return to the game.
"Really relieved," Krug said with a smile. "It's nice that I'm able to feel well enough to play tonight. I just got a little too comfortable, made a pass to the middle and just didn't expect Muzzin to step up and hit me. But it was a great hit. Just wrong place, wrong time I guess."
Krug's helmet popped off after absorbing the check and he hit his head on the boards. Was he worried in the aftermath of the play as he struggled to get up?
"For sure," he admitted. "The initial reaction – never had something like that happen before so obviously you're always worried, but, lucky enough, when I got back to the room I checked all the points on the checklist and felt good enough. Then, for precaution reasons, I wasn't able to come back."
Krug was second on the Bruins in average ice time (21:18 TOI/G) during the regular season.
Defenceman Connor Clifton (upper body) won't play tonight and will be replaced in the lineup by Steven Kampfer.
----
Jake Gardiner did his best to defend Nazem Kadri, his longtime teammate, who cross-checked Jake DeBrusk in the head/neck late in Game 2. ​
"I don't think he tried to hit him in the head or anything," the defenceman said. "It's unfortunate that he did. I think he was just trying to send a message and give him maybe a cross-check on the shoulder or arm ... Nobody's happy right now, especially him of all people. I'm sure he's pretty down, but hopefully we can win this series and he'll be back."
Kadri was suspended for a similar play in last year's playoffs.
"Instinctively Naz, you know, wears his emotions on his sleeve," said John Tavares, who was teammates with Kadri in the OHL, "and certainly cares about the group in this room and a big part of the fabric of our locker room so you can see where the emotions got to him in sticking up for a teammate. Obviously, I think the​ result isn't what he intended, but that's playoff hockey at times. Sometimes you get to points like that. It's just we got to do as best we can at controlling the emotion and just focusing on what really matters and that's play between the whistles."
With a proven leadership group in place, Bruins coach Bruce Cassidy isn't overly concerned about his players losing their cool and doing something reckless.
"If we take a hit you can't just chase a guy down, you have to have some level of discipline and sort out how you're going to change that momentum," he said. "It's not about getting a player back who hits you, because there'd be no players left on the ice because there's so many good hits in the playoffs. I think our guys are just veteran guys that can calm the guys down so as a coach I don't need to do that when you have that many guys."
Maple Leafs lines at morning skate:
Hyman-Tavares-Marner
Johnsson-Matthews-Kapanen
Marleau-Nylander-Brown
Ennis- Gauthier-Moore
Petan
Rielly-Hainsey
Muzzin-Zaitsev
Gardiner-Dermott
Rosen-Marincin
Holl-Ozhiganov
Andersen starts
Hutchinson
Leafs' power-play units at morning skate:
Rielly
Matthews-Johnsson-Marner
Tavares
Gardiner
Ennis-Kapanen-Nylander
Marleau
Bruins lines at morning skate:
Marchand-Bergeron-Pastrnak
DeBrusk-Krejci-Kuhlman
Heinen-Coyle-Backes
Nordstrom-Acciari-Wagner
Chara-McAvoy
Krug-Carlo
Grzelcyk-Kampfer
Rask starts
Halak