Maurice: 'No issue' with Byfuglien fishing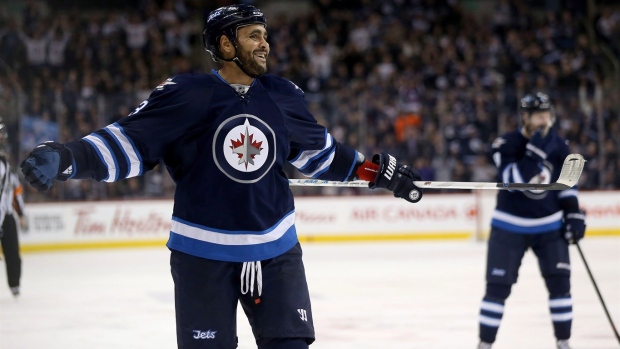 Winnipeg Jets defenceman Dustin Byfuglien was a scratch from the team's Monday night win over the Edmonton Oilers due to a lower-body injury and has been ruled out for Thursday's contest against the Vancouver Canucks.
The extent of Byfuglien's injury was called into question on Tuesday when fishing company Sturgeon Slayers posted photos on Twitter of Byfuglien and fellow injured teammate Matt Hendricks posing with a massive sturgeon in the Fraser River.
Jets head coach Paul Maurice said Wednesday he had no problem with Byfuglien's off-day activity choice, while also shedding some light of the injury.
"No, he did what he needed to do (for medical treatment)," Maurice told the Vancouver Province.
"No issue at all. Just a little bit jealous. We get four mandatory days off a month and I like it when they (occur) on the road because (players) get to spend some time together. It's great early in the season. Outstanding."
Maurice said Byfuglien would take part in practice Thursday morning but the team is taking a cautious approach with their highest-paid blueliner.
"That'll be the first time he's been on the ice in a few days and we'll just be real cautious with it going forward," Maurice said. "It's day-to-day."
The 32-year-old owns one assist through two games this season. He logged 22:19 of ice time in the team's opener against the Toronto Maple Leafs and 25:02 on Saturday against the Calgary Flames.
Byfuglien could return to the Jets' lineup Saturday night at home against the Carolina Hurricanes.