McDavid, Manning meet for first time since 'classless' comment
The feud between Edmonton Oilers star Connor McDavid and and Philadelphia Flyers defenceman Brandon Manning dates back to hit in 2015 that fractured McDavid's collarbone.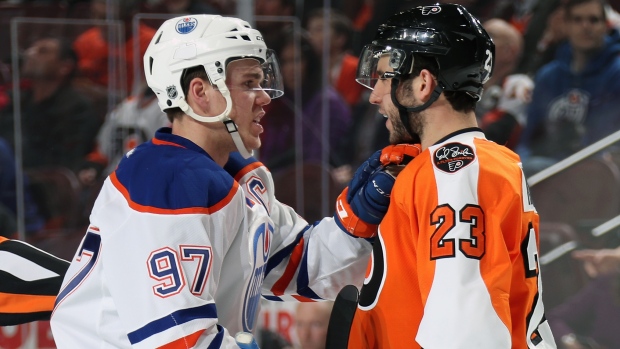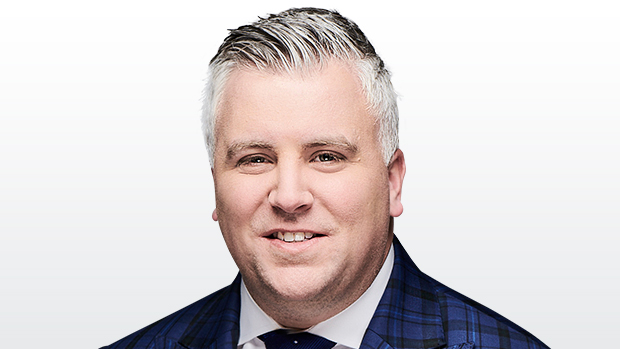 Connor McDavid did his best to downplay Round 3 with Brandon Manning.
Try as he may, Manning expressed his disappointment Thursday that McDavid turned their on-ice jousting into a public war of words, stoking the possibility someone will throw a match to a feud that has smoldered since McDavid called him classless in December.
Manning said McDavid broke the code that is supposed to leave on-ice conversations away from microphones.
"One freak accident kind of snowballed," Manning told reporters in Edmonton. "I think I was a little disappointed with the comments of Connor after the last game. I think that's what kind of bothered me, because what happens on the ice stays on the ice."
For the bloodthirsty, Feb. 16 has been circled on the calendar.
Fans want to see how McDavid and the Oilers will respond after the usually tactful star said Manning relayed during their Dec. 8 meeting in Philadelphia that their Nov. 2015 collision, which cost McDavid 37 games and likely a Calder Trophy, was no accident.
"I thought it was one of the classless things I've ever seen on the ice," McDavid told reporters that night. "He said some things and our guys responded accordingly. We can put the whole 'he did it on purpose' thing to rest because what he said out there kind of confirmed that. Shows the guy he is the way he doesn't step up and fight some of our guys."
But McDavid said Thursday to not expect many fireworks in their first meeting since.
"No, honestly, I said my spiel last game or whatever," McDavid told reporters. "Tonight's a big two points for both teams. They're obviously fighting for a playoff spot and we're trying to hold one down."
Manning again denied the charge that he said he deliberately injured McDavid, saying he "would never." The undrafted Prince George, B.C., product said he was confused why McDavid was even upset.
"I was pretty confused when it started," Manning said Thursday. "When he's starting the second period and he's telling me from centre ice to come on the ice, that's something I haven't seen in a long time. I was pretty confused by it and disappointed with the comments that I'm a classless hockey player, because anyone who knows me or has been around me, that's not my game and that's not who I am. People can take it for what it's worth. I'm moving on."
For his part, McDavid admitted he could better control his emotions on the ice – a skill that fellow generational star Sidney Crosby also wrestled with for the first few years of his career while skating with a target on his back.
McDavid had a goal and an assist – which he celebrated in Manning's face with a string of swears caught by cameras – in that 6-5 loss to the Flyers on Dec. 8, but his frustration was probably compounded by the fact that the Oilers blew two separate two-goal leads that night.
"I definitely take my fair share of whacks and stuff like that," McDavid said Thursday. "It's definitely something you get used to … I have to do a better job at it, keep playing my game. I think any time you get yourself into a game emotionally like that, your game can go to another level."
Manning and McDavid traded barbs and tangled up a few times in that December meeting, but never fought. McDavid criticized Manning post-game for not being willing to "fight some of our guys" but Manning said McDavid never personally challenged him to a fight.
McDavid, 20, has not fought since breaking his hand in an OHL bout in 2014. Leading the NHL in both points (63) and assists (45), it's rather unlikely Thursday will be the night he drops the gloves for the first time, not with the Oilers in sight of their first Stanley Cup playoff berth since 2006.
"I let some of that stuff go by," McDavid said Thursday. "We've got a big, strong team and we have a lot of different guys that can play that kind of game."
Both teams are focused on the win, especially with the Flyers' once promising playoff hopes quickly fading, but that doesn't mean the other cast of characters won't stir the bad blood. The Flyers vowed to be ready to defend Manning, while the Oilers are always vigilant with McDavid on the ice.
We'll never know what was said on the ice in December, but this simmering war-of-words has added flavour to an otherwise dull inter-conference matchup in the dog days of the season.
"He said it's done," Manning said. "We're out here to play the hockey game. Whatever happens, happens … I think the [buildup] is going to stay off the ice. I'm not out there to run my mouth and get under his skin that way. I'm going to play my game the same way I play all the top guys. I'm going to finish my checks, play hard in front of the net. The rest is going to take care of itself."
Contact Frank Seravalli on Twitter: @frank_seravalli