McDavid on pace to obliterate record for even-strength ice time
Ken Hitchcock has little choice but to push the Oilers captain to the limit, putting him on pace to set an NHL record for even-strength ice time by a forward since the league began officially clocking time on ice, Frank Seravalli writes.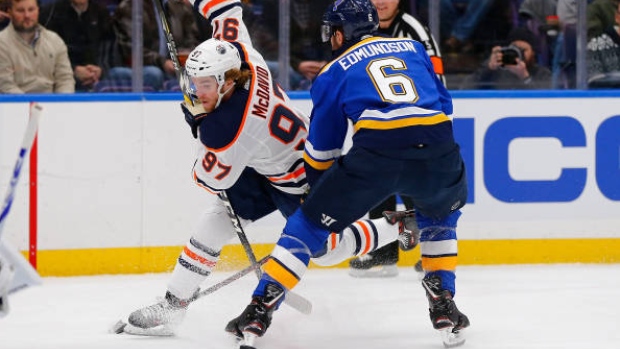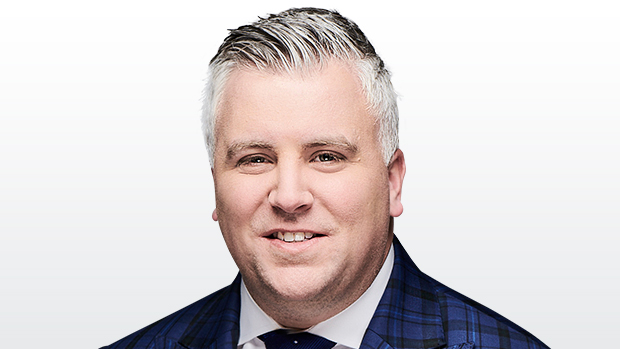 One of the first things Ken Hitchcock noticed about Connor McDavid was his ability to recharge on the bench.
It's a video game-like restore, an ease-of-breath that Hitchcock said he hadn't seen since defenceman Sergei Zubov in Dallas – who surprisingly was a heavy smoker throughout his playing career.
"His recovery rate, cardio-wise, is astounding," Hitchcock said of McDavid after his first game as the Edmonton Oilers' coach. "He's able to get back up to speed quickly."
The other thing Hitchcock probably noticed very quickly is the Oilers are one of the best teams in the NHL when McDavid is on the ice and among the worst when he's off it. McDavid has scored or assisted on nearly half (36) of Edmonton's 73 goals so far this season – the biggest share of his team's goals in the league by five per cent.
Since Hitchcock was hired on Nov. 20, the Oilers have scored five goals at even strength with McDavid on the ice and just six with him off it.
Those stats were reinforced by the eye test when the Oilers fell 4-1 in Dallas on Monday without McDavid for the first time in 222 consecutive contests.
The only solution? Dial up more McDavid.
Hitchcock hinted he would push the limits for McDavid and he certainly hasn't disappointed through his first seven games. McDavid played a staggering 28:01 on Wednesday night in St. Louis in his first game back after an illness. The Oilers are 5-2-1 under Hitchcock.
McDavid, 21, is now on pace to obliterate an NHL record for even-strength ice time by a forward since the league began officially clocking time on ice in 1997-98.
McDavid is averaging 20:31 at even strength under Hitchcock, quite literally rarified air. Only seven players in the 20 seasons since time on ice originated have averaged more than 18 minutes per night at even strength. Just one player – Pavel Bure in 1998-99 – averaged north of 19 minutes, at 19:12.
McDavid has played more than 20 minutes at even strength four times in seven games under Hitchcock.
For comparison, Sidney Crosby's career even-strength average time on ice is 15:49. McDavid is averaging nearly five minutes more per night.
For McDavid, Wednesday night's ice time (28:01) was abnormally high because the Oilers spent more time on the power play. He played 18:36 at even strength, 8:40 on the power play and 45 seconds on the penalty kill.
When it's all said and done, McDavid probably will not end up challenging the forwards at the turn of the century for total ice time because guys like Bure, Jaromir Jagr, Joe Sakic and Ilya Kovalchuk – the forward minute-loggers of the day – all averaged more than six minutes a night in power-play time alone.
Nonetheless, McDavid's total ice time is still on the uptick under Hitchcock.
He has increased from a 22:13 average under Todd McLellan to 24:34 under Hitchcock, pushing him from fifth in ice time among forwards to second (behind Florida's Aleksander Barkov). If Hitchcock continues to play McDavid at this rate, his total average ice time for the season will be 23:59, the most by any player since Kovalchuk (24:47) in 2013.
McDavid isn't the only player in the league who has seen his ice time skyrocket as a result of a coaching change this season. Joel Quenneville played Patrick Kane 20:00 a night this season, and the Chicago winger is now averaging 22:47 per game under Jeremy Colliton.
Unlike the Blackhawks, the Oilers sit just three points back of the final playoff spot in the Pacific Division.
With that view, the fair question to ask is: How much more can McDavid handle?
McDavid is still human, after all. McLellan seemed to recognize that in the final few games of his tenure. He kept McDavid under 21:30 in total ice time in seven of his last nine games, which is a minute less than what McDavid has averaged at even strength under Hitchcock.
It's already a historic ask from Hitchcock, but it's certainly easy to envision McDavid's ice time increasing as the desperation rises in the season and the Oilers try to claw back into the playoff picture.
"He can come out every second shift if it stays 5-on-5," Hitchcock said on Nov. 21. "That's something we've got to take advantage of."
Remember, one reason forward ice times pale in comparison to top-end defencemen is simply the amount of ice they cover – especially under Hitchcock, who is asking McDavid and the Oilers' other centres to swoop lower in the defensive zone to scoop up the puck.
In a perfect world, the Oilers would balance their lines and spread the ice time more evenly with McDavid, Leon Draisaitl and Ryan Nugent-Hopkins each centering their own line. That isn't a realistic option for Hitchcock right now with the lack of depth on his lineup card.
McDavid really might just have to carry the Oilers into the playoffs.
Contact Frank Seravalli on Twitter: @frank_seravalli