McDavid's opening-night hat trick leads Oilers past Flames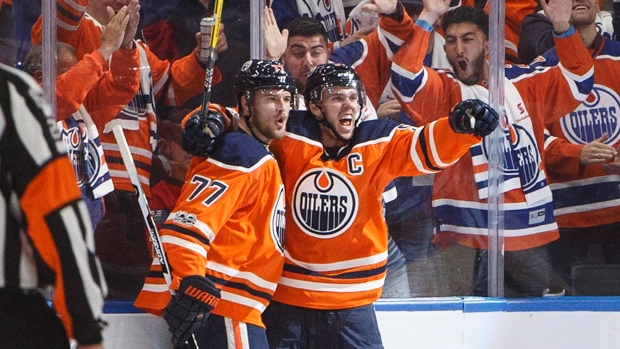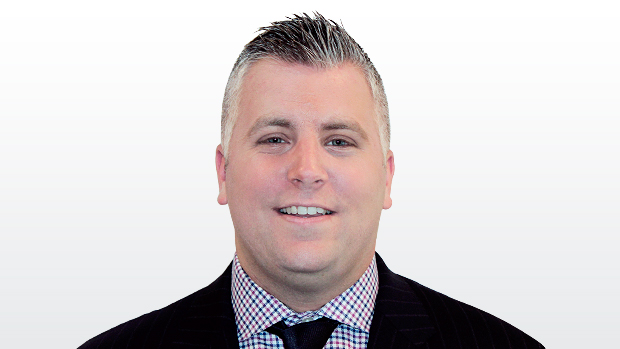 EDMONTON — It wasn't even fair.
Connor McDavid scooped up the loose puck near the hashmarks in the Oilers' zone and took the Battle of Alberta from zero to 100. Real quick.
Calgary Flames defenceman T.J. Brodie was crossing the blue line in pursuit, already skating forward, when McDavid took his first strides.
"Connor doesn't go from first to second to third to fourth," coach Todd McLellan said, thinking of Edmonton's orange Ferrari. "He goes from first to fourth and he's gone."
Before McDavid even hit the blue line, Brodie was toast.
Brodie did not take a poor angle. He wasn't slow to react, he did not hesitate. He was just flat out beaten by McDavid. He could barely get a one-handed stick on as No. 97 cruised by - like a player in a video game using the turbo boost cheat code.
It was the almost indefensible rush.
"I mean, you can write whatever you want about him and it's all probably true," said Travis Hamonic, shrugging. Hamonic was on the far side of the ice with Brodie and didn't have a prayer to catch him.
And this was Brodie that McDavid blew by, one of the best skaters on the Calgary Flames. Not Deryk Engelland.
"I know exactly how that defenceman felt," Oscar Klefbom said. "You see it, you know it's coming. You're like 'come on, come on, get moving' and then you're [bleeped]."
Practically untouched, the reigning Hart Trophy winner lifted the puck over Mike Smith's shoulder on the short side, making the $100 million deal he signed this summer somehow seem like a bargain.
Yes, Year 3 of the Connor McDavid Experience began much in the same way Year 2 ended: with a blur the likes of which the NHL has never seen before. Thirty-five seconds into the season, he already had his first breakaway. Chants of "M-V-P, M-V-P" reverberated among the standing-room only crowd.
Before the final horn sounded, the ice was littered with hats.
McDavid - who else? - netted his second career hat trick, scoring all three goals to carry the Oilers to a rousing 3-0 Opening Night shutout and their fifth consecutive win in the Battle of Alberta. Calgary's last win over Edmonton came on April 2, 2016 - two seasons ago.
Much of that is due to McDavid. He now has nine goals and five assists in just eight career games against Edmonton's archrival.
"Hell of a night by him," McLellan said. "You guys keep asking me these questions and I don't know how to answer them. It's just what he does."
McDavid, 20, became the first player in Edmonton Oilers history to post a multi-goal game in back-to-back season openers. On this night, Mike Smith's debut in a Flames sweater was overshadowed by McDavid's third period heroics.
Smith was the story before McDavid took off like a rocket. He had 37 saves when McDavid streaked down the left wall, giving Calgary exactly the steady goaltending they've craved for so long.
The absurdity of these McDavid moments is that they occur with such regularity now that you sometimes fail to grasp that just about no other player on the planet can duplicate them.
"What was impressive about that goal was that the puck rolled all the way down the ice," McLellan said. "He knocked it down and scored when he needed to."
"He has so much speed and so much control in that speed," Klefbom explained. "That makes him so unique."
He could've easily had four or five goals but was thwarted by Smith on two other clear breaks, including his season-opening rush.
Fans will ooh and ahh over McDavid's early goal-of-the-year candidate, but McDavid was actually more pleased with his first goal of the night - a simple rebound putback off a Leon Draisaitl shot, which wasn't nearly as pretty.
Why? McDavid spent his summer searching for ways to add to his goal total. He finished tied for 25th in the NHL with 30 goals last season, 14 behind league-leader Sidney Crosby.
"I have no problem scoring on the rush," McDavid said. "I was happy to find one in around the blue paint, which is where I need to go if I want to score more. You want to find ways to score different ways."
McDavid said he pored over video of Crosby and Auston Matthews, trying to find the link that makes them score. He studied Joe Pavelski and Crosby tipping pucks. What he learned was that he's actually "too fast."
Imagine any other player saying that.
What he plans to implement now is counterintuitive to the rest of the NHL.
"My game is all about speed, [but] I need to find a way to slow my feet down," McDavid said. "You look at ways Crosby scores and Matthews scores, these great scorers in the game, they're kind of in the right spot at the right time.
"For me, I almost find that I zip through those [opportunities] and don't give myself much of a chance. I haven't scored on one tip other than my first career goal. It's about slowing down a little bit and trying to find the right time, arriving on-time."
So, McDavid devoted his summer to becoming a better scorer. He netted a hat trick in Game 1. So much trying to quell the Stanley Cup expectations in Edmonton.
Contact Frank Seravalli on Twitter: @frank_seravalli​