McDavid's record night could be Oilers' turning point
Tuesday's furious comeback win over the Jets led by Connor McDavid felt like maybe, just maybe, a possible TSN Turning Point for the 2018-19 Oilers after the superstar centre shatters an NHL record by earning a point on Edmonton's first nine goals of the season, Frank Seravalli writes.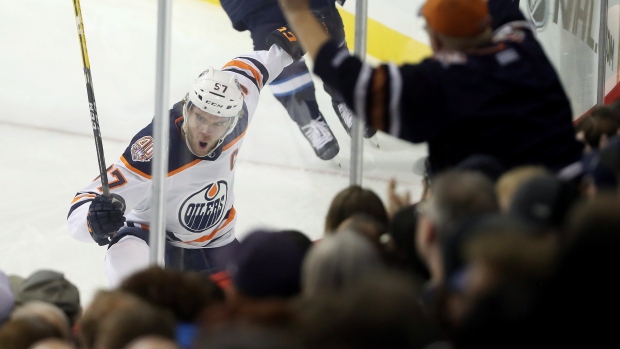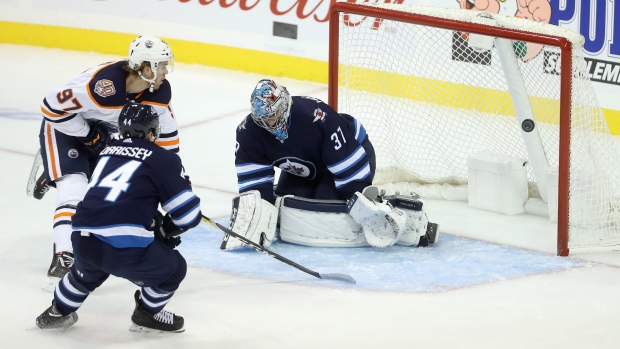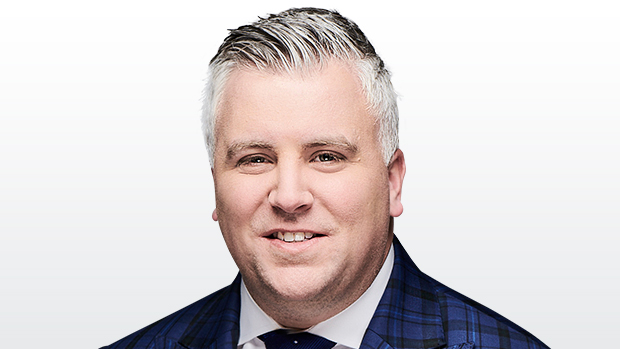 Connor McDavid shrugged and shook his head.
McDavid wanted nothing to do with the question. Or with Adam Oates' record, the one nearly 11 years older than him, mostly because it said more about the Edmonton Oilers around him than anything else.
For four full games, the Oilers literally could not score without McDavid.
McDavid shattered, then extended, Oates' mark on Tuesday night when he factored into each of Edmonton's first nine goals to start the season with his four goals and five assists. Oates was a part of the first seven Red Wing goals to start the 1986-87 season.
"It's whatever," McDavid told reporters postgame. "I'm not overly proud of it. I don't think it's a stat we should be proud of, either. It is what it is, but we found a way to get a goal there at the end, so we don't ever have to talk about it again."
Finally. No, not even McJesus can score from the bench – which is where McDavid was when Darnell Nurse danced through the Jets' defence and deposited the 5-4 overtime winner behind Connor Hellebuyck in Winnipeg.
It's earlyyyyy. The Oilers haven't even played a home game yet.
But Tuesday night's furious comeback led by McDavid felt like maybe, just maybe, a possible TSN Turning Point for the 2018-19 Edmonton Oilers.
"He's our captain. He's our leader. He's the best player on earth right now, in my opinion," Oilers coach Todd McLellan said. "He decided that he was going to will his team to win."
After what was reported as a "must-win" game on Saturday in New York under the watchful eye of owner Daryl Katz, the Oilers put together their first three-goal third period comeback since McDavid's rookie season to head home with a 2-2 record after a three-week odyssey.
What a long, strange trip.
Somehow, the Oilers didn't just survive their woeful trip across the pond and through two North American time zones. They returned to Oil Country with bounce in their skates.
"We got desperate," McDavid told reporters. "It just goes to show what we can do when we want to work and we want to do things the right way."
It was an incredible about-face. There was an ominous feel around the Oilers from just the first two games, contests in which Edmonton at times looked like it was playing in a lesser league than the Devils and Bruins.
Everyone was feeling the heat. Jobs were believed to be on the line, even on the season-opening road trip, with Katz's promise looming large that last season's embarrassment would not tolerated again.
"Well, 2-2 is a lot better than 1-3, if I'm answering our question honestly," McLellan told reporters.
The Oilers came alive on Tuesday night. Jesse Puljujarvi scored his first goal of the season when finally given his first shift of the season on McDavid's flank. Nurse finished the rush that always seemed to start so positively but often eluded him inside the blueline. The Jets' defence limited Mark Scheifele's line to one goal.
The Oilers were 20 minutes away from limping home 1-3, and staring up the wrong end of the barrel with these top lines awaiting them consecutively:
vs. Boston on Oct. 18: Brad Marchand - Patrice Bergeron - David Pastrnak
vs. Nashville on Oct. 20: Filip Forsberg - Ryan Johansen - Viktor Arvidsson
vs. Pittsburgh on Oct. 23: Jake Guentzel - Sidney Crosby - Derick Brassard
vs. Washington on Oct. 25: Alex Ovechkin - Evgeny Kuznetsov - Chandler Stephenson
at Nashville on Oct. 26: Filip Forsberg - Ryan Johansen - Viktor Arvidsson
at Chicago on Oct. 28: Alex DeBrincat - Jonathan Toews - Dominik Kahun (or pick your poison with Patrick Kane)
Suddenly, this four-game Murderer's Row homestand seems more manageable.
The Oilers unquestionably have a long way to go. Numerous question marks remain, including slow starts to games, issues on defence and concerns about scoring depth. McDavid has still factored into 90 per cent of the team's goals.
One game does not a season make, but the fact that Edmonton awoke to stun the Winnipeg Jets proved these Oilers have a pulse. That's a big step in the right direction.
"This was a team that contended for a Stanley Cup last year," McDavid said of the Jets. "It proves that we can play with anyone."
Contact Frank Seravalli on Twitter: @frank_seravalli​