McDonagh, Kyrou join TSN's Top 30 Trade Bait players
Multiple teams are believed to have expressed interest in the Rangers captain with GM Jeff Gorton believed to be willing to tinker with his roster, TSN Senior Hockey Reporter Frank Seravalli writes.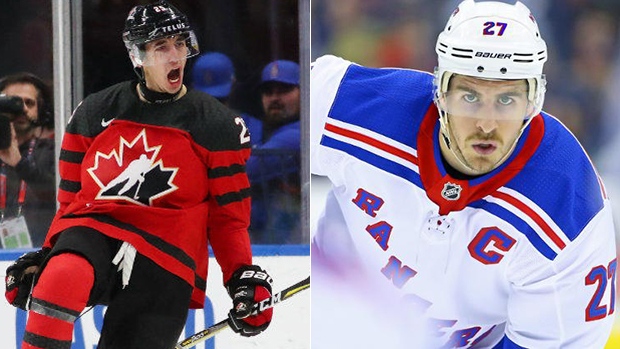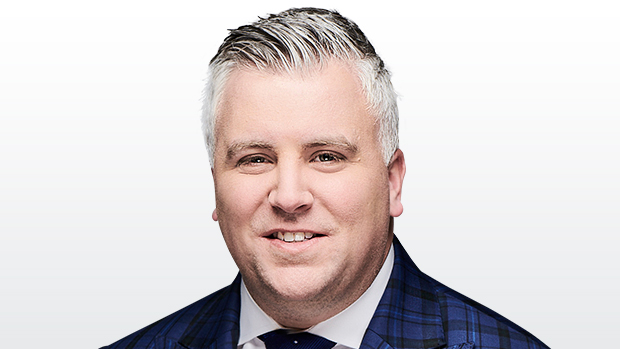 The New York Rangers are on the verge of entering the NHL all-star break outside of a Stanley Cup playoff spot for the first time since 2010.
No one is anywhere near close to throwing in the towel in New York – certainly not with the way Henrik Lundqvist has played this season – but Rangers GM Jeff Gorton is willing to tinker with his team.
In fact, the belief is Gorton will entertain offers not just for his pending unrestricted free agents, but also players that makeup the core of the Blueshirts.
Few Rangers are considered to be truly "off limits," like top prospects Lias Andersson or Igor Shestyorkin.
That's why Rangers captain Ryan McDonagh is among five fresh names on TSN's Trade Bait board. Multiple teams are believed to have expressed interest in McDonagh, even though any potential foundation-shaking deal for New York may well wait until the off-season.
Either way, the Rangers are seemingly heading towards decision day with McDonagh in the near future – possibly this summer. He has one season left at $4.7 million and is eligible to sign a contract extension as early as July 1.
In the short term, McDonagh, 28, has a modified no-trade clause in which he can block a trade to 10 teams.
The four other newcomers to TSN's Trade Bait are St. Louis Blues prospect Jordan Kyrou, Buffalo Sabres winger Sam Reinhart, Colorado Avalanche winger Blake Comeau and Winnipeg Jets centre Nic Petan.
Kyrou, 19, becomes the first player in recent memory to join the board as a prospect. He has been on fire for the Sarnia Sting after helping Team Canada to gold at the World Junior Hockey Championship earlier this month in Buffalo.
Kyrou collected 11 points in just three contests last week for OHL Sarnia as the Sting halted Sault Ste. Marie's points streak at 29 games. He has 23 goals and 73 points in just 35 OHL games this season.
So, why would the Blues want to move a blossoming 35th overall pick?
Well, the short answer is, they don't. But in order to get, you must give. The Blues are in the market for an impact winger ahead of the Feb. 26 trade deadline. If they were to pursue a player like Buffalo's Evander Kane, who remains No. 1 on the board and a potential strong fit, it's possible that Kyrou could be part of some sort of package to make that happen.
Plus, the Blues' three first-round picks from 2016 and 2017 – Tage Thompson, Robert Thomas and Klim Kostin – all play centre. Thompson, 20, has five points in 19 games for the Blues this season.
The arms race is on in the Central Division.
The Jets are also in the market for a winger or centre who can plug into their top two lines. That give-to-get motto is why Petan makes the board, although there has been plenty of interest in Jack Roslovic, who is a point-per-game player for the AHL's Manitoba Moose this season.
With 32 days to go until TradeCentre, here are the Top 30 players on TSN's Trade Bait board:
The Top 30 Players
| Player | Pos | Age | 17-18 Cap Hit | GP | G | PTS | Past 17-18 | Clause |
| --- | --- | --- | --- | --- | --- | --- | --- | --- |
| 1. Evander Kane, BUF | LW | 26 | $5.25M | 48 | 16 | 36 | UFA | |
| 2. Patrick Maroon, EDM | LW | 29 | $1.5M | 46 | 13 | 26 | UFA | |
| 3. Mike Green, DET | RD | 32 | $6M | 47 | 5 | 26 | UFA | NTC |
| 4. Mike Hoffman, OTT | LW | 28 | $5.19M | 46 | 12 | 30 | 2 years | M-NTC |
| 5. Max Pacioretty, MTL | LW | 29 | $4.5M | 48 | 15 | 29 | 1 year | |
| 6. Thomas Vanek, VAN | LW | 33 | $2M | 48 | 14 | 35 | UFA | |
| 7. Alex Galchenyuk, MTL | LW | 23 | $4.9M | 48 | 12 | 28 | 2 years | |
| 8. Michael Grabner, NYR | LW | 30 | $1.65M | 48 | 21 | 25 | UFA | |
| 9. Zack Smith, OTT | LW | 29 | $3.25M | 32 | 3 | 11 | 3 years | M-NTC |
| 10. Ryan McDonagh, NYR | LD | 28 | $4.7M | 44 | 0 | 22 | 1 year | M-NTC |
| 11. James Neal, VGK | LW | 30 | $5M | 47 | 22 | 34 | UFA | M-NTC |
| 12. Ian Cole, PIT | LD | 28 | $2.1M | 36 | 2 | 7 | UFA | |
| 13. Jordan Kyrou, STL | C/RW | 19 | $894K | 0 | 0 | 0 | 3 years | ELC |
| 14. Erik Gudbranson, VAN | RD | 26 | $3.5M | 32 | 1 | 3 | UFA | |
| 15. Rick Nash, NYR | LW | 33 | $7.8M | 49 | 15 | 25 | UFA | M-NTC |
| 16. Aaron Dell, SJS | G | 28 | $625K | 21 | 2.32 | .923 | UFA | |
| 17. Mark Letestu, EDM | C | 32 | $1.8M | 48 | 8 | 16 | UFA | |
| 18. Andrew Shaw, MTL | C/RW | 26 | $3.9M | 43 | 10 | 19 | 4 years | |
| 19. Jean-Gabriel Pageau, OTT | C | 25 | $3.1M | 42 | 6 | 15 | 2 years | |
| 20. David Perron, VGK | RW | 29 | $3.75M | 41 | 11 | 40 | UFA | M-NTC |
| 21. Nic Petan, WPG | C | 22 | $863K | 6 | 0 | 0 | RFA | |
| 22. Jack Johnson, CBJ | LD | 31 | $4.35M | 48 | 2 | 7 | UFA | |
| 23. Nick Holden, NYR | LD | 30 | $1.65M | 44 | 3 | 9 | UFA | |
| 24. Petr Mrazek, DET | G | 25 | $4M | 15 | 3.12 | .904 | RFA | |
| 25. Sam Reinhart, BUF | RW | 22 | $3.54M | 48 | 9 | 19 | RFA | |
| 26. Dion Phaneuf, OTT | LD | 32 | $7M | 44 | 3 | 13 | 3 years | M-NTC |
| 27. Blake Comeau, COL | RW | 31 | $2.4M | 47 | 9 | 21 | UFA | |
| 28. Robin Lehner, BUF | G | 26 | $4M | 36 | 2.96 | .910 | RFA | |
| 29. Cody Franson, CHI | RD | 30 | $1M | 23 | 1 | 7 | UFA | |
| 30. Tyson Barrie, COL | RD | 26 | $5.5M | 34 | 4 | 27 | 2 years | |