McGregor: I offered to fight Edgar at UFC 222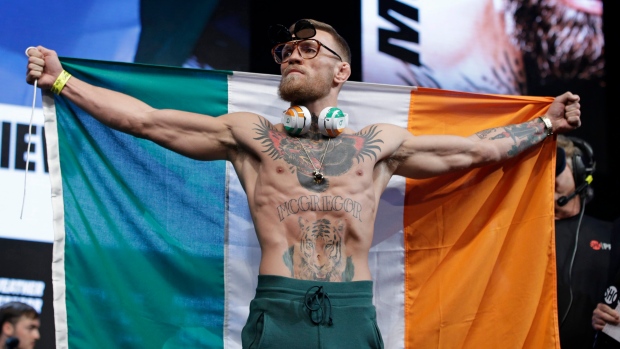 Conor McGregor says his offer to make his return to the Octagon was rejected by the UFC.
The lightweight champion says he volunteered to fight Frankie Edgar at UFC 222 on March 3 when featherweight champion Max Holloway had to pull out of the main event with a leg injury, but he was told no by the company.
"I am fighting again. Period," McGregor posted on Instagram. "I am the best at this. I put my name forward to step in at UFC 222 to face Frankie Edgar when Max Holloway pulled out, but I was told there wasn't enough time to generate the money that the UFC would need. I was excited about bouncing in last minute and taking out the final featherweight, without all the rest of the stuff that comes with this game."
But Edgar's camp disputes this account.
"When Max pulled out, I told the UFC, we'll fight Conor at any weight class he wants," Edgar's manager Ali Abdelaziz told ESPN's Brett Okamoto. "The UFC told us they can't even get him to fight in his weight class.
"He's become just like Floyd Mayweather. This guy doesn't want to fight. He does what Floyd Mayweather does. He just wants to stay in the media. He likes the attention, but he's not getting it because he's not fighting. He should have fought Frankie two years ago. He ducked him for two years. He's full of (expletive). He's a liar."
McGregor has not fought in UFC since a TKO win over Eddie Alvarez at UFC 206 in Brooklyn on November 12, 2016 to successfully defend his lightweight title. He last competed in combat sports in August, losing his much-hyped boxing debut to Floyd Mayweather via TKO in the 10th round.
Though McGregor has not defended his title in over a year, he has not yet been stripped of it. Still, Dana White told TMZ on Thursday that the upcoming fight between Tony Ferguson and Khabib Nurmagomedov was for the lightweight title and not an interim belt.
"I said in the last press conference (in Boston): That fight will be for the title," White said. "It's not for the interim title. That fight is for the real title."
When asked if that meant McGregor would be stripped, White responded, "Right. Conor understands."
White added that he hoped McGregor would fight the winner of Ferguson and Nurmagomedov, but said that he wasn't certain of his return.
"I say it all the time," White said, "with that kind money [McGregor made to fight Mayweather], he might never come back."
But McGregor's Instagram posted seemed to refute that idea.
"I am here," McGregor wrote. "It is on them to come and get me. Because I am here."