McKenzie: Rookie race heats up with Drouin's Lightning debut
The race for NHL rookie of the year just got more interesting. Now, this is precisely the type of hype the Tampa Bay Lightning will be trying to avoid at all costs for a 19-year-old who has yet to play a single regular season game in the NHL. But as TSN Hockey Insider Bob McKenzie explains, that's kind of the point here: Jonathan Drouin is finally going to make his highly-anticipated NHL debut this week.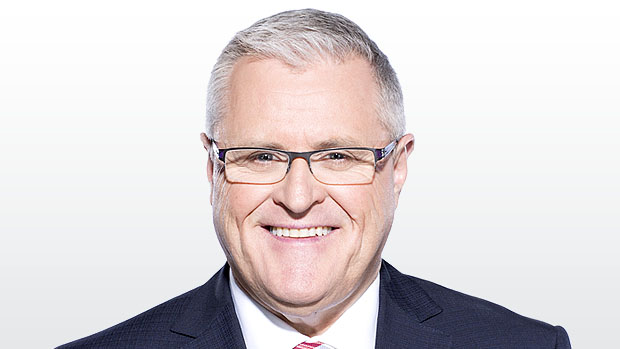 The race for NHL rookie of the year just got more interesting.
Now, this is precisely the type of hype the Tampa Bay Lightning will be trying to avoid at all costs for a 19-year-old who has yet to play a single regular season game in the NHL.
But then that's the kind of the point here: Jonathan Drouin is finally going to make his highly-anticipated NHL debut this week.
Probably not tonight in Edmonton, though.
After breaking his thumb before training camp even started, Drouin played his first two professional games – scored his first pro goal on a beauty snipe Friday night and added two assists and seven shots on goal Saturday night – on a briefer than expected conditioning stint with Syracuse of the American Hockey League. Tampa recalled him yesterday and Drouin flew to Edmonton to join the 3-1-1 Lightning.
Playing back to back games on Friday and Saturday, travelling all day Sunday and dealing with jet lag is not the optimum circumstance to have the third overall pick in the 2013 NHL Draft make his NHL debut, never mind that Tampa is coming off a win in Vancouver and none of the forwards have done anything to warrant being yanked from the lineup for a 19-year-old, albeit one with star power potential.
So Tuesday in Calgary is a much better bet than tonight in Edmonton to get our first look at the precocious offensive talent, who, to borrow Bobby Ryan's catchphrase, isn't so much "coming in hot" as he is "coming in angry."
That's angry in a good way.
Anyone who knows Jo knows that the somewhat undersized (5-foot-11, 186 pounds) offensive whiz kid from the Halifax Mooseheads uses any slight, real or imagined, as his fuel.
And his tank is full. Overflowing.
There wasn't a day that went by last season when Drouin didn't look longingly at the NHL and his draft class playing pro while he was back with the kids in the Quebec Major Junior Hockey League.
No. 1 overall pick and Drouin's Halifax linemate Nate MacKinnon tore it up in Colorado, winning the Calder Trophy as rookie of year. No. 2 overall pick Aleksander Barkov spent the full season in Florida, as did No. 4 pick Seth Jones in Nashville, No. 5 pick Elias Lindholm in Carolina and No. 6 pick Sean Monahan in Calgary.
Drouin was the only one of the top six picks in his draft to not play last season in the NHL. Tampa decided early in training camp a year ago that Drouin wasn't physically mature enough to put right into the lineup, that he needed to get fitter and faster and stronger.
So Drouin played angry last season, channeling it into 29 goals and 108 points for the Mooseheads. He trained angry all summer, getting leaner and meaner and fitter and faster. His broken thumb before training camp only ratcheted up his anger at having to wait even longer to make his NHL debut. And even though the Lightning's handling of him on the AHL conditioning stint was textbook and clearly in the player's best interests – he had no training camp at all; the team knows expectations will be sky high when he does play that first NHL game and they wanted to give him every chance to be successful – don't kid yourself, that one goal and two assists in two AHL games was the product of an angry young man who believes he's never been more ready to go than now.
Right now.
It's going to be fascinating to watch Drouin play for the Lightning, simply because he has elite level vision and puck skills that set him apart from, well, just about everybody. He won't like to hear it, but he's also a 19-year-old kid who's a lot better with the puck than without it and the challenge for any underage junior, and his team, is to find a way to embrace (offensive) assets while minimizing (defensive) deficiencies.
The fact the Lightning are a very good NHL team, with the look of a contender in the Eastern Conference, will require even more finesse in their handling of Drouin. Who comes out of the lineup for Drouin? Does he have to play in the top six? Or can he brought along more slowly on the third or fourth line? One suspects it will more likely be the latter.
Steven Stamkos is on fire and playing well with Ryan Callahan and Ondrej Palat on the top line. Valtteri Filpulla is between Alex Killorn and Tyler Johnson on the second line.
The third and fourth lines are more or less interchangeable, depending upon circumstances: Brian Boyle between Brenden Morrow and Brett Connolly; and, rookie Vladislav Namestnikov between Nikita Kucherov and J.T. Brown.
The Lightning have to find a spot for Drouin somewhere, sometime.
Whenever and wherever it is, there's an angry young man awaiting his opportunity.
Angry in the best way imaginable.
The Rookie Race
Drouin hasn't missed so many games that, if all were to go well for him, he couldn't play himself into a still wide-open rookie race.
The early favorite, though, has to be Tanner Pearson of the Los Angeles Kings. Pearson played 25 regular-season games last year. If he had played just one more (26), he wouldn't be considered a rookie. It doesn't matter that he played 24 more in the playoffs en route to the Kings' Stanley Cup victory.
Pearson, playing on "That 70's Line" with Tyler Toffoli and Jeff Carter, is off to a great start. That line has been carrying the Kings so this season. Pearson has five goals and seven points in six games, leading all rookies in goals and points. Pearson is a 22-year-old, third-year pro who is bound to get more quality minutes on an elite team and, therefore, should continue to put up points.
Two rookie defenceman – Aaron Ekblad in Florida and Damon Severson in New Jersey – have also turned heads in the early going.
Ekblad, of course, was the first overall pick in the 2014 NHL draft. The 18-year-old – he doesn't turn 19 until Feb. 7 – has only one assist in five games but what he's doing as a "pure" rookie blueliner is nothing short of extraordinary.
He's averaging 22:16 over five games and played 25:25 in his last outing, a 2-1 shootout loss to the Washington Capitals.
"The last game he played was the best game he's played," Florida coach Gerard Gallant said. "I keep forgetting he's an 18-year-old rookie."
The funny thing is Ekblad started slow. In the Panthers' rookie camp, he didn't look good in his first game, was just okay in his second but played well in his third. That was ROOKIE camp. In the Panthers' main camp, it was the same thing – struggled early, got better as it progressed.
But almost from the drop of the puck for the regular season, Ekblad has played with poise, maturity and confidence that belies his age and inexperience, playing alongside veteran defenceman Brian Campbell.
"I'm sure he will have some ups and downs, every young defenceman does," Gallant added, "but it's amazing how comfortable he is just playing his game. It's like he's still in junior. He's not worried. He just plays. He's not afraid to jump up (offensively) and he's defended quite well. He's not nervous or unsure of himself."
TSN analytics expert Travis Yost offered this assessment of Ekblad's numbers this season:
"Aaron Ekblad is still searching for the first five-on-five point of his career, but there are plenty of positives to take away from his first five games. Ekblad, playing almost exclusively with puck-possession wizard Brian Campbell, has enjoyed a 58.3 per cent Corsi% and +10.6 per cent RelativeCorsi%. While it's clear Florida isn't easing Ekblad into action (he's close to 16 minutes per night at even strength), it's worth noting he's being deployed in a more offence-oriented role – likely due to Campbell's puck-moving ability. The Ekblad-Campbell pairing is the only one on Florida starting more than 50 per cent of their shifts in the offensive zone. If this sort of deployment continues, expect Ekblad's point-scoring to wake up relatively quickly. Softer minutes and great underlying numbers generally lead to success – Ekblad's simply been victimized by terrible on-ice shooting percentages (4.4 per cent) in the early going. As we know, these numbers frequently regress to league averages."
For those who don't subscribe to #fancystats, Ekblad most certainly passes the eye test, too. To think he's been as cool, calm and composed as he has been, as an 18-year-old defenceman, is nothing short of extraordinary.
Meanwhile, New Jersey defenceman Damon Severson has been an early-season revelation.
Another in the long line from the Kelowna Rocket defenceman factory (Scott Hannan, Josh Gorges, Duncan Keith, Luke Schenn, Sheldon Souray, Shea Weber, Kyle Cumiskey, Tyler Myers, Tyson Barrie, to name a few), Severson has put up flashy numbers – three goals, four points and plus-six in five games – while averaging almost 20 minutes per night alongside veteran partner Andy Greene on New Jersey's shutdown pair.
New Jersey head coach Pete DeBoer was quite taken with Severson early in training camp and he's continued to earn the coach's confidence.
"You always want to temper your enthusiasm for young defencemen because you don't want to put unrealistic expectations on them," DeBoer said, "but (Severson) has started well."
Greene plays the tough minutes on the Devils' blueline, facing Alexander Ovechkin and Joe Thornton in consecutive shutdown games. Severson has held up well as Greene's partner. Severson's composure has been notable as has his ability to read the play, both defensively and offensively.
Here's Yost's analytic take on Severson's season:
"Severson's possession numbers are eerily similar to Ekblad's. Through five games at just under 16 even-strength minutes a night, Severson is a 58.6 per cent Corsi% player with an impressive +14.4% RelativeCorsi%. That RelativeCorsi% number is actually ninth-best in the entire league amongst regular defencemen, with only established NHL'ers – notably Ryan Ellis (+19.6 per cent), Mark Giordano (+18.2 per cent), and Niklas Hjalmarsson (+15.8 per cent) – ahead of him. Perhaps the most impressive part is Severson (along with partner Greene) has been getting brutalized in the zone-start department, seeing just 33 per cent offensive zone starts."
It's not as if Severson came out of nowhere – he was a 2012 second-round pick, 60th overall – who was one of the WHL's top defenceman last season. But he didn't make Canada's national junior team and, in general manager Lou Lamoriello's world, young Devils often need to serve an AHL apprenticeship in their first professional season.
For now, Severson has avoided the trip to the minors.
But the season, like the rookie defencemen who have excelled in the early going, is still young.
NOTES: Tampa defenceman Victor Hedman is likely to be out of the Bolts' lineup for at least four weeks with a broken bone in his hand. He suffered it Saturday, blocking a shot against Vancouver. Usual timeline is a four-to-six week injury…Calgary officially announced T.J. Brodie's contract extension today. It's five years with an AAV of $4.65 million.