McPhee begins filling Vegas prospect cupboard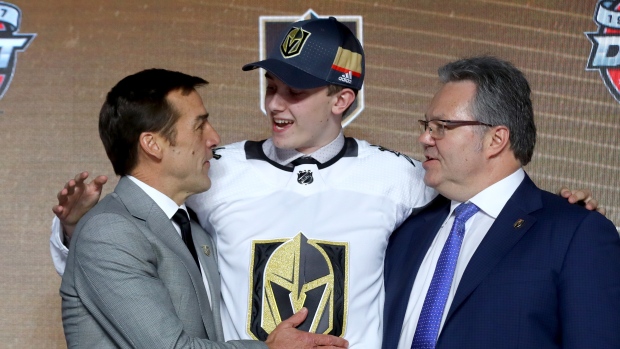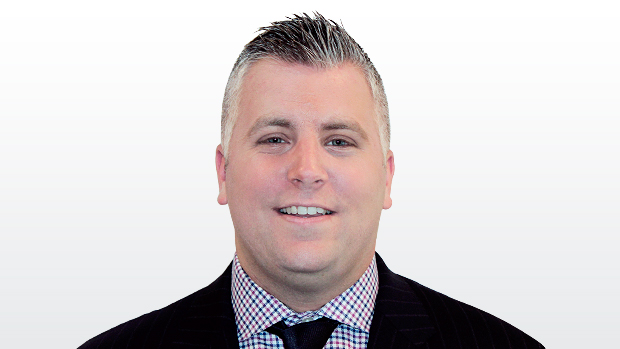 CHICAGO — George McPhee left United Center destined for his downtown hotel, likely dreaming of his bed and a long sleep after the craziest week of his professional career.
Except, the Vegas Golden Knights have one more meeting on the docket.
After picking three times in the top 15 of Round 1 on Friday night – the first selections in club history – the Golden Knights will have 10 more picks in Rounds 2-7 on Saturday morning, including another three in the second round.
Adrenaline will have to do for McPhee. There's been plenty of that this week, too, starting an NHL franchise from scratch.
There was talk about the Golden Knights packaging their three first-round picks – it's a luxury unique to Vegas in the expansion era, owning 20 per cent of the first 15 selections – in an effort to move up to No. 1 or even No. 3 overall, but the chance to begin filling a nearly bare prospect cupboard proved too much to pass on.
"I thought it went really well," McPhee said. "We had contemplated doing a few different things and using a second-round pick to do it, but we ended up getting the guys we wanted to get, so we didn't have to do that. So, we're really happy with that."
Vegas selected two highly skilled centres in Cody Glass at No. 6 and Nick Suzuki at No. 13 – two of the top four draft-eligible CHL scorers from last season – and then rounded out the round with Erik Brannstrom at No. 15, who at 5-foot-9 ties the record for the shortest defenceman ever drafted in the first round.
The Golden Knights liked Glass so much that McPhee said they had a trade arranged with the Vancouver Canucks to slide up one slot to nab him No. 5, but held off because they got a sense Glass would still be available.
He rose from a 'C' grade prospect – usually a 4th to 6th round player – in Central Scouting's preseason rankings to No. 14 at TSN's midseason ranking to No. 4 on Director of Scouting Craig Button's final list.
Glass, the first draft pick to ever pull on a Golden Knights jersey, drew comparisons to his hometown Jets centre Mark Scheifele.
"That's a fair comparison," McPhee told reporters. "An elite centre with exceptional hockey sense. Getting to draft a top-end centre like Cody, it's a great fit for us."
Glass will have plenty of opportunity in the expansion franchise to make a dent sooner or later.
"I saw the jersey and I was thinking maybe it could happen to me," Glass told reporters. "I'm so thrilled. When I interviewed with Vegas at the combine – it was my best interview. I left the room thinking I'd put my best foot forward. I really liked the guys in the room and I started to think I could trust them with my career and where I want to go and what I want to accomplish in hockey."
Suzuki, of the OHL's Owen Sound Attack, closed the season in similarly spectacular fashion. He was the only new player from midseason to make Central Scouting's final top 10 list.
The Golden Knights will move to the third slot to pick in Rounds 2-7. If they hang on to all of their picks, their one-draft total of 13 would set an NHL record. Four players from TSN Hockey Insider Bob McKenzie's final Top 31 draft rankings did not get picked in the first round, potentially leaving them for Vegas in Round 2.
In other words, McPhee will rest sometime in July. Maybe.
"We've got lots of work left," McPhee said, "and lots of opportunity for good players."
BATTLE OF ALBERTA JR.: The Edmonton Oilers may have found the answer to Battle of Alberta rival Johnny Gaudreau. With the 22nd overall pick, the Oilers selected winger Kailer Yamamoto, who at 5-foot-7 1/2 may be the shortest first-round pick in NHL history.
League records are incomplete, but Yamamoto is shorter than Jordan Schroeder, Sergei Samsonov, Bob Sauvé and Penguins GM Jim Rutherford, who were all 5-foot-8. Gaudreau is an inch and a half taller at 5-foot-9 and the Flames waited until 104th overall to pick him.
No CHL prospect earned more points this season (99) than Yamamoto did with his hometown Spokane Chiefs. Yamamoto, 18, could also become the first player with Hawaiian bloodlines to make it to the NHL. His father is half-Hawaiian and half-Japanese.
The interesting thing is that like Gaudreau, Yamamoto was enticed to learn to skate by candy. Gaudreau's father, Guy, strategically placed Skittles on the ice so Johnny Hockey would skate to eat them one-by-one. Yamamoto was hooked by M&M's in a similar ploy by his grandfather, Don Russel. He was taught to skate in Spokane by Tampa Bay Lightning forward Tyler Johnson's mom, Debbie.
And like Gaudreau, Yamamoto doesn't think his size will hold him back.
"I think it's a little bit of bullcrap that they say that," Yamamoto said in a pre-draft interview with NBC. "Because I don't think it matters how big you are. I think it's the size of fight in your heart and what you're willing to do on the ice."
Contact Frank Seravalli on Twitter: @frank_seravalli