McPhee vs. MacLellan: 'Not as close' as they used to be
GMs of the Stanley Cup Final teams grew up together in Guelph Ont., were junior teammates, university roommates and co-workers for the Capitals. How their life-long friendship unravelled in recent years has become a talking point ahead of the series, Frank Seravalli writes.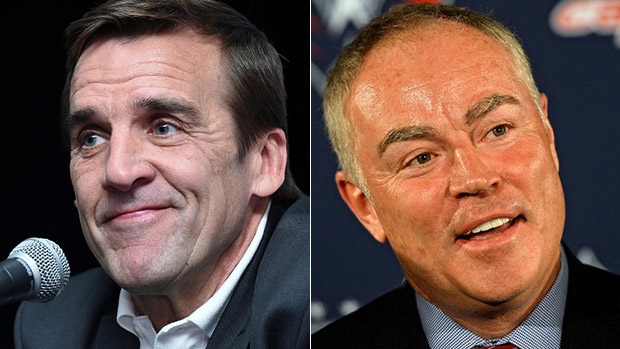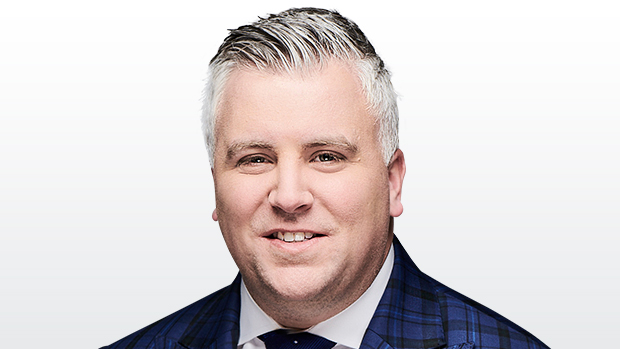 LAS VEGAS - Paul Devorski skated in seven Stanley Cup Finals and refereed Olympic hockey on two different continents.
During his 28-year on-ice career, no one enjoyed a better seat to hockey history.
But one of his favourite stories, about how Devorski and his two childhood buddies – George McPhee and Brian MacLellan – made it from Guelph, Ont., and carved out three-decade careers in the NHL, is still maybe the most unbelievable to him.
"If you would have told me this in 1978, I would have said you're full of crap," Devorski said over the phone on Friday. "For me to referee, those guys to play and now manage? I don't know if you could write a book like that."
Before Bowling Green University and long before the NHL, for McPhee and MacLellan there were Devorski and the Guelph gang. They played novice hockey together, went to high school together and were crowned Canada's top Junior A team together when their Guelph Platers swept the 1978 Centennial Cup.
On Monday, exactly 40 years after they were the toast of the town, Devorski will watch McPhee and MacLellan's teams square off in the Stanley Cup Final.
"Whoever wins," Devorski said, "it's going to be bittersweet."
This is one final that Devorski is okay with not being in the middle of the action.
"Neither one of those guys would hold back," Devorski said, laughing. "I was the supervisor for the Capitals in the second and third round. In the morning meetings, on the day of each game, 'Mac' would be laid back, but he got pretty wound up – especially after that Tom Wilson stuff. He would fire off a few hot text messages during games."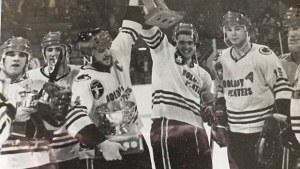 If McPhee versus MacLellan is one of the top storylines of this Stanley Cup Final, then how their life-long friendship has unravelled in recent years is the juicy plot twist.
After living together as roommates at Bowling Green and MacLellan working as McPhee's right-hand man for 13 years building the Capitals, the close relationship cooled after McPhee was fired in 2014 and MacLellan took over.
It's a fact neither man has run from when asked about the other in the lead up to the Final.
"[We're] not as close, I don't think," MacLellan said. "[There is] a little bit of communication here and there."
MacLellan got emotional when the subject was broached with reporters in Washington, using the words "weird," "awkward" and "strange" to describe the matchup with McPhee.
McPhee was the one who convinced MacLellan to get into scouting for the Capitals, then moved him up the ladder ultimately to assistant general manager.
McPhee alluded to the fact that there was a period of time they did not speak at all – a frostiness that general managers picked up on at meetings especially with Vegas and Washington seated so closely around the meeting table.
"It's funny how life goes," McPhee said Sunday. "Two years ago, I was walking around Ann Arbor kicking stones because I couldn't get a job. I'm certainly proud of the Washington team and the players. We made good selections and they turned out to be real good players.
"When you're working with them, they're like your own kids. You're on-call for them all the time. You're trying to steer them in the right direction and then you get fired and you're suddenly persona non grata because nobody wants to be too close to you in the organization."
MacLellan characterized his relationship with McPhee after the latter's firing as something that "just took a little time for things to evolve."
"I think he needed a break from the game, needed a break from how it went down for him here and it just took time," MacLellan said.
That awkwardness carried over into the Golden Knights' expansion draft last June.
Leading up to the draft, Vegas identified nine teams with potential issues protecting players and they made a trade with eight of them. Washington was the only exception; the Golden Knights took Nate Schmidt from the Capitals, who has blossomed into the Golden Knights' top defenceman and is part of the Conn Smythe conversation.
"It was short, concise, that's about it," MacLellan said Sunday, explaining the conversation about Vegas selecting Schmidt. "It's not like the relationship is in total where you're talking as friends or somebody you've grown up with. It wasn't that at all. It was pure business."
"We made our selection and then he called to see if there was any way we could do a deal for him to get Schmidt back," McPhee said. "So we made a proposal that I didn't think would work, and it didn't work because our guys like Schmidt. So we overreached on the ask and that's the way it went."
If you couldn't tell, a competitive fire rages in both McPhee and MacLellan.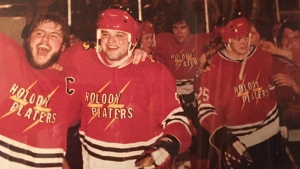 "They're both fiery, they both have tempers," Devorski said. "George wore it on his sleeve. Mac didn't hold back, but he would take a big breath first. Mac was a tough defenceman, very aggressive. George was always stirring [bleep] up."
Devorski recalled one time he was refereeing McPhee in the AHL in 1988-89 at the tail end of McPhee's playing career, after a 114-game run with the Rangers and Devils.
The two met for coffee on the morning of the game.
"[McPhee] said to me, 'Don't be upset if I have to go a little nuts tonight'," Devorski recalled. "I said to him 'Don't be upset if I have to throw your ass out tonight.' That's exactly what happened. I threw him out. He understood. At least he gave me a warning."
Devorski, the captain of the Platers team that swept Vegas assistant GM Kelly McCrimmon and Prince Albert Raiders in the 1978 Centennial Cup, said he didn't remain as close with MacLellan after he turned pro.
McPhee is the godfather to Devorski's son, Luk. Devorski was supposed to be best man at McPhee's wedding, too, except he missed the ceremony.
"I got there late," Devorski said, laughing. "I was doing a game in San Jose the night before. I figured I'd take the early flight, everything would be good. I got delayed. Pat Quinn had to stand in for me. It was kind of funny. I got there for the drinks."
Soon, one of Devorski's oldest friends will be drinking out of the Stanley Cup – more proof that hockey really is the world's smallest $5-billion industry.
"Mac and I, it's just another chapter in this crazy book that is our season," McPhee said. "It's sort of gone this way, and hard to believe, but we'll enjoy it. It beats some of the jobs we had when we were kids, and we'll see where this goes."
Contact Frank Seravalli on Twitter: @frank_seravalli​