Melnyk preaching patience in massive PR shift
Patience has never been a virtue of Eugene Melnyk, which makes Thursday's letter to Ottawa Senators season-ticket holders all the more astonishing, TSN's Ian Mendes writes.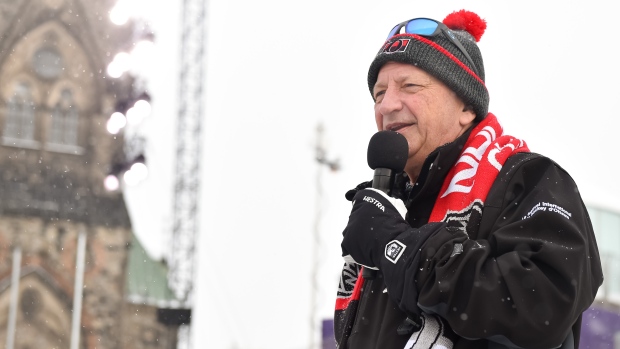 A decade ago, the Ottawa Senators organization was at a crossroads.
After reaching the Stanley Cup Final in 2007, the club had a tumultuous season the following campaign and barely made the playoffs.
The club then stumbled out of the gates in 2008-09 under new head coach Craig Hartsburg and was quickly out of the playoff race by the all-star break. In January of 2009 there were many fans and critics who urged the Senators to enter a re-build phase, as it seemed like the writing was on the wall.
But when asked if he was ready to dismantle the team and rebuild, owner Eugene Melnyk had a strong message in response.
"Anybody that says we should blow up this organization should get their own bomb and blow themselves up, okay?" Melnyk famously told reporters on Jan. 23, 2009. "This is not an organization that is completely crippled. It needs fine-tuning. It needs some tweaking. It needs a player here, a player there and a few good bounces. That's it."
And for the better part of his tenure as Senators owner that has pretty much been Melnyk's mantra. The owner has always believed that his team has been on the cusp of winning – and the club reacted accordingly.
When Dany Heatley demanded a trade in the summer of 2009, the club responded swiftly by signing Alexei Kovalev.
Just hours after losing Daniel Alfredsson to free agency in 2013, Ottawa parted with significant assets to acquire Bobby Ryan.
And the revolving door behind the bench is probably the best illustration of the Senators' impulsive decision-making in the Melnyk era. No Sens coach has been able to keep his job for 200 regular-season games since Bryan Murray left the position following the Stanley Cup run.
Patience has never been a virtue of Melnyk, which makes Thursday's letter to season-ticket holders all the more astonishing. In his nearly 600-word letter, Melnyk seemed to finally acquiesce to the notion that his organization needs a rebuild.
"Enduring a tough year has given us a chance for clear-eyed evaluation. This is an ongoing process, but I can tell you one thing: we are not looking to just tweak our lineup nor mortgage our future for stop-gap solutions," Melnyk wrote.
"The kind of change required to reclaim our standing needs a change in approach, requires difficult decisions and a commitment to a plan."
This is a complete 180-degree turn for an owner who has always enjoyed stepping in front of a microphone and boasting about his team. That Melnyk made this announcement via a carefully constructed statement should not be lost on anybody. It represents a massive shift in public relations for the owner, who now seems to be embracing the idea of a big-picture rebuild.
For the past couple of seasons, the Senators have been working with the smallest hockey operations department in the league. General manager Pierre Dorion has essentially being doing his job with one arm tied behind his back, while his counterparts have access to far more resources and personnel than he can dream about.
The Senators have only dipped their toes in the waters of analytics, but there is some reason for optimism that they may do a full plunge in the wake of Melnyk's letter. The owner flatly states that he will be pouring more resources into scouting and player development and one can only surmise that Dorion – who is open-minded to the idea of analytics – can have more resources on that front.
"I remain committed to investing what is needed to identify, draft and develop the players that embody what it means to be an Ottawa Senator," Melnyk wrote in his letter. "We have a strong foundation of players on this team and in the pipeline ready to contribute."
But while Melnyk is preaching a new approach, it will take months – possibly years – to see if Senators fans are willing to buy into this new plan. The next press release that many fans would like to see is one announcing a series of hires in the hockey operations department. To many Sens fans, these promises of more resources are empty until they actually come to fruition.
At this point, the tensions between the fan base and the owner are at an all-time high and they won't dissipate because of one thoughtfully penned letter. There are plans to erect a #MelnykOut billboard near the Canadian Tire Centre – a grassroots movement started by the most disgruntled Senators fans.
But even removing the most angry and bitter Senators fans from the equation, Melnyk needs to win over the fence-sitting public and silent majority who have kept his team at arm's length over the past couple of seasons.
And therein lies the conundrum for the Senators, who are playing around with a massive public relations grenade in the form of Erik Karlsson.
If they want to win back a major portion of their fan base, they could simply do so by signing Karlsson to a contract extension this summer. The mere mention of Karlsson being moved at the deadline forced many Ottawa fans to have traumatic flashbacks to when Alfredsson left the franchise five years ago. Many vowed to stop cheering for the team if Karlsson is traded away, so it stands to reason that keeping their franchise defenceman in the fold would do wonders for relations with the fan base.
But if the Senators do somehow re-sign Karlsson - which still seems like a longshot at this point – can they actually undergo the rebuild that Melnyk was alluding to in his letter to season-ticket holders?
Melnyk wrote, "As a team we need to get younger, faster and more skilled. We have already announced several key steps in making that happen."
Younger, faster and more skilled could also be code for cheaper talent. At a time when the Senators appear to be in rebuild mode, would it make financial sense for a player to be making in the range of $11 million? And what's more, one has to ask if Karlsson would even be open to the idea of a rebuild around here.
So if you're reading the tea leaves, it seems like the most likely scenario would see the Senators trading Karlsson at some point around the NHL Draft and then moving full-steam ahead with a significant rebuild.
The loss of Karlsson could be mitigated by the return they receive for the star defenceman, but there is no way the Senators can immediately win that trade from a PR standpoint. The situation could also be vastly improved if the Senators end up winning the draft lottery next month, allowing them to select Rasmus Dahlin.
But no matter what scenario plays out, it appears as though patience will be the operative word in Ottawa moving forward.
It's a new word in the vocabulary of Melnyk. It remains to be seen how many Senators fans are willing to use that word to describe their relationship with the team.