Melnyk: Senators 'could look good somewhere else'
Senators owner Eugene Melnyk fired a warning shot at the team's Ottawa fan base on Friday, saying he could relocate the franchise if he can't attract more fans to aging Canadian Tire Centre. As Frank Seravalli writes. Melnyk is trying to increase his dwindling revenue base in a bid to counter rising player salaries.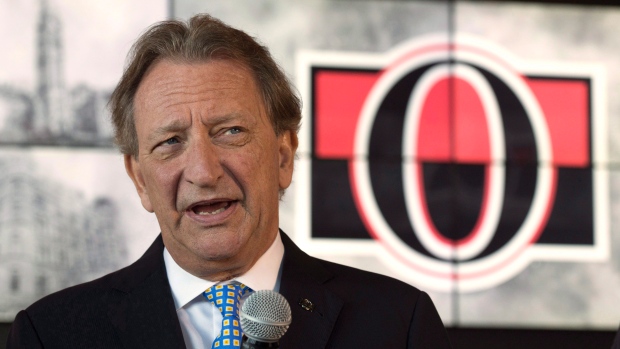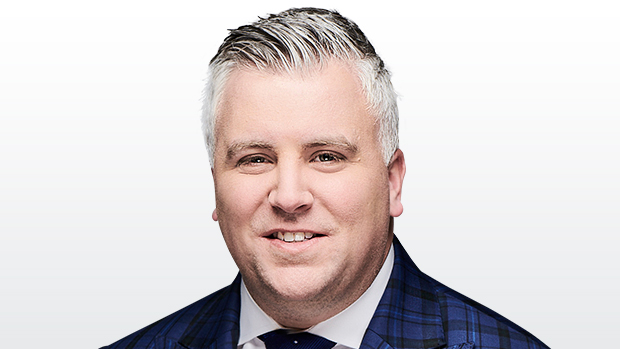 OTTAWA — With hundreds of fans braving -20 C wind chills to kick off what should have been a marquee weekend for the NHL in the nation's capital, Senators owner Eugene Melnyk said Friday night he would consider moving the franchise.
"If it doesn't look good here, it could look good somewhere else," Melnyk said. "But I'm not suggesting that right now. That's always the possibility with any franchise.
"If you open a grocery store and nobody comes, but one opens two blocks down and there's a line outside, where are you going to have your store?"
The scene on Parliament Hill, with snow falling, was a perfect one for politicking – with the outspoken Melnyk perking up eyebrows of hungry hockey fans in Quebec City and bigwigs in Ottawa as the Senators search for a new downtown arena.
But Melnyk swore he wasn't posturing.
"I don't bluff," Melnyk said. "I won't sell it. It just won't happen. Imagine if you own a McDonalds franchise, but you can move it. Why would you sell it? It's something that's very difficult to buy. We're doing OK here. We're not doing great."
Melnyk said "the market here has to prove itself" or changes will be made.
"How long can you underwrite a team?" Melnyk asked. "Like, literally underwrite. Write a cheque."
For now, Melnyk said he has the financial wherewithal to continue to write those cheques, despite acknowledging that the Senators have "cut everything to the bone in the organization." Canadian Business ranked Melnyk as the 79th richest Canadian with a net worth of $1.21 billion this year.
"Yeah, I have it," Melnyk said. "But I'm not going to blow a lifetime of working hard to support a hockey team. It's not going to happen."
Melnyk, who purchased the team in 2003, firmly denied rumours floating around league circles that he recently missed a payroll for front office staff or failed to reimburse scouts for expenses.
"No. That didn't happen," Melnyk said. "It didn't happen. I don't know where you're getting this stuff."
Melnyk did, however, admit that the Senators are down to bare bones staff. An NHL source also told TSN that coach Guy Boucher is one of the lowest-paid head coaches in the league.
"We are probably one of the thinnest management groups in the league," Melnyk said. "The next thing you have to look at is players … It's a direct relationship between revenue and how much you spend on players … We spend $68 million a year. Unlike everyone says, 'You are cheap?' Are you kidding me? … Even at $68 million, that's way too much over a revenue base that we have."
His hint about cutting back player spending immediately drew a line to impending negotiations with superstar defenceman Erik Karlsson. The Senators can sign their franchise player to an extension on July 1.
Two weeks ago, Karlsson made it clear he is not going to accept a deal less than fair market value, words some believe were directed at Melnyk. Former Senator Kyle Turris said this week Melnyk made the decision to not re-sign him. Turris was traded in a three-way deal for Matt Duchene and signed a six-year, $36 million deal the same day with the Predators.
"We want to keep and maintain great players. You see what's going crazy with salaries and bonuses," Melnyk said. "We can't keep spending at the top end and getting the lowest revenues. It just doesn't work."
Ottawa failed to sellout Canadian Tire Centre in suburban Kanata during last year's Eastern Conference final. This season, they reduced capacity to 17,373, down from 19,153 a decade ago. Ottawa has averaged 15,281 fans over 15 home dates this season, ranking the Senators 26th in the league, according to ESPN based on percentage of capacity (81.3 per cent).
"Here we're fighting every day to sell a ticket. Honest to god," Melnyk said. "When you get to the third round of the playoffs and you're begging people to buy a ticket, something's wrong with that picture. We're just hoping that changes. We're not pushing, we're not doing anything other than trying enthusiastically."
So what is the solution? Melnyk threw cold water on an all-out pursuit of a downtown arena in the LeBreton Flats area, saying "it wouldn't be a total disaster for us at all if it didn't happen."
"Because until the law changes, where you can give tickets to civil servants, that is a disaster for us," Melnyk said. "What are we doing? We're moving from the suburbs, where it's built its own little base. Don't forget: are all those Kanata people going to come downtown? You're just moving the arena closer to people who can't get tickets."
Melnyk suggested "caution" with LeBreton Flats, suggesting "we have options." He said the team could stay at Canadian Tire Centre for a significant length of time if $25 to $50 million was invested in it.
"We need something to happen at one point," Melnyk said. "Something's got to break for us somewhere."
In the meantime, Melnyk said he wants to "think positively."
"We'll try and do things like this [outdoor game], which is probably going to be the greatest outdoor game to date – I almost guarantee you," Melnyk said. "All in all, I think we are doing OK. We're going to turn it around hockey-wise. I'm just looking forward to one day being in a parade."
Melnyk's parade in front of the microphones Friday night lit a Centennial Flame to the NHL 100 Classic weekend in an already hypersensitive market, but he said he wasn't concerned.
"No," Melnyk said. "It keeps the newspapers selling, it keeps the radio people listening."
Contact Frank Seravalli on Twitter: @frank_seravalli​