Mendes: Thawing of relations for Alfredsson, Melnyk and Sens fans
As word trickles out that Daniel Alfredsson is set to announce his retirement, a new PR campaign is about to be launched. As TSN Radio 1200's Ian Mendes writes, Alfredsson and the Ottawa Senators organization both hope the campaign will result in the former captain being able to return home without any of the residue from the messy break-up.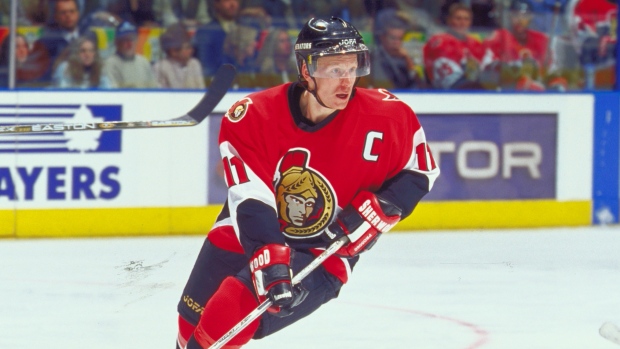 A few weeks ago I had an extended conversation with Eugene Melnyk in the loading dock area at Canadian Tire Centre prior to a Senators home game.

The Senators owner has always been extremely gracious with his time, always willing to chat with me for a few minutes about his hockey team. On this night, he was in a particularly good mood since his club was off to a terrific start and he was willing to talk about a myriad of topics involving the Senators.

As the conversation was ending, I figured I would slip in one final question. "If Alfredsson does retire here in the next couple of weeks, are you guys going to do anything special for him?"

"If I told you the answer to that, I would have to kill you," he said with a wry smile. "You will just have to wait and see."

But the implication was pretty clear that a thawing of relations between Alfredsson and the Ottawa Senators organization had started. For the previous calendar year, there had been a deep freeze between the two sides, stemming directly from a botched contract negotiation in the final week of June in 2013. There were tense e-mails, text messages and voice mails exchanged between the parties involved that summer - ultimately ending with a messy and nasty public divorce.

Both sides tried their best to do PR damage control in the days and weeks that followed, but the spin didn't matter to Senators fans. Their hero and demigod had left town and there was plenty of blame to go around.

And now, as word trickles out that Alfredsson is set to announce his retirement, a new PR campaign is about to be launched - one that both sides hope will result in the former captain being able to return home without any of the residue from the messy break-up. There is a growing sense that Alfredsson's retirement announcement will happen here in Ottawa -- where his career started and where it was always meant to end. Melnyk and the key stakeholders with the Senators were well aware that if Daniel Alfredsson is going to announce his retirement, their organization should be involved.

There is too much at stake here for this announcement not to happen in Ottawa. This is the first "legacy" player for the Senators and considering the franchise is still in its infancy, this is a significant moment. Sure Patrick Roy and the Canadiens took almost 13 years to patch things up after their nasty split, but the Habs are one of the most storied franchises in North American sports. So if it took a little while to put the No. 33 in the rafters at the Bell Centre that was acceptable because there were so many other jerseys to stare at in awe.

But in Ottawa, this is all we have. There are no modern-day jerseys for us to look up to with any reverence. In the absence of a rich history, you need to make sure you take care of what little you have to celebrate. Alfredsson defined the first two decades of this franchise's existence. His goal to put the Senators in the Cup Final in 2007. His hit on Darcy Tucker followed by his game-winning goal against the Leafs in Game 5 in 2002. Playing on one leg in the playoffs in 2008. The "Alfie, Alfie!" chant at the 11:11 mark of every period. Alfredsson was the first true hockey hero in this town.

Somewhere along the way, the line got blurred and some irate fans painted him with the same brush they use for villains like Alexei Yashin and Dany Heatley. But Alfredsson never demanded a trade while he had a signed contract; he simply exercised his right to walk away as an unrestricted free agent. But Ottawa fans felt like they owned a piece of Alfredsson, so when he chose to walk away, it was like the most hurtful slap in the face. It was easy to paint Yashin and Heatley as greedy and selfish, but Alfredsson? That was simply counterintuitive to all of us.

If they bridge the gap in the next few days, there is a chance Alfredsson could sign one of those one-day contracts with the team so that history will say that he retired as a member of the Senators. Some will complain that if he does something like that, it will be a symbolic, but empty gesture. The most vocal fans will complain he should have signed on the dotted line in the summer of 2013. But we cannot go back and re-write history; all we can do is start to open the door for Alfredsson to return to Ottawa with the welcome he deserves. And yes, in the book of Daniel Alfredsson, there will be a chapter about how he left town under a black cloud, fleeing on a one-year contract to Detroit. But that will be a small chapter - almost a footnote - if you choose to focus on the positives that Alfredsson brought to this organization. The benefits of welcoming Alfredsson back with open arms - imagine him working in the front office - far outweigh the consequences of him being an awkward pariah for the next few years.

Egos, money and pride may have gotten in the way of the contract talks in the summer of 2013, but those emotions should be well in the rear-view mirror now. They will likely be replaced with reconciliation, respect and fondness in the days to come. And hopefully the two sides will do something now that they probably should have done 18 months ago; make Daniel Alfredsson a Senator for life.